When I was a little girl, my parents walked into the living room one quiet winter afternoon to find my 3-year-old self seated in the chair in front of the family stereo, the headphones filling my little ears with the sound of George Winston's December as tears streamed down my face. When they asked me why I was so sad, I looked at them earnestly and said, "I'm not sad. It's just so beautiful."
I have always had a strong connection with music, with melodies and lyrics touching me in truly profound ways. To this day, the soundwaves carrying the notes of that George Winston album hit my ears, and I am transported to that day and my childhood self almost as if by pure magic.
That is why I love music. So, so much.
The Christmas season puts me in a nostalgic mood. Matt and I sat down together this past Friday and pored over our family photos for probably two hours, laughing and crying and remembering the times that comprise our family's own unique experience. One thing that struck me as we clicked on photo after photo: almost without exception, there is a song that I can associated with each and every precious memory.
For our lives as a young couple, it is Something in the Way She Moves by James Taylor. I can recall our tiny first little house together in Lubbock, Texas, and dancing to this song barefoot in our living room.
For the time of mourning after we lost our first baby to miscarriage, it is Glory Baby by Watermark. That song ministered to my soul and truly helped me through that unspeakable heartbreak.

 
For the bleary-eyed days when Jack was a newborn, it is I Can Only Imagine by Mercy Me. I can recall so vividly rocking and snuggling his tiny self in my arms, listening to that song and marveling at the fact that as much as I loved that precious little person, Jesus loves him even more.
For the time when our family expanded from party of three to party of four, it is Life is a Highway by Rascal Flats. Cars played on a nearly continuous loop in our house while I got my bearings during the transition from one baby to two, and I can remember swooping both Jack and Charlotte into my arms and dancing to this song every time it played in the movie just like it was yesterday. 
No One's Gonna Love You by Band of Horses brings to mind Matt cradling a newborn Cecily, and by extension the profound feeling of love I feel for him because of the father he has been to each of our babies.
The list could go on and on.
Do you remember the days of mixed tapes? Think back to the days before iPods or Napster or even CD's revolutionized our relationship with music, of eagerly listening to the radio until you heard the unmistakable first notes of your favorite songs so that you could record them to play over and over again. 
Think back to your childhood. To your first crush. To the day you were married or the births of your children. Chances are there are songs that serve as time machines that transport you back to those times or places.
As you're planning gifts for those you love this holiday season, why not consider making them a collection of songs that represents your experiences together? What a lovely thing to open up on Christmas morning: an audio treasure trove of memories!
Which songs would make the cut for your life's soundtrack?
Ponder. Listen. Connect. You'll be so glad you did!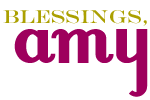 Having grown up in a home brimming with sewing notions and paintbrushes, Amy has a deep love for all things creative. On any given day, you'll find her knee-deep in her latest creative endeavor, with projects ranging from sewing and crafts to home decor and kid-friendly ideas. Amy believes that everyone, regardless of skill level or experience, possesses the ability to create something beautiful, and Positively Splendid was born of her passion for helping others harness their innate creative potential.