The dreary days of winter are almost behind us, and with spring coming into view, there is no better time to add some spring decor to your home. I truly feel there is not better way to punch up seasonal decorations than with a DIY wreath, and today's idea for a paper pinwheel spring wreath features supplies from the brand-new Dear Lizzy 5th and Frolic line from American Crafts, which will be available on March 17 at a Jo-Ann store near you. Read on for all of the details for how easily this wreath comes together, and then enter to win $50 of goodies from the 5th and Frolic line for yourself!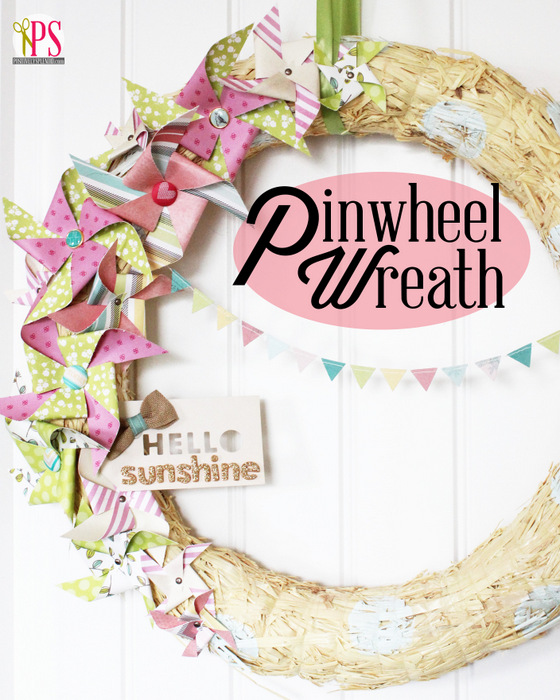 For this project, you will need…
A straw wreath form

Spray paint
Acrylic paint
Round foam pouncers
Scrapbooking goodies from the Dear Lizzy 5th and Frolic line from American Crafts: patterned paper, brads, tags, Thickers, Flutterbys garland and fabric bows
Paper trimmer
Scissors
Hole punch
Hot glue
To start, spray paint the straw wreath form and allow it to dry completely. Use the round foam pouncer and acrylic paint to paint polka dots onto the wreath, if desired. (To see another wreath I embellished with this treatment, check out my spring wreath from 2012.)
Next, make your paper pinwheels. Depending upon the size of your wreath, you will need anywhere from 15-20 pinwheels. For each pinwheel, cut a square of paper with your paper trimmer. (For my wreath, I used squares ranging in size from 2-4″.) Use scissors to cut a notch up from each of the corners on each piece, as shown.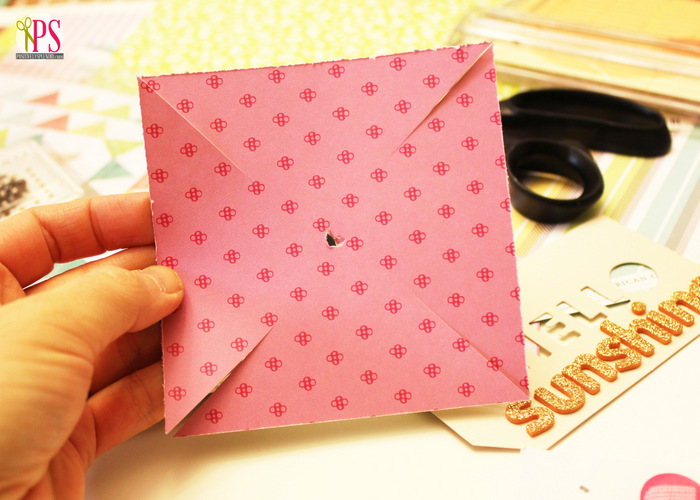 Punch a hole in the left flap at each corner, and then make a hole at the very center of the piece. (I used the tip of my scissors to do so, since my hole punch wouldn't extend that far onto my paper.)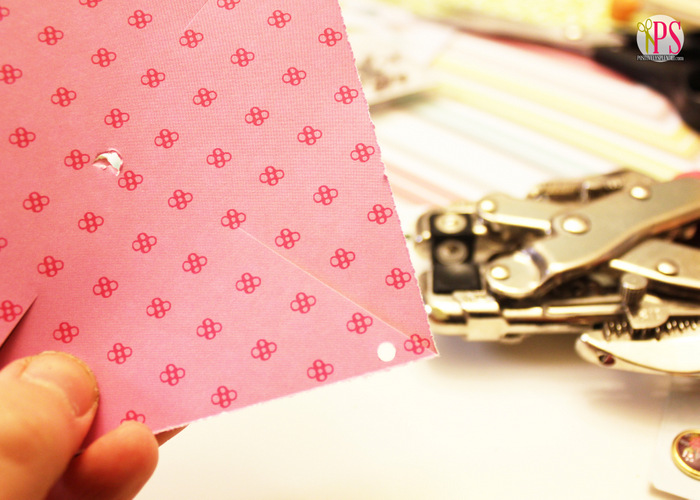 Fold the flaps with the holes punched through up and toward the middle of the square, overlapping each punched corner at the center hole.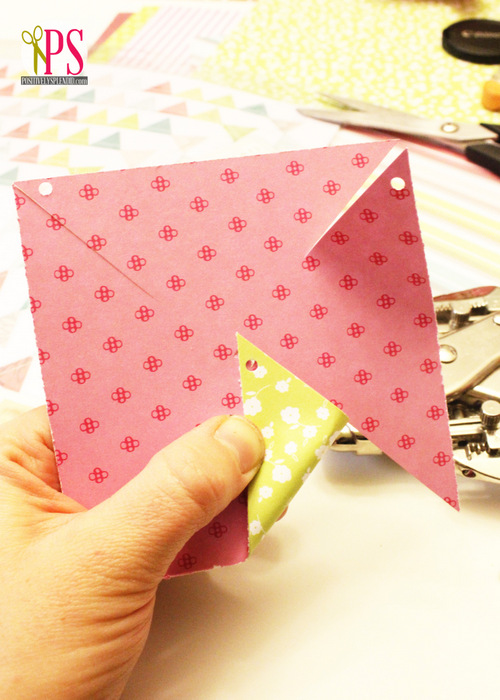 When all four corners are folded in, secure a brad through the holes to secure.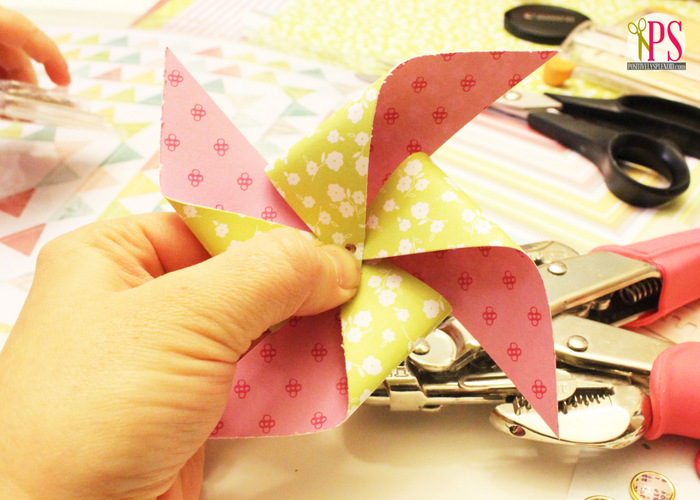 When the pinwheels are finished, the fun really begins! Adhere the pinwheels to the wreath with hot glue, and then finish with any other decorative elements that strike your fancy.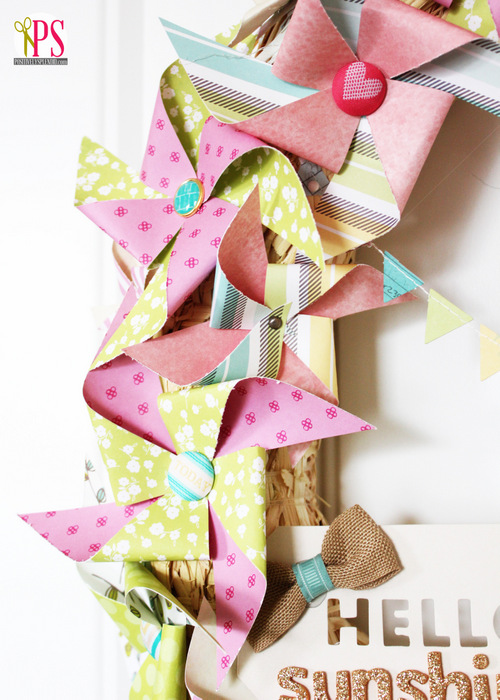 I punched up my wreath with a sweet pre-made stitched banner and a decorative "Hello" tag that I embellished even further with a fabric bow and some glittery Thickers.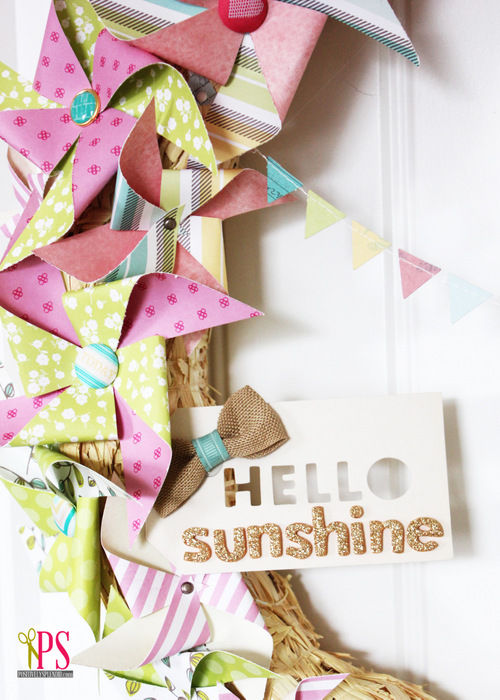 Look at all of that yummy sparkle!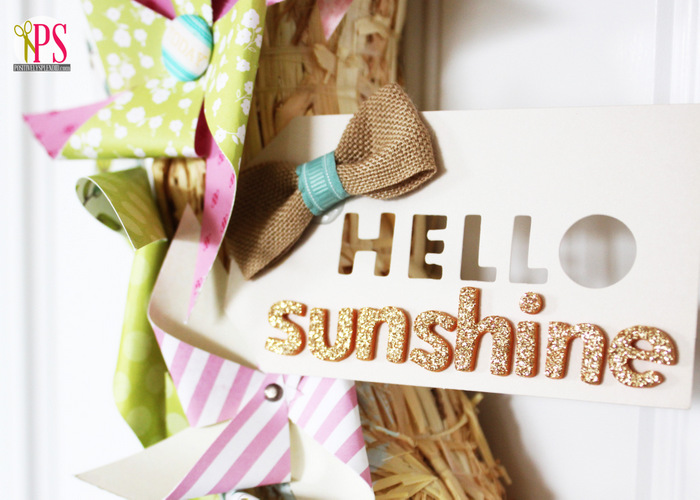 The color palette for this line is feminine, delicate, and absolutely perfect for spring! I am never disappointed with the quality of American Crafts products, from the weight and luxurious feel of their paper to the charming appeal of their innovative embellishments. Just  imagine all of the fantastic projects to be made with all of the lovelies in this line!
This wreath will live on the door of my pantry. I think it will easily transition all the way through the summer months!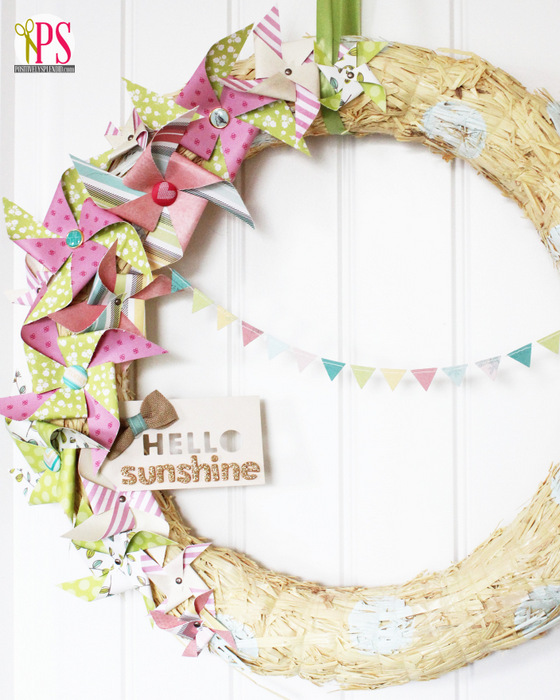 Giveaway Time!
Win $50 in goodies from the Dear Lizzy 5th and Frolic line from American Crafts!
To enter, follow the instructions on the Rafflecopter widget below. Please note that if you are viewing this post in a reader or via email subscription, you will likely have to visit the blog to enter. Also, the widget can take a few moments to load, so if it doesn't pop up automatically, don't lose heart! 🙂
a Rafflecopter giveaway
Having grown up in a home brimming with sewing notions and paintbrushes, Amy has a deep love for all things creative. On any given day, you'll find her knee-deep in her latest creative endeavor, with projects ranging from sewing and crafts to home decor and kid-friendly ideas. Amy believes that everyone, regardless of skill level or experience, possesses the ability to create something beautiful, and Positively Splendid was born of her passion for helping others harness their innate creative potential.