Three little letters have kept me from blogging for the last few days (in addition to the three little monkeys I already contend with on a regular basis): VBS! I will be a sewing, decorating fool in the coming days gearing up for the big event to begin on Sunday, so there won't be a new tutorial this week. Now would be a great time, though, to check out my revamped tutorials page. I have added project photos to every link so you can see just exactly what the finished product will look like. I plan in the coming weeks to do something similar with my recipes page, so stay tuned! You might have noticed that I've also given the blog a few minor face lifts over the course of the last week or so, with a newly updated color scheme and some new sidebar elements. I hope the changes I've made will make your experience here at Positively Splendid a pleasant one.
A few of y'all have approached me with some questions in the last couple of days that I will be answering tomorrow in another Reader Q&A. Be on the lookout, also, for another delicious installment of my A Love Story + Food series, as well as a Reader Spotlight on Friday you don't want to miss.
Since my duties for VBS are of the behind-the-scenes variety this year, we'll return to our regularly scheduled programming next week once everything is in full swing. Thanks so much for understanding! Who can believe July is winding down, and school days are just around the corner? This summer has flown by at warp speed!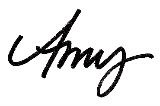 If you enjoyed this post, subscribe to Positively Splendid 
to receive updates, and join us on Facebook and Twitter!





Having grown up in a home brimming with sewing notions and paintbrushes, Amy has a deep love for all things creative. On any given day, you'll find her knee-deep in her latest creative endeavor, with projects ranging from sewing and crafts to home decor and kid-friendly ideas. Amy believes that everyone, regardless of skill level or experience, possesses the ability to create something beautiful, and Positively Splendid was born of her passion for helping others harness their innate creative potential.