Only the people who know me best know a dirty little secret I've been harboring since, well, birth. 
It's something I'm not proud of. And it's something I've been working hard to mitigate for years now, and something I know I will continue to deal with for the rest of my life.
Friends, I am a master of procrastination. 
Now, don't think this means I am a slacker, because I am far from it. In fact, another one of my character flaws is a compulsion to only produce the most perfect, immaculate results. When I see my 5-year-old son make a mistake when he's practicing his letters, and his first instinct is the crumple the paper up and toss it into the recycling bin, I cringe: he got that from me. I'm not proud of that.
Come to find out, perfectionist-procrastinators aren't that uncommon. Because we only want to produce the best possible results, we are immobilized when the constraints of time, money, or other factors prevent us from doing so. We put things off until we can do them just right. 
You've probably heard the saying, "If a job's worth doing, it's worth doing right." It was somewhat of a mantra in my family growing up, and it does bear saying that giving 100% effort to the task at hand is always important. But, for me, that saying has recently morphed into something like this:
"If you can't do the job right, don't do it at all."
This applied to the family photos that were piled next to the couch for literally two months, needing to be hung over the stairs.
 I wanted to paint the frames a variety of bright colors to revive them a bit before I started. 
And get the kids' portraits retaken so they could be placed in the frames beforehand.
I wanted the wall to turn out as perfectly in real life as it looked when I pictured it in my mind. And because that wasn't possible, I stalled. 
So where am I going with this tale of procrastination? Well, I'm going to give any fellow procrastinators out there some hope!
I am so thankful to have a husband who has taught me happiness in life does not consist of perfection. That our efforts don't have to be impeccable to be appreciated and valued. Matt gingerly broached the subject of the photos piled up next to the couch a couple of weekends ago.
"Um, Tootie?
(Another confession: my nickname is Tootie.)
Why don't we hang these pictures?"
And, in spite of my misgivings about it not being perfect, you know what I did? I hung those puppies! The cheap frames have yet to be repainted. The photos need to be replaced with some that are more up-to-date.

But by golly, those photos are now proudly hung above our stairway!
By the way, if you are looking for a marvelous method for hanging gallery-style photo collections without wanting to pull your hair out, I highly recommend using this photo-hanging method shared on The Creative Mama.
All you need in Kraft paper, painter's tape and your typical picture-hanging accouterments (nails, hammer, etc.), and you are well on your way to achieving the look you want – without having to destroy your walls with misplaced nail-holes in the process! I will be doing this for every photo wall display I hang from here on out!
Friends, we don't have to be perfect, and neither do the fruits of our labor. A project doesn't have to be impeccable to be beautiful or valuable. 
Whatever is holding you back today – fear of failure, fear of less-than-perfect results, fear of rejection – let it go! Set out to do something that's been on your to-do list for eons, whether it be sewing, or exercising or hanging a collection of family photos. It really is a marvelous feeling!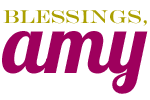 Having grown up in a home brimming with sewing notions and paintbrushes, Amy has a deep love for all things creative. On any given day, you'll find her knee-deep in her latest creative endeavor, with projects ranging from sewing and crafts to home decor and kid-friendly ideas. Amy believes that everyone, regardless of skill level or experience, possesses the ability to create something beautiful, and Positively Splendid was born of her passion for helping others harness their innate creative potential.