Cecily was four months old this past Friday. All I can say is wow. She's been through so much since her birth, and I am so proud of her resilient little spirit. She is making such strides on every possible level now, flying at warp speed through milestones like rolling over (last Monday), sitting up with assistance and even bearing enough weight on her legs to stand with a little help on my part! After so much energy expended for so long to battle illness, it is such a welcome sight to see her be able to focus now on doing these things. Please continue to pray for God's continued protection for her as we trudge through these next winter months!
It must be a girl thing, but Cecily is much like Charlotte in how expressive she is becoming at such an early age. She is really experimenting with sounds more and more now, and the enormous grin that spreads across her adorable face when she is in the middle of one of her particularly enthusiastic "speeches" is enough to make my heart melt. She loves her bath, even more than her brother and sister before her, and I was so happy Matt caught this pic of her a few nights back. Isn't she precious? With every passing day, I think she looks more and more like her daddy and big brother!

As I was thinking about Cecily being four months old, it dawned on me I had never posted pictures of her birth announcement here. I always have so much fun putting together things like announcements and invites, something that requires some initial design work, but the rest is pure assembly that can be done with relatively little thought. I find it almost therapeutic! I'm a strange one, aren't I? 😉


Toodles!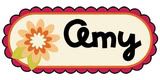 Having grown up in a home brimming with sewing notions and paintbrushes, Amy has a deep love for all things creative. On any given day, you'll find her knee-deep in her latest creative endeavor, with projects ranging from sewing and crafts to home decor and kid-friendly ideas. Amy believes that everyone, regardless of skill level or experience, possesses the ability to create something beautiful, and Positively Splendid was born of her passion for helping others harness their innate creative potential.