I heard a sentiment on another blog recently that really resonated with me:
"You only get 18 summers with your kids before they are gone."
(Thank you Megan from Brassy Apple!)
18 short-lived breaks from the hustle and bustle. 18 sweet, lazy series of days to explore and experience so many delightful things we are usually too busy to enjoy. I am committed this summer to really soaking up all I can of this time we have together, and of documenting our memories in a fresh and meaningful way. The project I am sharing with you today is part of my commitment to that end:
A series of e-mails just for my children detailing the activities of our favorite summer days to serve as an online summer scrapbook of our most precious memories.
The best part of this is that
each entry in our little summer journal will arrive to a special email inbox I've created for my children just for this purpose.
Each note I write will be sent just to them, with a special message and photos attached so our summer memories aren't lost to posterity. And when the kids log in to their very special email account, they will never know when exactly one of these sweet messages will be waiting for them. What a fun surprise!
Do you remember the feeling you used to get before email was an everyday, ordinary thing?
When the news of a message in your inbox gave you a sense of excitement? Of anticipation?
My kiddos will live out that feeling all summer long, in the form of these little electronic love notes I send them of what I love the most about our summer together.
An entry from last summer would look something like this:
Dear kids,
This day of sunkissed fun was our last one at the beach. Oh, how you played and played! The high tide created a little pool away from the surf where you splashed and played for hours and hours with your shovels and dump truck. I caught this photo just as we headed in for the day. What a perfect way to remember such a special vacation.
I love seeing you have so much fun together!
Love,
Mama
(Is it pitiful to admit I have tears streaking down my face thinking of that precious moment in our lives?)
What a treasure this little project will be for all of us, not only this summer, but in the years to come! And once the cooler weather sets in, I can easily print out all of the entries and place them in a special scrapbook if I wish.
I am so excited about this project!
Yahoo! Mail has always been a great option for those seeking reliable, easy e-mail solutions, which is why I am using their service for this project. Their privacy options are also stellar, so I know I can count on only my messages (and not those from nameless spammers) populating our inbox. What a great way to stay connected!
Thank you so much for letting me share a bit of my heart with you today. I hope you're inspired to live and document this summer to the utmost!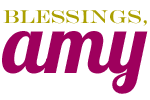 Having grown up in a home brimming with sewing notions and paintbrushes, Amy has a deep love for all things creative. On any given day, you'll find her knee-deep in her latest creative endeavor, with projects ranging from sewing and crafts to home decor and kid-friendly ideas. Amy believes that everyone, regardless of skill level or experience, possesses the ability to create something beautiful, and Positively Splendid was born of her passion for helping others harness their innate creative potential.