There are some days that just change things forever. Defining, earth-shattering moments, the consequences of which shake our world to its very foundation and cause us to see everything differently.
In light of the horrific tragedy that transpired yesterday in Connecticut, I simply couldn't rationalize proceeding with business as usual with the Saturday 7 Party. We will resume next week, but tonight, I wanted to pass along something to you–a beautiful quote shared by a friend on Facebook, which I, in turn, am sharing with all of you.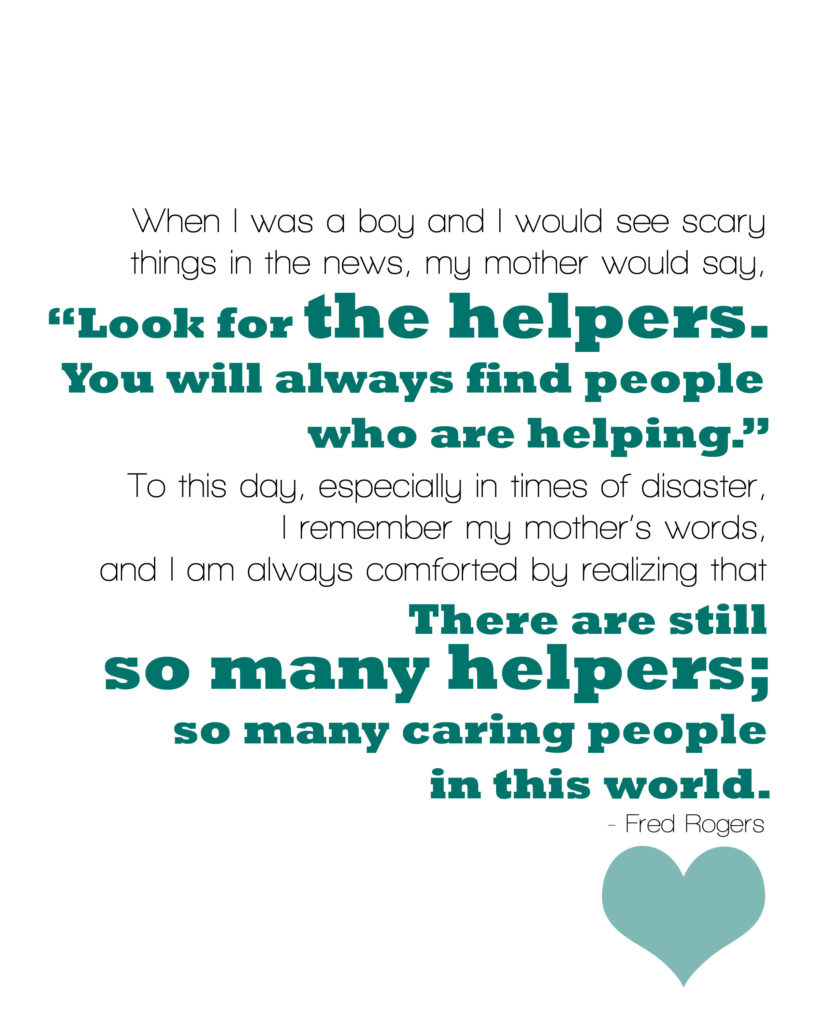 Friends, the sadness of this entire situation is stifling. This is a scary, broken world.
But as we grapple to wrap our minds around the enormity of this horrific situation, let us not forget the helpers.
The teachers and administrators with whom we entrust our most precious treasures each and every day, who dedicate their lives to loving our children: they are the helpers.
The first responders who face tragedy with skill and unfathomable grace under pressure: they are the helpers.
The prayer warriors around the country and the world who are on their knees pleading for peace for the parents of each of those precious children, for the husbands and wives, sons and daughters, of each of the adult victims: they are the helpers.
Each of us who wishes to stand up and prove that mercy triumphs and goodness perseveres: we are the helpers.
The printable above is for each one of you to use as many times as you like. Simply click on the image to be taken to the download page, where you can choose either an 8×10 or a 5×7 size. I encourage you to consider printing it to send to your child's teacher on Monday. To their school administrators. To parents you might know whose breath is taken away at the thought of sending their children out from the protection of the family nest into a world that is full of indescribable depravity. To any child struggling to comprehend why bad things happen to good people.
Mr. Rogers, even at 31, I am still learning life lessons from you. Thank you, sir. 
Good night.
Having grown up in a home brimming with sewing notions and paintbrushes, Amy has a deep love for all things creative. On any given day, you'll find her knee-deep in her latest creative endeavor, with projects ranging from sewing and crafts to home decor and kid-friendly ideas. Amy believes that everyone, regardless of skill level or experience, possesses the ability to create something beautiful, and Positively Splendid was born of her passion for helping others harness their innate creative potential.