Well, here we are. The final week of my 20s. And in one of those ironies of life that never cease to make me marvel at the Good Lord's sense of humor, I am battling a raging head cold that has me feeling like a woman three times my age!
Last week's hiatus from my Thirty Before Thirty list came as a result of a 11-day family roadtrip adventure that took us back to the state where Matt and I grew up: our beloved New Mexico. We logged 2600 miles and more than 34 hours in the car. That's togetherness, baby!! It was so nice to be back, though, to see everyone. Pray for the Southwest when you can, as the terrain there is so parched from drought, angry fires are erupting at the slightest provocation that are robbing people of the homes and possessions they cherish. They need rain!
So, back to my list. Here is where I stand so far…
My Thirty Before Thirty
1. Go on a date night with my hubby.
2. Cook something with an ingredient I've never used before.
3. Treat myself to a manicure and pedicure.
4. Write letters to those I love.
5. Update our framed photos.
6. Spend a day totally unplugged from the internet.
7. Finish organizing my craft closet.
8. Do something special with Jack.
9. Do something special with Charlotte.
10. Do something special with Cecily.
11. Buy an outfit for the new baby.
12. Buy lunch for a stranger in a drive-through.
13. Watch fireworks.
14. Eat breakfast in bed.
15. Read a book.
16. Relish a New Mexico sunset.
17. Get my house professionally cleaned.
18. Call my grandparents.
19. Learn to use my serger.
20. Can some of my hubby's salsa.
21. Buy something on Craig's List.
22. Paint my hutch.
23. Make s'mores.
24. Run through the sprinklers.
25. Try a new type of cuisine.
26. Buy a new camera.
27. Enroll in a photography class.
28. Surprise a friend by picking up her kids to watch for the morning.
29. Take an afternoon to go thrifting.
30. Eat the hottest hot wings I can find.
5. Update our framed photos.
I didn't do an exhaustive update, by any means, but it felt good to finally get the portraits of the kiddos we had taken months ago put into frames! I love being greeted by their sweet little faces every time I walk through our entryway.
6. Spend a day totally unplugged from the internet.
During our trip, it felt so good to be completely unplugged for a number of days. No email. No blogging posts or photo editing or commenting. It is so easy to become consumed with the internet, especially when it comes to blogging, and I think it is an important exercise to take a complete break every now and then. This is something I think I'm going to try to do occasionally from here on out!
16. Relish a New Mexico sunset.
Does watching the sunrise as I took over driving on the last leg of our trip to New Mexico count? I think it does. 🙂 On our way there, we drove all 17 hours in one fell swoop, which meant the final miles of our journey occurred right at dawn. There is something so breathtaking about the wide open vistas of the desert Southwest. I do love the lush landscape of the south, but sometimes I find my heart pining to see an unobstructed horizon!
18. Call my grandparents.
I did even better than that: I got to visit with them in person last week!
***
I'll admit that I'm not making as much progress on my list as I had hoped I would by this point. But the motivation this project has given me to live intentionally is something I'll take such away from, regardless of how many things I get to mark off!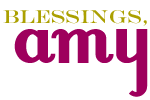 Having grown up in a home brimming with sewing notions and paintbrushes, Amy has a deep love for all things creative. On any given day, you'll find her knee-deep in her latest creative endeavor, with projects ranging from sewing and crafts to home decor and kid-friendly ideas. Amy believes that everyone, regardless of skill level or experience, possesses the ability to create something beautiful, and Positively Splendid was born of her passion for helping others harness their innate creative potential.