So….It's T-minus one month and counting (give or take) before I hit a very big milestone in my adult life.
The Big. Three. Oh!
Wow. 
Despite my ever-increasing patch of grey and the fact that pregnancy-induced sciatica has reduced me to walking like a woman three times my age, I really am feeling okay with this. Much better than I ever dreamed I would.
Really!
I have been so immensely blessed to have thirty wonderful trips around the sun.
Nearly eight of those have been spent married to the love of my life.
Five of those have been spent relishing the life-altering privilege that is being a mother.
And all of those have been spent bestowed with an outpouring of blessings I could never rightfully deserve, the immensity of which I could never adequately convey.
I posted quite some time ago about a project I wanted to pursue as I approached my thirtieth, something known as a Thirty Before Thirty list. About a week ago, I lay awake kicking myself for having waited too long to actually follow through on that goal. After all, one month isn't long enough to do much of anything grand.
No time to write a book.
Or travel to an exotic locale.
Or go skydiving. 
(Admittedly, that last one would have been out anyway, considering my current pregnant state. 😉
As I was ruminating over why I had let my Thirty Before Thirty opportunity pass me by, I had a sudden epiphany:
The things that have made my life so far the most grand haven't been, in and of themselves, grand at all. They have been everyday kernels of beauty that I have picked up along the path of my journey and tucked gently into the pocket of my heart.
Watching a beautiful sunset.
Eating a delectable meal.
Spending time with those I love best.
And so, my Thirty Before Thirty list will, indeed, come to fruition. And it will be filled with everyday, ordinary items like these. Things that to any other person might seem mundane or boring, but to me, constitute the fiber of who I have become over the course of the last thirty years, and who I hope to be once thirty more have come to pass.
Over the course of the next few weeks, I plan to share snippets of my Thirty Before Thirty experience with all of you each Wednesday. I have much to accomplish, but I am eager to get started!
My Thirty Before Thirty
1. Go on a date night with my hubby.
2. Cook something with an ingredient I've never used before.
3. Treat myself to a manicure and pedicure.
4. Write letters to those I love.
5. Update our framed photos.
6. Spend a day totally unplugged from the internet.
7. Finish organizing my craft closet.
8. Do something special with Jack, just the two of us.
9. Do something special with Charlotte.
10. Do something special with Cecily.
11. Buy an outfit for the new baby.
12. Buy lunch for a stranger in a drive-through.
13. Watch fireworks.
14. Eat breakfast in bed.
15. Read a book.
16. Relish a New Mexico sunset.
17. Get my house professionally cleaned.
18. Call my grandparents.
19. Learn to use my serger.
20. Can some of my hubby's salsa.
21. Buy something on Craig's List.
22. Paint my hutch.
23. Make s'mores.
24. Run through the sprinklers.
25. Try a new type of cuisine.
26. Buy a new camera.
27. Enroll in a photography class.
28. Surprise a friend by picking up her kids to watch for the morning.
29. Take an afternoon to go thrifting.
30. Eat the hottest hot wings I can find.
Thank you so much for sharing this journey with me!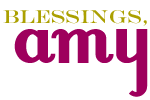 Having grown up in a home brimming with sewing notions and paintbrushes, Amy has a deep love for all things creative. On any given day, you'll find her knee-deep in her latest creative endeavor, with projects ranging from sewing and crafts to home decor and kid-friendly ideas. Amy believes that everyone, regardless of skill level or experience, possesses the ability to create something beautiful, and Positively Splendid was born of her passion for helping others harness their innate creative potential.