I adore black and white for Halloween, and I think the black/white combo really pops when it's juxtaposed with bold, bright Halloween colors. My front door is now happily outfitted with a wreath sure to delight even the most scrutinizing ghosts and goblins out there!
As I've been working in the nursery, one tutorial I have become quite familiar with is for the extremely popular and versatile
Martha Stewart tissue paper pom-poms.
I have been hearing for eons about what fun they are to make, but until I used them to accessorize the baby's space, I had never tried my hand at them. These little guys are downright addicting! As I was making my umpteenth pom-pom the other night, I had a sudden epiphany: These would be great to adorn a wreath! And thus, the idea for this wreath was born.
For this project, you will need:
White Tissue Paper
Floral Wire
Scissors
Wire Wreath Frame
Black Ink Pad
Scrap Cardstock
Washable Ink Marker
Jumbo Rick-Rack
Scrap Fabric in Assorted Halloween Colors
Straight Pins
Black Cardstock
Die Cutting Machine (Optional)
Bird Embellishment (I made mine using
this marvelous tutorial from Spool,
but you could easily substitute a purchased bird found in the Halloween section of your favorite craft store)
Hot Glue
step
1
/ Use the procedure in the tutorial linked above to make your pom-poms, with the following adjustments: Cut your tissue squares to 6×6″, and stack them in groups of ten. Accordion fold your pieces every 1/2″. Make as many pom-poms as is required to completely cover your wreath form. Once all of your pom-poms are assembled, thread the excess wire ends of each pom-pom through your wire wreath form and twist each one well to secure it to your wreath. Work all the way around your wreath in this fashion until there is no empty space remaining. When all of your pom-poms are affixed to your wreath, use your ink pad to lightly distress the edges of your pom-poms to give everything an antiqued look.
step
2
/  Trim a piece of scrap cardstock to 1.5 x 2.25″. Cut a 1″ square, and use it as a template to create a fork in the bottom of your rectangle piece, as shown. This will be your template for creating your mini banner. Use a washable ink marker to trace this template onto your fabric (one piece for each letter in your desired message), and cut each piece out. Place a line of hot glue along the top front edge of each banner piece, and adhere each piece to the back of your rick-rack, as shown. Turn your banner face-up, and adhere your letter stickers to each piece in the proper order. Affix your finished banner to your wreath by looping the rick-rack through the wire and securing with straight pins, as shown.
step
3
/ For your scrappy bow embellishment, tear strips of fabric of varying lengths that are 2-3 wide. Tie a knot at the center of each piece, as shown. Place a dab of hot glue at the center of one of your knotted pieces, and stack another piece on top of it, as shown. Repeat until your bow is your desired fullness.
step
4
/ Use your die cutting machine to cut out flourishes from your black cardstock. (If you don't have a die cutter, you can also do this by hand, or use pre-cut flourishes found in your scrapbooking store.) Affix your scrappy bow, your flourishes and your bird to your wreath with hot glue. 
You are finished!
I hope your week is off to a great start!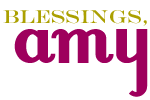 Linking this to…
Tidy Mom
Having grown up in a home brimming with sewing notions and paintbrushes, Amy has a deep love for all things creative. On any given day, you'll find her knee-deep in her latest creative endeavor, with projects ranging from sewing and crafts to home decor and kid-friendly ideas. Amy believes that everyone, regardless of skill level or experience, possesses the ability to create something beautiful, and Positively Splendid was born of her passion for helping others harness their innate creative potential.