Before we get started today, it might be a good idea to take a refresher and read yesterday's post about how to use your Photoshop Elements software to transform a humdrum photo into a snazzy silhouette. Today I'm going to show you how to kick things up a notch by cutting out the same silhouettes you created with your Cricut!
I've mentioned the Sure Cuts A Lot software quite a few times before (see the post here for another great project idea using your bug). When I purchased the software, I was impressed with one of the selling points being the fact that by converting any image file to a scalable vector graphic (SVG) format, you can then use your Cricut and SCAL software to cut it out. The sky is really the limit to what you can do here! Until I created my first round of silhouettes, I hadn't ever had a project that made me want to figure the whole conversion process out, but I couldn't shake the thought of how incredibly handy (and downright cool) it would be to have the ability to cut out my childrens' silhouettes with my Cricut. Think of the possibilities! So, I did some digging and found out exactly how it's done.
Before you can get started, your first order of business is to find a software that is capable of converting your JPEG into an SVG file.
Inkscape
is a
free
program you can download to your computer that will enable you to do so. After you've downloaded the necessary software, the process of creating your SVG file to be cut using your SCAL software is a snap!
In Inkscape, open your saved JPEG silhouette image. Click on your image to select it (arrows will appear around the perimeter of your photo).
Choose Edit > Make a Bitmap Copy (or Alt + B on your keyboard).
Move your bitmap copy over so your original image is visible. Select the original image by clicking on it; delete it using the delete key on your keyboard. Recenter your bitmap image over the orginal canvas.
With the image still selected, go to View > Display Mode > Outline. Your image should now be covered with a red X.
With your image still selected, go to Path > Trace Bitmap (or Shift + alt + B). In the dialog box that pops up, click "update," then "ok." Close this dialog box.
Move the red X off of your traced image and delete it.
Save your file. That's all there is to it!
Now, all you have to do is fire up your SCAL software. Choose File > Import SVG (or Shift + Ctrl + I), and select your silhouette SVG. It is now yours to cut out as you wish! I honestly think the first time I did this I literally gasped with delight. 🙂 As crafters today, aren't we lucky to be surrounded with such cool technology?
To create the tabletop photo vignette that I posted here and shared in yesterday's post, all that was required was cutting out the silhouettes in my desired size to fit in my frame (which I purchased at Walmart for just $5). I then cut a piece of white cardstock to fit in the frame and adhered my silhouettes to it so each would be centered in its respective "nook." I took some scrapbooking stickers I had on hand to spell out each child's initials, and I used a heart sticker and smaller stickers indicating the year to fill in the fourth slot. After everything was adhered to the cardstock, I slipped it into the frame, and I was all set!
I had planned today to share my step-by-step for creating some darling silhouette wall plaques, but I think we all might be on systems overload after this photo- and information-laden post! Let's pick up where we left off later this week, shall we? 🙂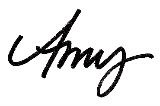 Having grown up in a home brimming with sewing notions and paintbrushes, Amy has a deep love for all things creative. On any given day, you'll find her knee-deep in her latest creative endeavor, with projects ranging from sewing and crafts to home decor and kid-friendly ideas. Amy believes that everyone, regardless of skill level or experience, possesses the ability to create something beautiful, and Positively Splendid was born of her passion for helping others harness their innate creative potential.