I
have truly loved the motivation the So You Think You're Craft competition has given me to tackle projects recently. I have to say, though, that it has been very hard keeping my creations a secret! I have always been horrible about spilling the beans when it comes to things I'm excited about, and my contribution to last week's Kids Can Do lineup is no exception. The moment the kiddos and I finished the project, I was clamoring to share it here with you! Thank goodness the wait is over, and I can share it with you today!
In case you missed my blurb from last week on SYTYC, here it is…
If you have children in your life, one thing is certain: come February, you'll be putting together Valentines for school parties. I decided to use this week's challenge as a way to get a jump start on getting the goodies my kiddos will give to their friends squared away!
I absolutely adore a craft project that utilizes things that would otherwise be discarded. See the speckled paper hearts at the center of each of these blooms? My kiddos and I took an afternoon to make that paper together using paper scraps and other ingredients we had on hand, and we had tons of fun in the process. The kids were fascinated by the fact that it is possible to take something used and make it new again, which makes this a truly stellar lesson in recycling. Once the paper was completely finished, we used it the next day to craft the flower Valentines you see here. Why flowers? you might ask. That, friends, is the very best part of this project: 


Our homemade paper contains a magic ingredient, and the heart centers made out of it can be planted in the spring so that wildflowers can grow as a result of our hard work! 


How cool is that!
For this project, you will need:
An empty frame (one that you'll never want to use again for another purpose)
Screening
Duct tape
A blender
Paper scraps (old scrapbook paper, tissue paper, toilet paper, Kleenex, newspaper, etc., all work fine)
Water
Wildflower seeds
A large bucket that is large enough for your frame to lie flat in
A large sponge
Scrap felt or fleece 
Scallop-edge scissors
Scissors
Heart templates, one small, one large (I used two cookie cutters)
Pink cardstock
Green cardstock
White cardstock
Popsicle sticks
Green acrylic paint
Foam adhesive dots
Scrapbook adhesive (or glue)
Ribbon
Pen
step
1
/ Cut a piece of screening that is slightly larger than your frame. Fold the corners of the screen over so they overlap, as shown, and secure with duct tape. Continue overlapping the screen around the perimeter of your frame and securing with the tape until all of the screening edges are secured to your frame. Set this piece aside for now.
step
2
/ Tear your paper into large pieces. (This is a great step for small hands.) Place the pieces in your blender (the blender should be about 1/3 of the way full of paper, which was equivalent to one 12×12 sheet of scrapbooking paper), and cover with hot water until the blender is about 2/3 of the way full. Place the lid on the blender, and
hold the lid on tightly
 as you blend on high to form a paper pulp.
I made a huge mess the first time I blended, with water spewing everywhere! Although my kiddos were highly entertained, I don't recommend it to a friend. 😉
Stop blending once no paper bits remain.
step
3
/ Ready your work surface by placing a piece of felt or fleece that is just larger than your frame onto a piece of newspaper (freezer paper works, too). Grab your screen, your bucket and your sponge. The fun is about to begin! Pour your paper pulp into your bucket, until the level of the pulp is about 2 inches deep. (This will probably require you to make multiple batches of pulp.) Scatter your wildflower seeds into the bucket over your pulp, and use your hand to give it a good swirl. Don't forget to roll up those sleeves! 🙂
step
4
/ Take your screen, and submerge it in your bucket,
with the flat screen side up,
so that it is entirely covered in pulp. Carefully lift the screen from the pulp, keeping it as level as possible as you go. There should be a thin layer of pulp covering the screen. Now, in one quick motion, invert your pulp-covered screen onto your piece of felt. Thoroughly blot the back of your screen using your sponge to remove as much excess moisture as possible, before carefully pulling the screen away from the paper. Your paper will be completely stuck to your felt at this point, but don't worry: once it is done drying, it will come off easily. Now, place your paper in a warm, dry place and allow them to dry completely. Depending upon the conditions, this could take up to 24 hours.
step
5
/ Once your paper is completely dry, trace hearts onto it using your large template, and cut them out using regular straight scissors. Use the same template to trace hearts onto your sheet of pink cardstock, and cut just outside your traced marks with your scallop-edge scissors. You should have as many scalloped hearts as you do homemade paper hearts. Use your small heart template to trace small hearts onto your green cardstock and cut these out with straight scissors. (You will need two of these hearts for each Valentine.) Use your large heart template to trace large hearts onto your white cardstock (one for each Valentine you are making), and cut these out with straight scissors. 
step
6
/ Now, take half of the small green hearts you cut out in step 5, and carefully write a message onto each one, as seen below. On each of the white cardstock hearts from step 5, write directions for how to plant the heart to help flowers grow, so all of the recipients will know these Valentines are particularly special! (Refer below for wording ideas.)
step 
7
/ Paint your popsicle sticks green (one for each Valentine), and allow them to dry completely. Once they are dry, adhere one popsicle stick to the front of one of your scalloped hearts (the side opposite the side you traced on). Place two foam dots above your popsicle stick, on either side, and then adhere one of your homemade paper hearts to the dots. (The dimension of the foam dots allows your homemade paper heart to sit above the level of the popsicle stick, so the stick doesn't warp the paper's shape.) Just below your large heart, adhere one of the green message hearts. Flip your Valentine over, and adhere one of your white cardstock hearts to the back of your large scalloped heart. (The edge of the white heart will hide your tracing.) Adhere a blank small green heart directly over the back of the green heart you adhered on the opposite side to hide the popsicle stick. If desired, tie a decorative bow onto each Valentine (I like to use wired ribbon for projects like this for added dimension). Repeat this step until you have assembled your desired number of Valentines.
All done!
Project Notes
When you are ready to do this project, make sure to allow at least two days to complete it. The paper needs to be completely dry before you begin assembling your flowers.
Crunched for time? You can use a blow dryer on a low setting to carefully speed the drying process along. Just be sure not to overheat the paper, or it will scorch!
If you are wanting to add a bit more strength to your finished paper (homemade paper can be rather brittle) add a handful of dryer lint when you make your pulp.
Putting your Valentines together is a great thing to do in assembly-line fashion with your kiddos. Jack, who is 5, had a terrific time helping me assemble this batch!
When you cut out your flowers, save the scraps of your homemade paper. Use small paper punches to cut plantable confetti from these pieces! This is another fun activity for little hands!
Enjoy!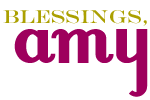 Having grown up in a home brimming with sewing notions and paintbrushes, Amy has a deep love for all things creative. On any given day, you'll find her knee-deep in her latest creative endeavor, with projects ranging from sewing and crafts to home decor and kid-friendly ideas. Amy believes that everyone, regardless of skill level or experience, possesses the ability to create something beautiful, and Positively Splendid was born of her passion for helping others harness their innate creative potential.