H
appy Sunday!
What a fun weekend! Mr. Splendid and Jack headed out for some fun in Nashville last night, which meant it was time for a girly girls' night back here on the home front! Pizza, movies, and lots of pink nail polish. This was my first mani/pedi from Charlotte. So glad this polish is the peel-off variety, because I think more polish wound up my my feet than on my tootsies. 😉
Suffice it to say, the house is still nowhere near being put together. I have no idea how long the process is going to take, but I have determined myself not to let my compulsion to have things done now prevent me from enjoying fun nights like last night. Or from taking a time out from adorning our naked walls to appreciate this toothy little grin. 
So what's on tap here at Chez Splendid this week?
Weekly Menu…
As I was writing my daily supper menu down this morning, it dawned on me that it might be helpful to do the same thing for our breakfast and lunch menus as well. We'll see!
Sunday
Dinner – Roast Chicken with Veggies (an ingenious recipe I'll share soon) with Baked Sweet Potatoes
Monday
Breakfast – Buttermilk Pancakes with Bananas and Yogurt
Lunch – Macaroni and Cheese with Carrot Sticks
Supper – Vegetable Soup with Brown Butter Soda Bread
Tuesday
Breakfast – Oatmeal with Fruit
Lunch – Macaroni and Cheese (reserved from Monday) with Clementines
Supper – Carne Adobada over Polenta with Limey Cabbage Slaw
Wednesday
Breakfast – Pancakes (reserved from Monday) with Grapes
Lunch – Quesadillas with Soup and Yogurt
Wednesday – Veggie Soup Leftovers with Cornbread
Thursday
Breakfast – Cinnamon Toast with Bananas and Yogurt
Lunch – Grilled Ham and Cheese Sandwiches with Grapes
Supper – Risotto with Roasted Asparagus and Crusty Bread
Friday
Breakfast – Oatmeal with Apples and Yogurt
Lunch – Hot Dogs with Carrots
Supper – Homemade Pizza with Salad
Weekly Goals…
Wrap up my weekly craft for SYTYC.
Wrap up a super fun (super frugal!) sewing project I have in the works.
Hang wall decor in Cecily's room.
Organize the kids' old clothes.
Organize the pantry.
Plan my wardrobe for Blissdom. (Can't wait!!)
Work out four times.

(One of which I tackled today – wahoo!)
You'll have to check in tomorrow for my reveal of which project was mine from this week's So You Think You're Crafty lineup. Do you have any guesses? 🙂 
Have a blessed night!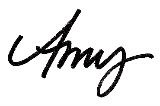 If you enjoyed this post, subscribe to Positively Splendid 
to receive updates, and join us on Facebook and Twitter!





Having grown up in a home brimming with sewing notions and paintbrushes, Amy has a deep love for all things creative. On any given day, you'll find her knee-deep in her latest creative endeavor, with projects ranging from sewing and crafts to home decor and kid-friendly ideas. Amy believes that everyone, regardless of skill level or experience, possesses the ability to create something beautiful, and Positively Splendid was born of her passion for helping others harness their innate creative potential.