This week's installment of Let's Make Something Together has us playing with a variety of media to create darling wall hangings for a special little someone in your life!
Having just moved into our new home, our walls are still very bare for the most part. So, when the weekly challenge over at So You Think You're Crafty was based on the theme Wall Decor, I jumped at the opportunity to adorn the naked walls in my youngest daughter's nursery! 
When dreaming up the look I wanted to achieve with these, I came across these personalized animal wall hangings at Pottery Barn Kids. I loved the look of these, but not the price tag. (Isn't that how it always works?) So, I opted to create some of my own, using the same initial/animal theme. Each of the wall hangings is personalized with Baby's initials in bold denim and a corresponding animal shape for each letter. To really take this project to the next level, I adhered my fabrics to a special interfacing called Peltex to create an abundance of dimension. Machine stitching imparts a homespun feel to these wall hangings, while the variety of vibrant fabrics and whimsical animal shapes is entirely fresh and modern. The dynamic color palette and variety of shapes incorporated into these little works of art are sure to captivate Baby's interest, too!
Interested to see how I put these darlings together? Let's get to it!
For this project, you will need…
3 plain stretched canvases (I used 8×10)
Painter's tape
Acrylic paint
Foam brush
Assorted fabric scraps
Fusible Peltex*, about 1/2 yard
Washable ink marker
Scissors
Rick-rack
Hot glue
Buttons
Word processing software and printer
Jeans sewing machine needle (optional)
Sewing machine (optional)
*See note below
step

1 / Apply a frame of your painter's tape to your blank canvases about 3/4″ from the outer edge of each, as shown. Use your foam brush to apply acrylic paint to this blank outer frame you created, both on the front and sides of the canvas. Allow paint to dry completely before removing your tape.
step
2
/ Fuse Peltex to the back of your fabric pieces according to the product instructions. Using your word processing software, create tracing templates for each of Baby's initials. (I used Rockwell Extra Bold at 550 pixels.) Cut out your templates, then use your washable marker to trace them in reverse onto the back of your fused fabric piece. Cut out your letters, and then machine stitch around the edge of each with your machine outfitted with your jeans needle, if desired.
For the animal shapes, create templates by hand, or find some images you like on the web. (See my notes below for things to keep in mind when creating your templates.) Cut these templates out, and trace them onto the back of your fused fabrics, just as you did for the initials. Be sure to mix and match your fabrics to give your wall hangings a vibrant, whimsical feel. Cut out each of the shapes, and stitch around these as well (optional).
From the scraps of fused fabric you have remaining, cut various triangle shapes, approximately 5 for each canvas, depending on the size of your triangles. These will be used to form a pennant banner at the corner of each of your wall hangings.
step
3
/ Arrange all of your cut shapes onto your dry canvases: your initials, your animal shapes, and your pennant triangles. Once you are satisfied with the overall layout of your design, use hot glue to adhere each element to your canvas. Apply rick-rack over your pennant banner, as shown. Embellish your animal shapes with buttons, rick-rack and other items, if desired. (I used button eyes for my animals, as well as rick-rack antennae and legs for my caterpillar.)
You are finished!
Helpful Hints and Tips
Peltex is a very heavy-weight interfacing often used in place of cardboard or other materials to add stability to the base of handbags or totes. This really is a key ingredient to these canvases, as the dimension it imparts takes everything to the next level. You can find it where the rest of the interfacings are located in your sewing supply store.
Because of the personalized nature of these, I was unable to provide animal templates for each of the 26 letters of the alphabet. However, if your baby's name happens to include any of the letters in my hangings above, you can

download those animal templates here.
When formulating your animal templates, keep the shapes involved as simple as possible. Refer to my animal shapes above, which include basic shapes like hearts, circles, etc. Bear in mind that the more intricate the design you choose, the more tedious your work will become!
As always, please let me know if you have any questions!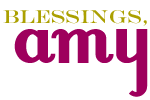 Having grown up in a home brimming with sewing notions and paintbrushes, Amy has a deep love for all things creative. On any given day, you'll find her knee-deep in her latest creative endeavor, with projects ranging from sewing and crafts to home decor and kid-friendly ideas. Amy believes that everyone, regardless of skill level or experience, possesses the ability to create something beautiful, and Positively Splendid was born of her passion for helping others harness their innate creative potential.