If you're popping over today from Tatertots and Jello via Jen's stop in New York on the Show Your State Pride Tour hosted by Beckie of Infarrantly Creative, welcome!
I am so glad you ventured over to Positively Splendid today for a sachet through New Mexico!
I was born and raised in the state of New Mexico, and despite the fact that I've hopscotched my way across the county over the course of my adult life (I've had addresses in Missouri, Colorado, Texas, Arkansas, and Tennessee), no matter how many time I've moved, my New Mexico roots have always seem to anchor me. New Mexico is known as the Land of Enchantment, and for good reason: A journey through the state can take you from spectacular mountain vistas, to the high plains of the Llano Estacado, and to stunning desert beauty with views that span for hundreds of miles and sunsets so breathtaking, only God himself could have conjured up something so lovely. If you have never visited New Mexico, you certainly need to add it to your list of must-see places!
Without a doubt, my New Mexico heritage has a huge impact on my design aesthetic today. Bold, vibrant color schemes are the norm in a state with such a rich Hispanic influence, with the textures and sensibility of the indigenous art of Old Mexico still alive and well. On any given day in Santa Fe (did you know Santa Fe is the oldest capital city in the United States?), you can find artisans from all walks of life sitting along the walls of the charming plaza at the center of town, their blankets spread before them and brimming with handmade treasures for sale. The project I am sharing today, an ornate handmade wooden cross, is my version of a vibrant Santa Fe treasure that you can make for your very own!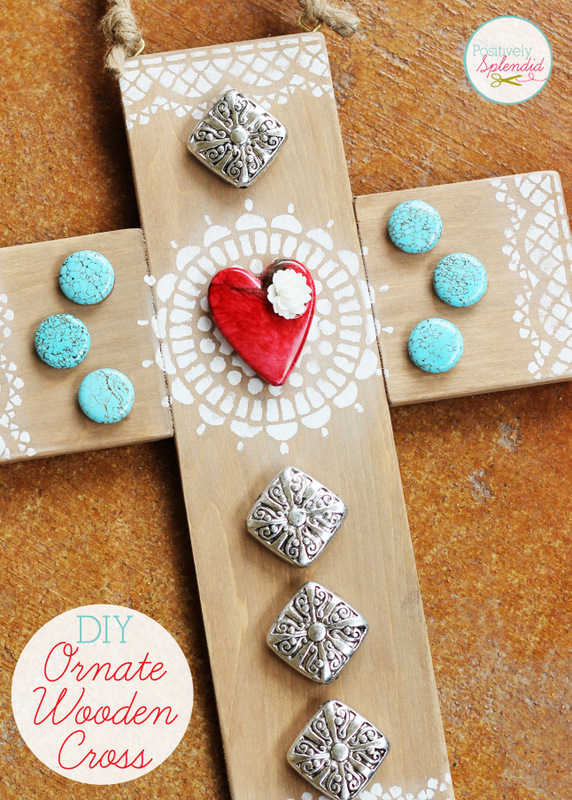 To make your own Santa Fe-inspired ornate wooden cross, you will need…
(1) 1/4″x3″x24″ piece of craft wood (I purchased mine in the woodworking section at Jo-Ann)
(1) 8″ section of 1/4″x1″ craft wood (a paint stir stick would work, too)
Hand saw (I used my miter box and saw to trim my pieces to size)
Sandpaper
Wood stain
Rag or paper towels
Wood glue
Heavy-duty adhesive (I prefer E-6000)
Acrylic paint
Stencil
Stenciling brush
(2) eye hooks
Twine
Assorted beads and baubles (for real New Mexico flair, I chose red, turquoise and silver accents purchased in the bead section at Jo-Ann)
To begin, use a hand saw to trim your 1/4″x3″ piece to the following dimensions:
Sand each of the wood pieces smooth, rounding off the edges of the pieces for an aged look, as shown. Wipe clean.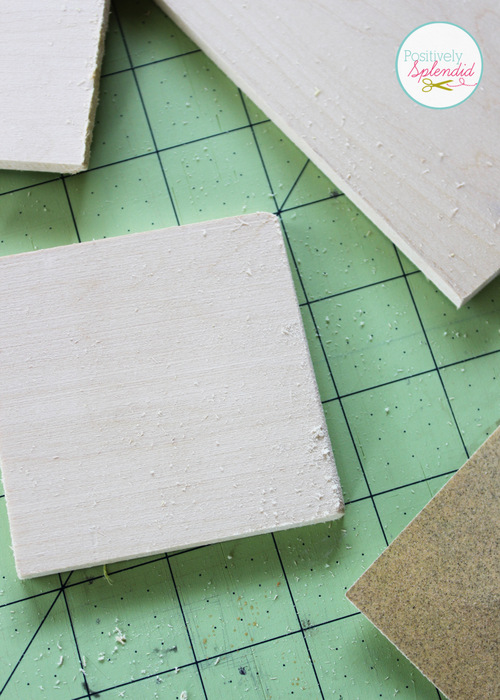 Apply the wood stain to each of the pieces: front, back and sides. Allow to dry completely.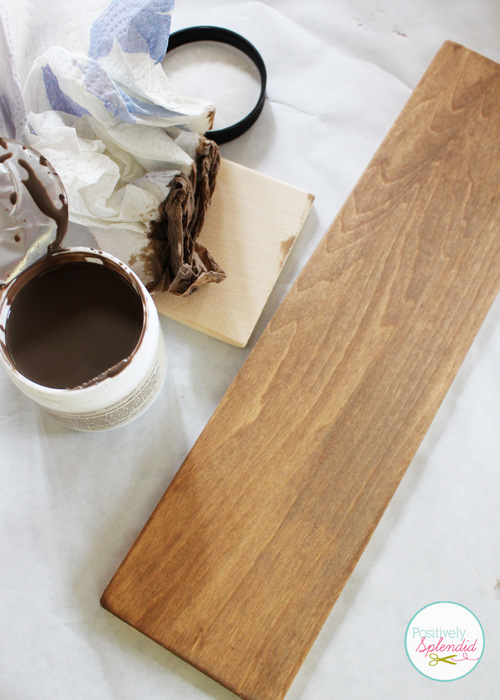 When the stain is dry, apply a thin line of wood glue to one of edges of each of the 3″ pieces, and adhere them along either side of the 12″ piece, about 2.5″ from the top edge of the long (center) piece. (This will form the "t" shape of the cross.) Wipe away any excess glue that seeps onto the front of the cross.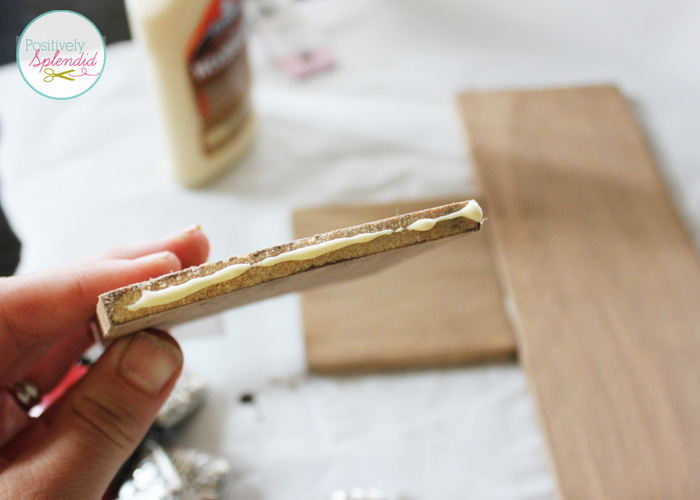 To further anchor the pieces together, apply a generous line of glue to the back of the 1/4″x1″x8″ piece, and affix it to the back of the cross so that it spans across the 3 separate sections, as shown. Set the cross aside to dry completely.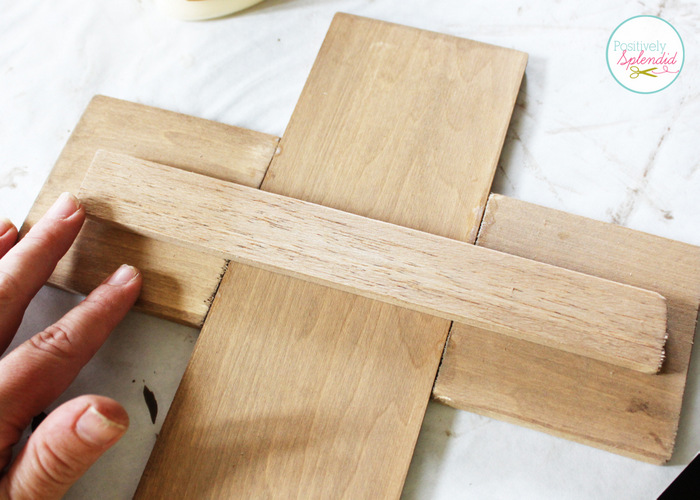 Use the stencil, stencil brush and acrylic paint to create a design on the front of the cross. (This stencil is from a set called Cathedral Lace from the Martha Stewart line, and I love how it mimics the look of crocheted lace, something that really exudes Southwestern charm.) Allow the paint to dry completely, and then gently sand the surface of the paint to give it an aged look.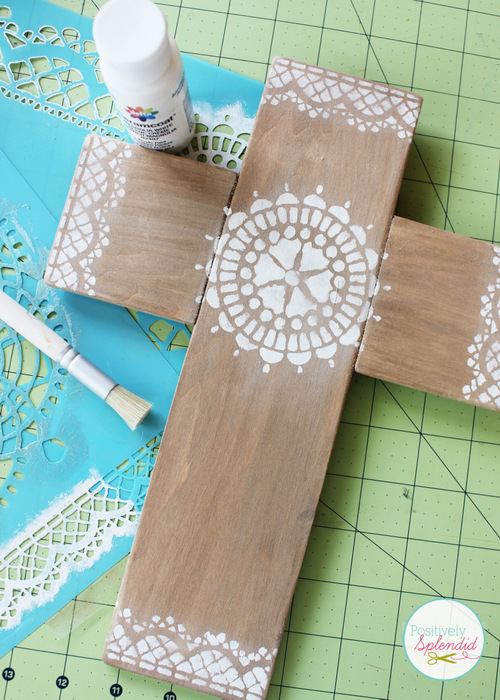 Screw the two eye hooks onto either side of the top edge of the cross…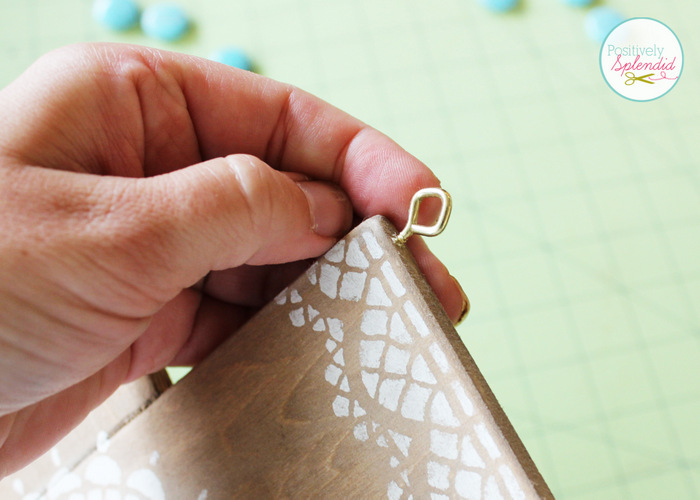 …and then loop a section of twine through each hook, securing each end with a knot.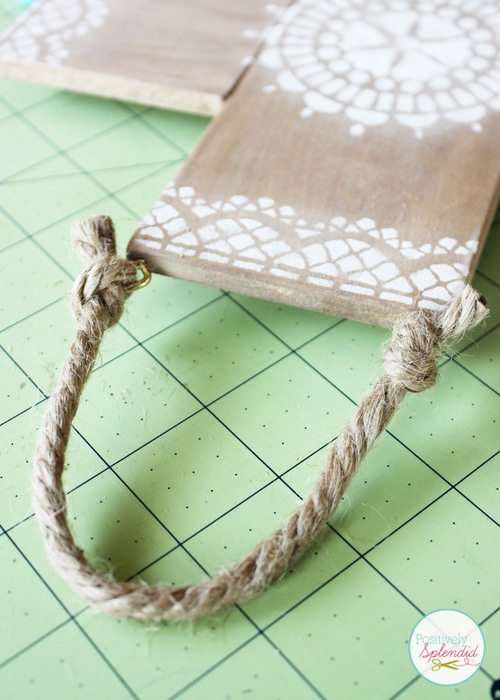 And now, the best part: adding some "bling" to your creation! New Mexico style is known for and abundance of bold, bright color, so you can really feel free to go for the gusto here! Use the heavy-duty adhesive to secure your accents to the front of the cross in a design that you find pleasing.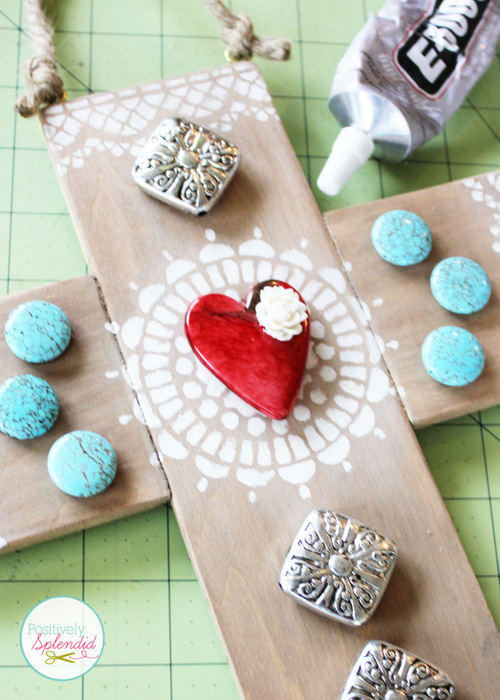 You are finished!
This project really does look like something that could be found in one of the many little shops in Santa Fe, inspired by the rustic crosses found in the many historic churches peppered throughout the city.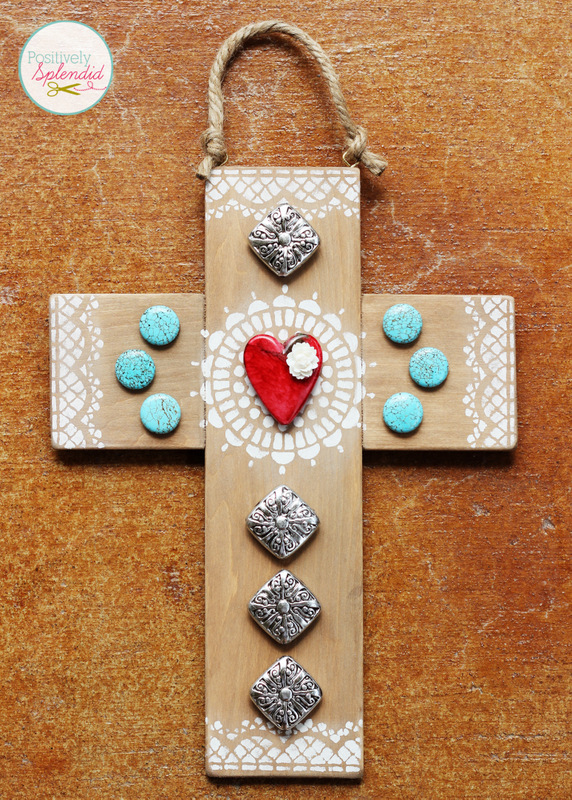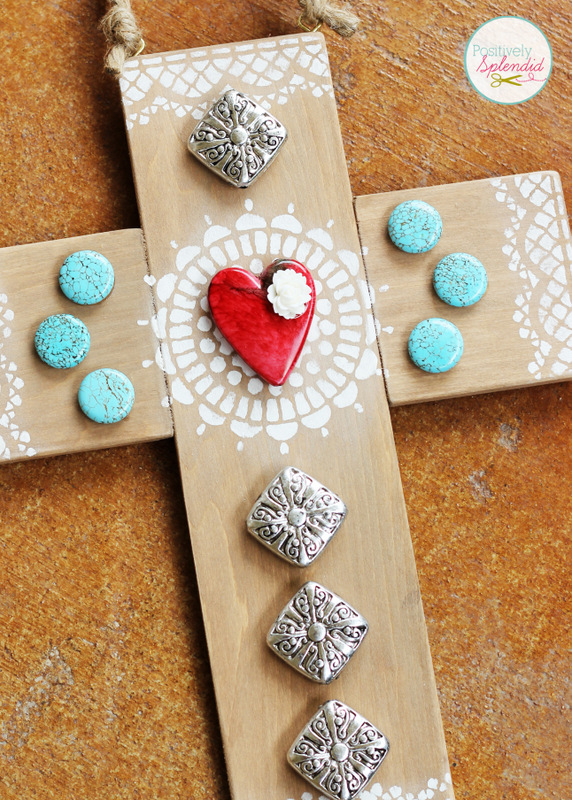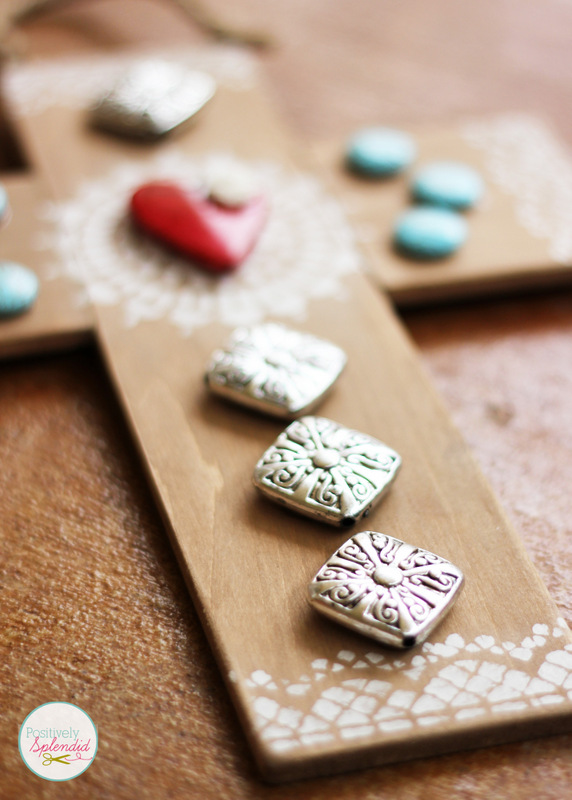 The red heart I chose for the center of my cross is the perfect way to decict the love I have for my home state.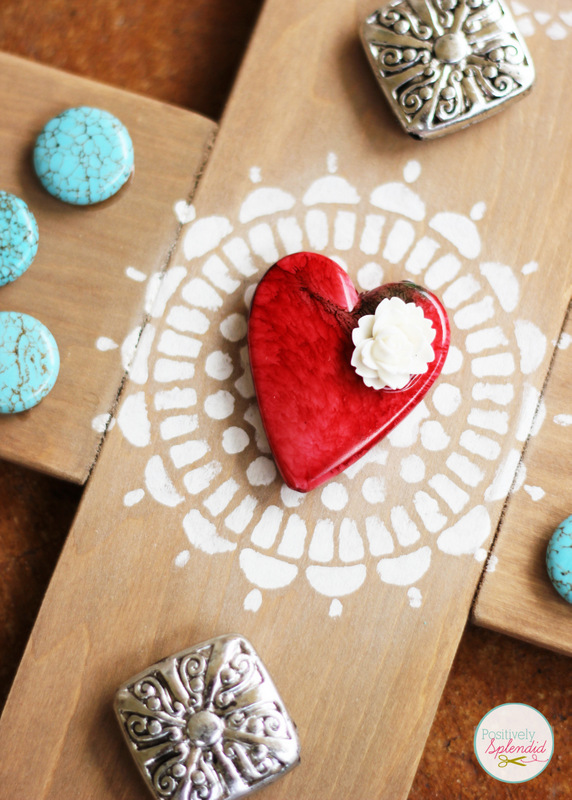 I hope this little stop in New Mexico has helped you find a couple of reasons to love it, too!
The next stop on the tour has us venturing over to North Dakota to pay Heidi from Hands Occupied a visit. Be sure to also check into Infarrantly Creative every day this week where Beckie will be sharing a recap of each day's lineup. There have already been so many fun ideas, and there are so many more in store!
Thank you for making PS a part of your day!
Having grown up in a home brimming with sewing notions and paintbrushes, Amy has a deep love for all things creative. On any given day, you'll find her knee-deep in her latest creative endeavor, with projects ranging from sewing and crafts to home decor and kid-friendly ideas. Amy believes that everyone, regardless of skill level or experience, possesses the ability to create something beautiful, and Positively Splendid was born of her passion for helping others harness their innate creative potential.