Add a touch of luck to your home decor this St. Patrick's Day with a festive wreath. Brimming with handmade shamrocks made with favorite green-hued fabrics in a variety of vibrant prints, this wreath really makes a fun statement! Let me walk you through the process for how to make one of your own.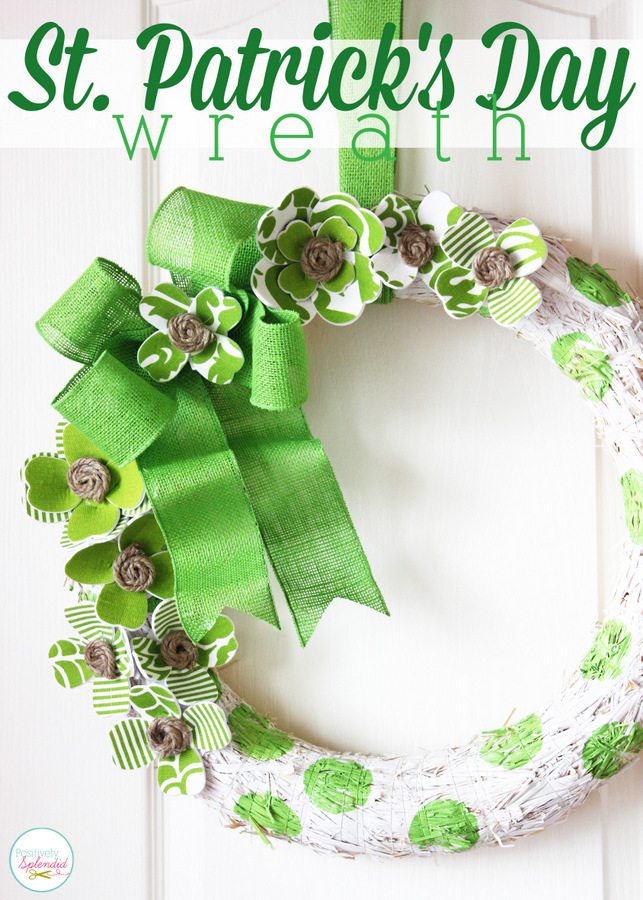 For this project, you will need…
Straw wreath form
White spray paint
Green acrylic paint
Circle foam pouncers
Adhesive craft foam sheets
Scissors
Circle punch
White cardstock
Assorted scraps of green-hued fabrics
Jute twine
Wired burlap ribbon
Hot glue
Notes: The process for how to create the leaves for the shamrocks is the same one I used for my fall leaf garland. For additional detailed photos of the process, head over to that post.
Directions
Spray the wreath form with the white paint and allow to dry. When dry, use the foam pouncers and green acrylic paint to create a polka dot pattern over the surface of the wreath. Set aside to dry completely.
Cut a 3″ strip from the craft foam, and remove the sticky backing. Adhere the sticky side of the foam strip to the wrong side of a fabric strip. Use the scissors to cut a leaf shape, which is essentially a broad heart with a rounded bottom, as shown. Cut four leaf shapes for each shamrock, or eight shapes from two contrasting fabrics for the stacked version of the shamrocks.
Make a small snip in the bottom of each leaf, and fold over, as shown, adhering with hot glue. (This will add dimension to your finished shamrocks.)
Cut a circle from the white cardstock, and run a line of hot glue around the perimeter of the circle. Adhere four leaves around the outside of the circle, overlapping the edges as you work. (For layered shamrocks, adhere a second layer of smaller leaves on top of the first layer.)
To finish the wreath, form a bow from the burlap ribbon, and adhere it to the wreath with hot glue. Add a shamrock center to the bow, as shown.
Arrange the remaining shamrocks around the wreath in your desired configuration, and adhere with hot glue.
For the shamrock centers, cut small pieces of twine, and twist them in a spiral shape, securing the outside end with hot glue. Apply a generous amount of hot glue to the underside of the spiral, and affix to the center of the shamrock.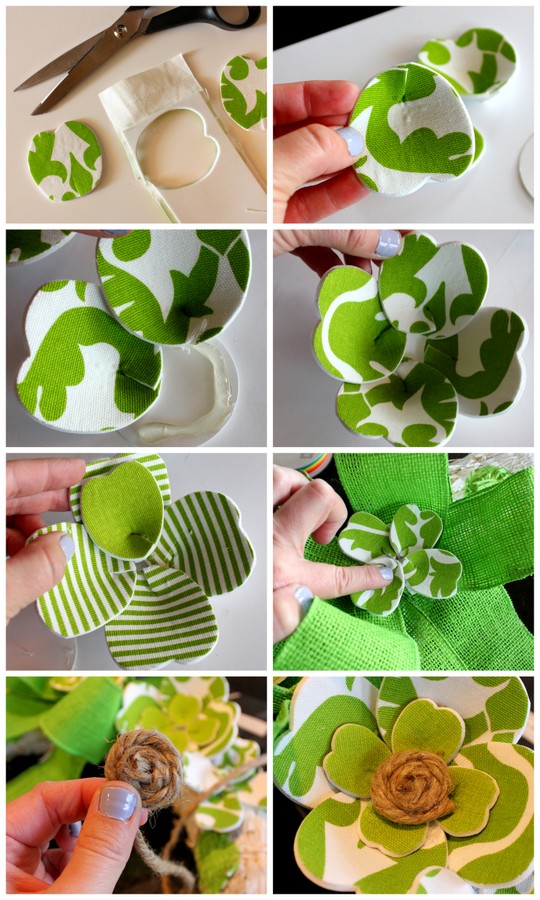 Your St. Patrick's Day Wreath is complete!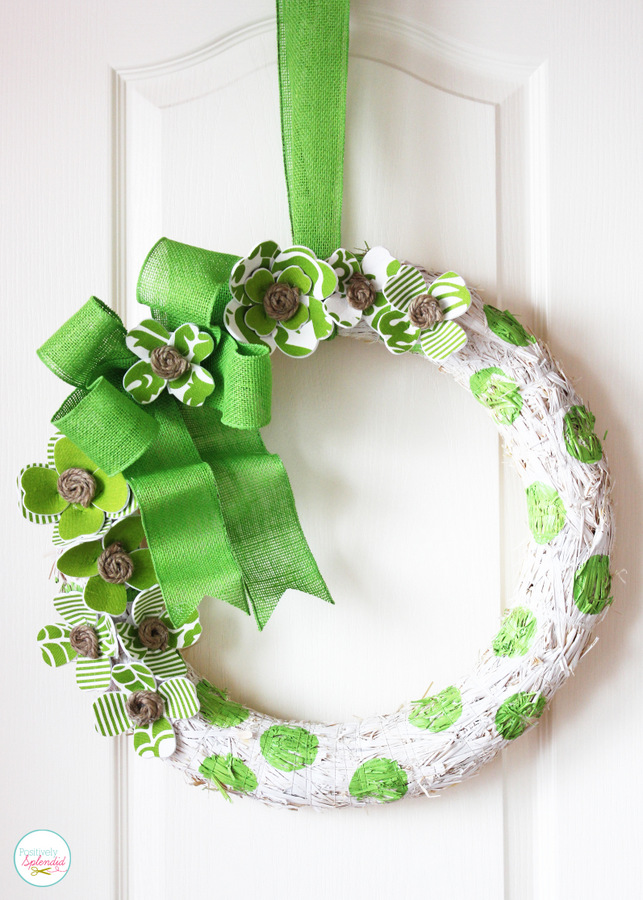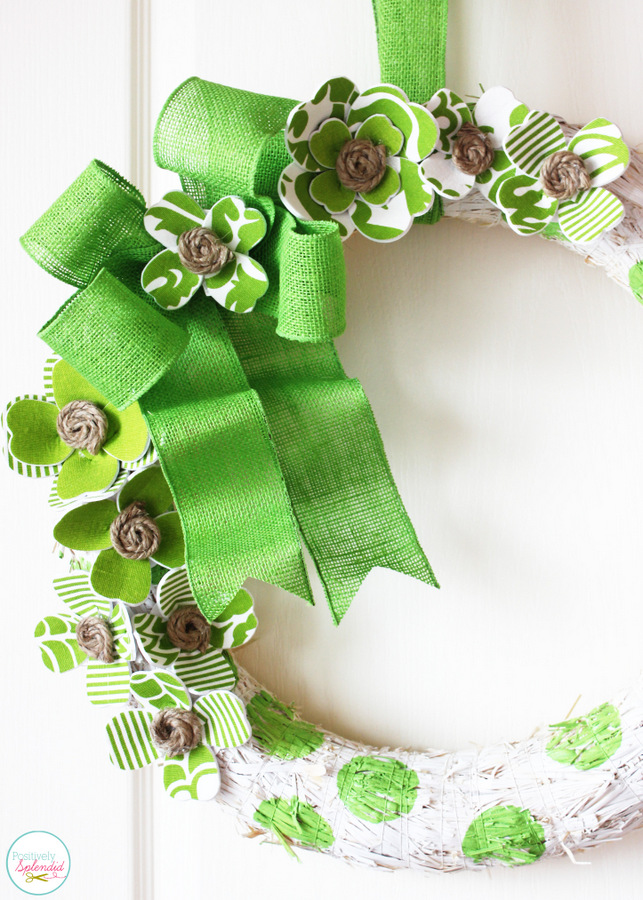 Without a doubt, the foam and fabric shamrocks are my favorite element of this project. They would be so cute used to adorn any number of projects!
Wanting even more wreath inspiration? Don't miss these other great projects!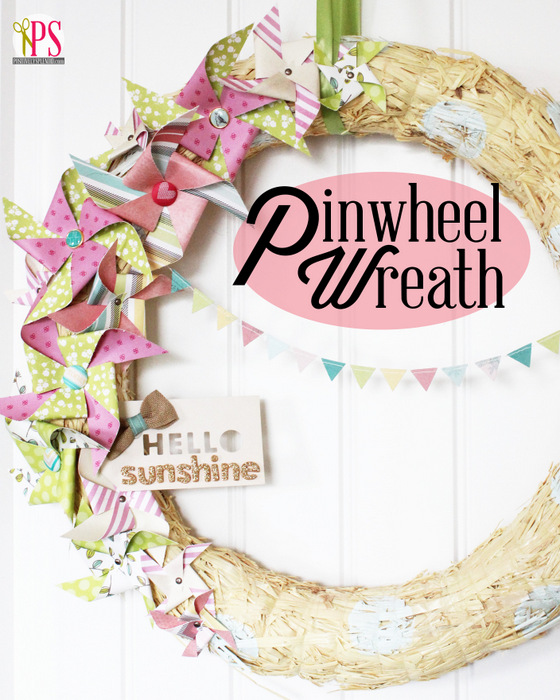 If You Liked This, You Might Also Be Interested In: