After sewing avidly for a number of years, I have found myself reaching again and again for the same essential tools that make any sewing project easier. Today, I've compiled my top 10 essential sewing tools to pass this information along to you.
Did you receive a new sewing machine recently, and are wondering what exactly you need to get started creating magic with your new toy? Or do you have a machine that has languished for years in a box at the back of a closet, simply because you don't know where to begin? Or, you simply want to learn more about sewing so you can improve the quality of your projects and get more enjoyment out of the process? If any of these applies to you, my list today is truly a must-read, because the items I've included will make any sewing project–no matter your skill level–easier and more enjoyable!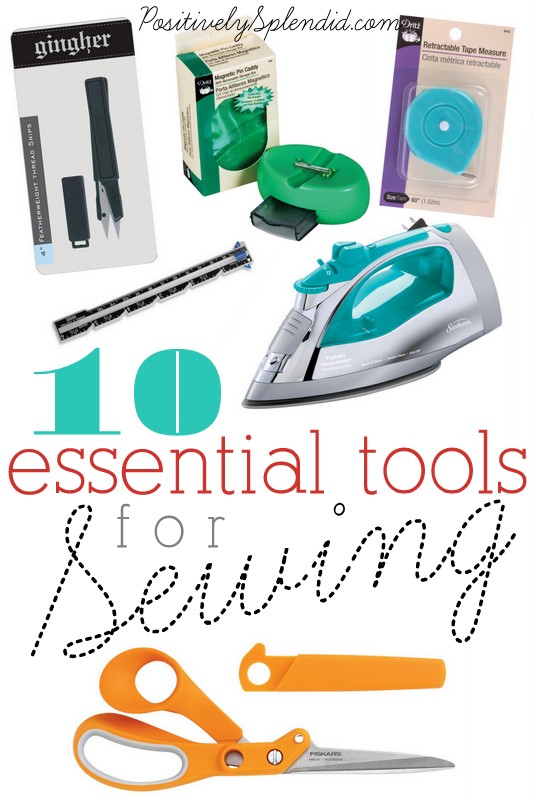 A Good Iron
More than anything, I firmly believe that pressing projects is one of the most surefire ways to ensure the best possible results in finished projects! For that reason, the first purchase I recommend anyone to make once they are the proud owner of a sewing machine is an iron to use specifically for sewing projects. Select one that isn't too heavy, and that feels comfortable in your hand. Depending upon personal preference, you can select one with an automatic turn-off (great for homes with children and pets), or one without that feature. Because a "good iron" is such a subjective concept, the perfect iron for your needs doesn't have to cost a fortune. My favorite iron to date was actually a very inexpensive little Sunbeam iron that we received when we got married. That iron lasted through nearly five years of consistent use before it finally gave out!
One last note about irons: no matter how pure the water source (or even if it's bottled purified water), I recommend against ever filling the iron with water for steaming, even if the instruction manual says you can do so. The same steaming effect can be better accomplished with a simple spray bottle, and it will insure the longevity of your iron for years to come!
Shears Used ONLY for Cutting Fabric
I have mentioned before that my mom is an accomplished sewist, and I can recall so vividly as a child being admonished by her any time I made an attempt to use her sewing shears for cutting construction paper. Now, of course, I am the mama getting onto my kiddos for doing the same. 🙂 Truly, any sewist should have a pair of shears used solely for sewing projects to prevent the blades from becoming dulled and thus damaging fabrics as they are cut. I recently received a pair of Fiskars fabric shears that I absolutely love, and they happen to be extremely affordable (less than $20!). Cutting through multiple layers of fabric with these is as easy as can be, and the handle is extremely comfortable.
Retractable Tape Measure
Admittedly, these are pricier than standard tape measures, but it is well worth the investment to save the hassle of having to roll and re-roll with each use! I have this Dritz model, and I really like it.
Large Cutting Mat
If, like me, you don't have a dedicated space for cutting out projects in your home, a large cutting mat is essential. I use my mat almost daily to protect my kitchen countertops from getting scratched as I make my cuts. There are many different varieties of cutting mats available, but I really love my Singer Cutting and Craft Board
. At 36×72 inches, it is ample for just about any project (including home decor projects), and I love that it folds up neatly for easy storage.
Rotary Cutter and Self-Healing Mat
I rarely tackle a sewing project when I don't put my Fiskars Rotary Cutting Set
to good use. The sturdy self-healing mat and clear ruler make the task of making numerous cuts a breeze, and the rotary cutting tool is easy to use, and the blades can be switched out in seconds.
Seam Gauge
To ensure accuracy in pressing hems, pleats and more, a seam gauge really is essential. I love my simple and sweet Dritz seam gauge that has a sliding gauge to ensure even, consistent placement.
Seam Ripper
Let's face it: mistakes happen, even for experienced sewists. A good seam ripper is a must! My mom gave me the handiest seam ripper as a stocking stuffer this year: it contains a traditional seam ripper on one end, and on the other, it has a handy rubber fitting that whisks away cut threads like magic. I don't know how I ever lived without it!
Magnetic Pincushion
In homes with children or pets (or for those of you who, like me, enjoy sewing in bare feet!) keeping pins stowed safely away is a must. There is no easier way to ensure pins wind up where they belong than to have a magnetic pincushion. This handy tool allows you to place pins in the basic vicinity of the holder, and the strong magnets pull the pins into place (and keep them there).
Thread Snips
For clipping loose threads while sewing or to clean up finished projects, a pair of lightweight thread snips really is indispensable.
Sewing A to Z
Nancy Zieman truly is unrivaled in her breadth of knowledge of all things sewing, and her book Sewing A to Z truly is an essential for any sewist wanting a go-to resource for sewing and quilting techniques and tips. I received this book as a gift from my mom for Christmas two years ago, and I can't begin to count the number of times I have referred to it since!
There you have it: my 1o essential sewing tools. Did your must-haves make the list? Feel free to add to the conversation in the comments below!
***
Why stop here? Check out these other great posts brimming with sewing tips and inspiration!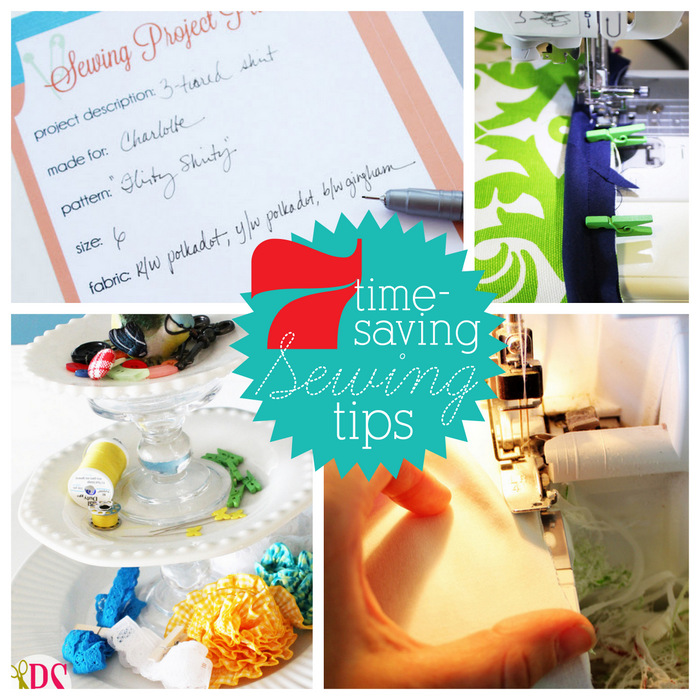 5 Simple Tips to Improve Your Sewing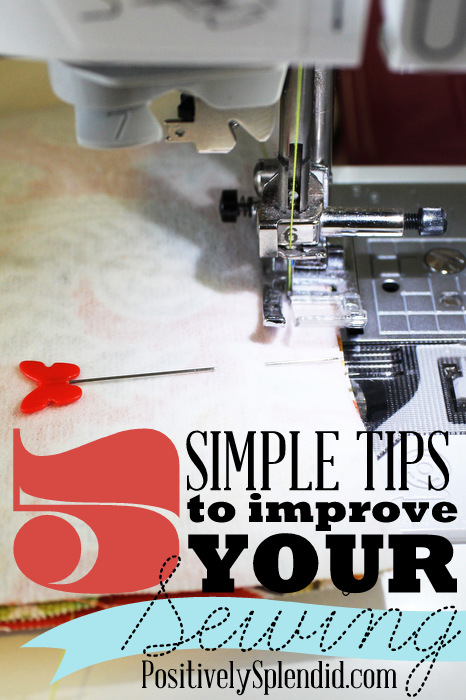 Disclosure: This post contains affiliate links. Rest assured that I am committed to only sharing products that I truly believe in and use myself.
Having grown up in a home brimming with sewing notions and paintbrushes, Amy has a deep love for all things creative. On any given day, you'll find her knee-deep in her latest creative endeavor, with projects ranging from sewing and crafts to home decor and kid-friendly ideas. Amy believes that everyone, regardless of skill level or experience, possesses the ability to create something beautiful, and Positively Splendid was born of her passion for helping others harness their innate creative potential.