Happy Friday, everyone! We are wrapping up our second and final week of spring break today, and I am hoping Mother Nature cooperates so that we can spend as much time as possible outdoors!
Today I thought I'd start something new here at PS where I take some time to share some of the things I couldn't live without right now. Whether it's a favorite product, a website, or something else entirely, if I love it, you can count on finding it here!
(FYI: I haven't been compensated at all to write about any of the products shared in this post. I simply love them and wanted to pass the information on to you!) 
one.
Mrs. Meyer's Rosemary Countertop Spray
This spray smells so fresh and crisp – just like springtime. It makes wiping the counters and table down after kitchen cleanups so much less tedious!
two.
Sriracha
There is so much flavor packed into this one little bottle. I could eat this stuff on just about everything! The perfect flavor-to-spice ratio.
three.
Rockin' Green Laundry Detergent
Unfortunately, we here at Chez Bell are all allergy sufferers of one form or another, and two of my kiddos have eczema that is absolutely atrocious. This detergent is perfect for ultra-sensitive skin like theirs, and it leaves our clothes naturally soft and clean. I love it! It is also the perfect option for laundering cloth diapers.
four.
Little Superstar Sing-Along Stage
Of all of the toys Santa brought for Christmas, this has been the one with the most staying power. My 5-month-old and 2-year-old are both totally smitten with it, but my older two have been known to play with it now and then, too! I highly recommend it.
five.
Breadtopia
So have you heard of the no-knead bread method yet? Thanks to a tip from my mom about this site, we are now becoming bread-baking enthusiasts. It is so easy! We even bought some sourdough starter this week and have it "activating" on our kitchen counter as we speak. 
six.
Fold-Over Jersey Skirts from Old Navy
Comfy? Check. Cute? Check. I bought the navy chevron skirt pictured here, and I think I'll be heading back to buy a couple more colors!
seven.
Strawberries and Cream
Check out yesterday's post for more on this one. Yum!
eight.
Panera Thai Chopped Chicken Salad
If I could eat one thing for lunch every day, this would be it. In fact, now that I'm thinking of it, I might have to go grab one today! 😉
nine.
My Aspiring Video Game Designer
Yesterday was dreary and rainy, and my oldest son took the opportunity during art time to try his hand at designing new levels for Angry Birds. Not too shabby, huh? 
ten.
The New PS Seasonal Ideas Page
I've added a new button in the nav bar above where you can access all of my seasonal projects here at PS with just one click! Be sure to head over to see a full pictorial guide of Easter projects, outdoor decor ideas and yummy recipes to try! 
***
So what are YOU loving right now?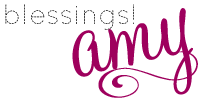 Having grown up in a home brimming with sewing notions and paintbrushes, Amy has a deep love for all things creative. On any given day, you'll find her knee-deep in her latest creative endeavor, with projects ranging from sewing and crafts to home decor and kid-friendly ideas. Amy believes that everyone, regardless of skill level or experience, possesses the ability to create something beautiful, and Positively Splendid was born of her passion for helping others harness their innate creative potential.