Happy weekend eve, my friends! 
For some of y'all, I'm sure the little culinary tip I'm sharing today is completely ordinary and something you've been doing for ages. If you're in that boat, bear with me here, because I have to spread the word to those who haven't ever heard of this before.
Today's tip might very well go down as the. easiest. idea. I've ever shared here. Ready for it?
Buy a pint of strawberries and give them a good wash.
Plate them up next to a healthy dollop of sour cream (or Greek yogurt, if you want the added benefit of healthy protein along with the tangy goodness) and a little mound of brown sugar.
Dip a strawberry first into the sour cream/yogurt and then into the brown sugar.
Now, take a nice, big bite.
It's like a little flavor explosion of springtime goodness in your mouth. Sweet, yet tangy. SO good!
We eat this in the spring and summertime for dessert very often, and I have found these tasty little oven-baked churros from Southern Living go along with the berries beautifully!
Enjoy!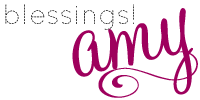 If You Liked This, You Might Also Be Interested In: