I never cease to marvel at the sheer abundance of amazingly useful information available on the internet. Every once in a while, I stumble upon an idea that makes me stop and think, "Now why didn't I think of that?" I'm passing along twelve of these tips that are simple, no-nonsense ways to streamline various aspects of your life!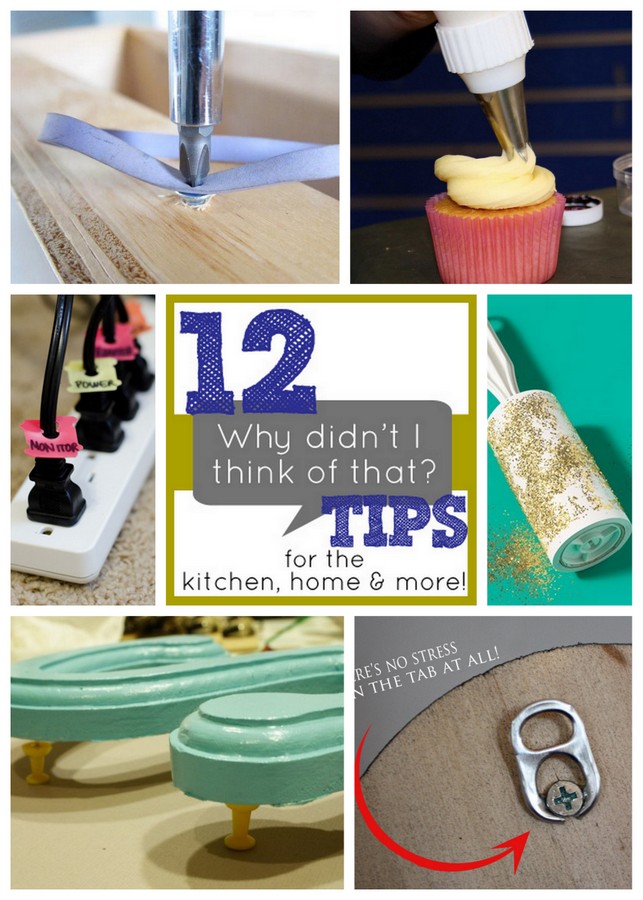 one.
Piping Bag Trick @ Dollar Store Crafts via Karen's Cookies
Heather calls this amazing technique for filling piping bags mind-blowing, and for good reason: it really is! For anyone who has ever dealt with the hassle of filling piping bags for any project involving frosting, this is a must-read.
two.
Cupcake Liner Storage @ Tidy Mom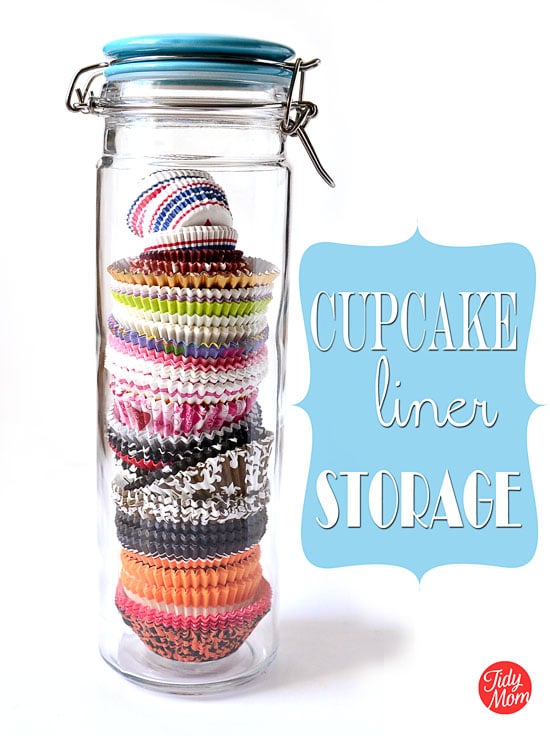 I can finally reclaim my utensil drawer from all of those rogue cupcake liners! What a simple, brilliant idea!
three.
Freezer Paper Pattern Tracing @ Girl. Inspired.
When I first came across this trick from my friend Stef, it was a serious A-ha! moment! By tracing patterns onto freezer paper (or by printing PDF patterns directly onto freezer paper using your inkjet printer), you can then iron each piece onto your fabric before cutting out, eliminating the need for pins or pattern weights. And no bunching or shifting!
four.
Grocery Bag Storage @ Tatertots and Jello via Infarrantly Creative
Finally – a way to consolidate the grocery bags that want nothing more than to take over my pantry! Beckie's tip for how to roll the bags so they dispense properly is downright clever.
five.
Hanging Pictures with Pop Tabs @ Apartment Therapy
Have a piece of artwork with no hanger? What a smart idea to use a pop tab to do the job!
six.
How to Regrow Green Onions @ Cookthink
You know those little white bulbs you are left with after chopping green onions? Place them in a bit of water, and they will sprout so you can harvest new growth several times! Who knew?
seven.
How to Prevent Painted Items from Sticking While Drying @ Chica and Jo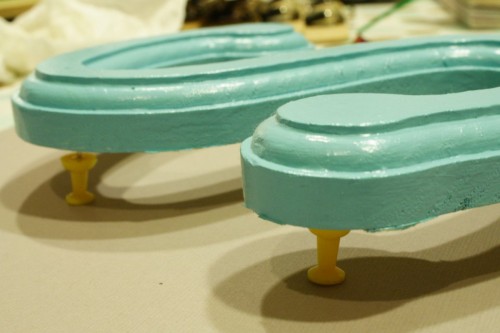 This idea of using push pins to avoid the frustration of having newspaper remnants stuck to the edges of your painted projects is brilliant!
eight.
How to Remove a Stripped Screw with a Rubber Band @ Apartment Therapy
With this handy dandy trick a dreaded stripped screw is no big whoop!
nine.
Mess-Free Painting Tips @ The Family Handyman
There are some truly ingenious ideas in this lineup, but my favorite is definitely the idea to use Glad Press'n Seal to protect surfaces as you paint!
ten.
Time-saving paint tip by Positively Splendid
Another great use for Glad Press'n Seal! Wrap a section around a wet brush when you have to take a break in the middle of a painting project and pop into the refrigerator. The paint will stay fresh until it's time to return to the project!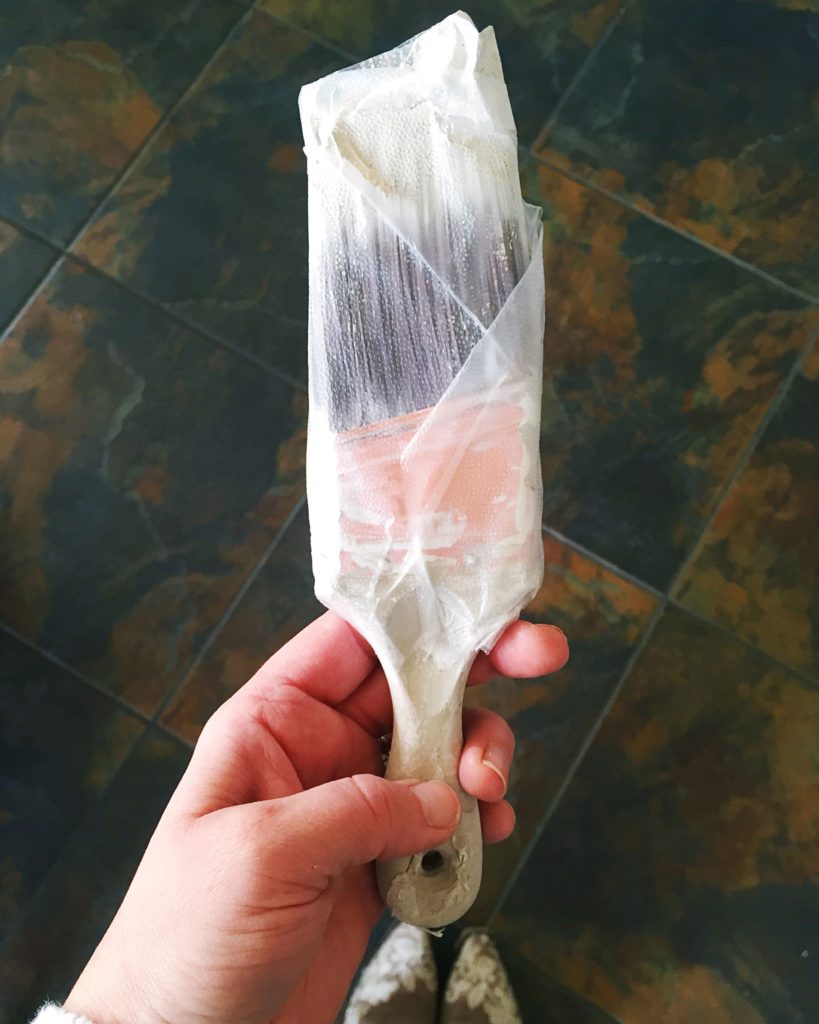 eleven.
Bread Tag Cord Labels @ Apartment Therapy
What a true sanity-saver this little trick will be the next time I need to decipher the origin of the wires behind my desk!
twelve.
Lint Roller Glitter Pick-Up @ Real Simple
Not that I tend to be a messy crafter or anything. Of course not. But if I were, this might just revolutionize my crafting life! 😉 This same idea would also be a terrific way to clean up small bits of paper and embellishments left over from kids' craft projects.
***
Wanting even more inspiration for making life a little easier? Don't miss these other round-ups of helpful tips!
12 More Why Didn't I Think of That Tips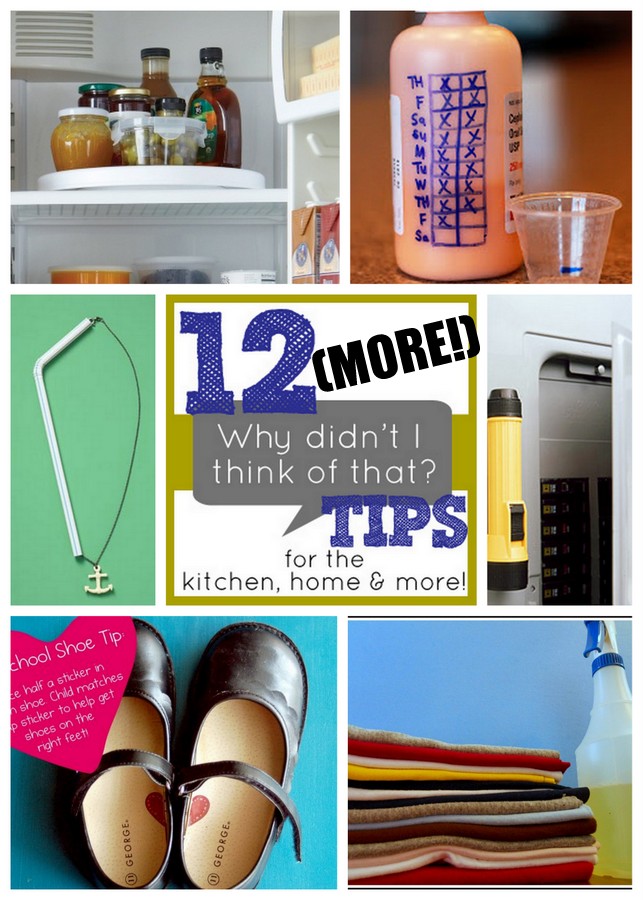 10 Helpful Household Tips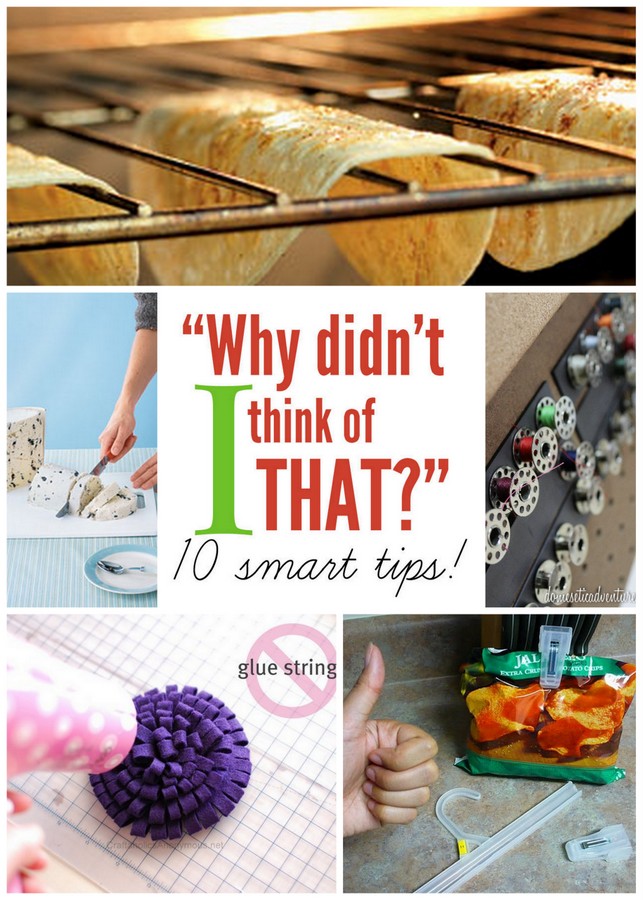 Having grown up in a home brimming with sewing notions and paintbrushes, Amy has a deep love for all things creative. On any given day, you'll find her knee-deep in her latest creative endeavor, with projects ranging from sewing and crafts to home decor and kid-friendly ideas. Amy believes that everyone, regardless of skill level or experience, possesses the ability to create something beautiful, and Positively Splendid was born of her passion for helping others harness their innate creative potential.