With 2013 right around the corner, now is the time to plan your menu for New Year's Day. Traditional "lucky" foods abound and vary throughout different parts of the country, but today I am going to whittle the list down to my top five lucky New Year's foods (plus some great ideas for serving them) to hopefully bring you plenty of good fortune during your next trip around the sun!
1. Black-Eyed Peas
A tradition steeped in southern heritage, black-eyed peas are traditionally eaten on New Year's Day because of their resemblance to coins. In all of my 31 years, I have never missed eating black-eyed peas on the first day of the year! One of my favorite preparations of black-eyed peas is a traditional Hoppin' John recipe, like this one from Epicurious.
2. Greens
Can you guess why greens might be popular New Year's Day fare? That's right–they are the color of money! Although stewed greens like collards and kale are popular in the southern United States, other great options include green cabbage or swiss chard.
3. Pork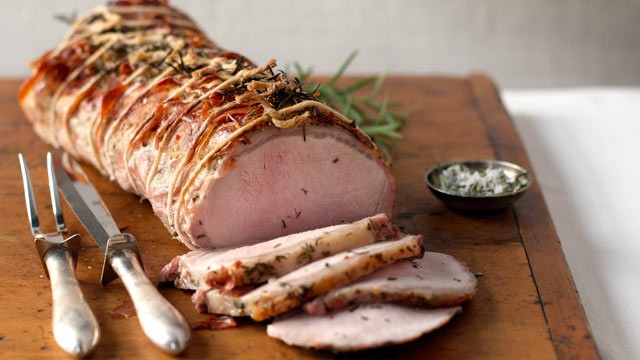 I have heard various explanations for why pork is auspicious to eat on New Year's Day, including the healthy physique of the pig foreshadowing  abundance in the coming year, or the fact that pigs always move in a forward direction with their noses when rooting around for food, indicating the act of moving forward into the new year. Regardless, pork is delicious, and it just so happens that it can be paired beautifully with many of the other items on the lucky foods list!
4. Round/Ring-Shaped Foods
What if I told you that those doughnuts you love to eat for breakfast might just bring you good luck in the new year? In case you needed any more of an excuse to indulge, ring-like foods (including doughnuts) symbolize a year that's come full circle.
5. Grapes
In Spain, it is customary to eat twelve grapes at midnight on New Year's Day: one grape for each stroke of the clock to symbolize the twelve months that have just come to a close and the twelve months to come.
***
 So now that we've covered the lucky New Year's food basics, how about some recipes to make these ingredients shine?
Lucky Categories: Black-Eyed Peas, Greens
Lucky Categories: Greens, Pork
I've been preparing this recipe since it first appeared in Bon Appetit in 2007, and it is a hit with every member of our family!
Lucky Category: Ring-Shaped Foods
Who says pumpkin has to be reserved only for autumn? I made these doughnuts last month, and they all were devoured nearly the moment I took them out of the oven!
Image via my Instagram
Lucky Category: Ring-Shaped Foods
Think outside the box for the ring-shaped category and served monkey bread on New Year's morning. Because it is baked in a bundt pan, it fits the bill perfectly!
 What do you typically prepare for New Year's Day? 
Thanks so much for stopping in!
Having grown up in a home brimming with sewing notions and paintbrushes, Amy has a deep love for all things creative. On any given day, you'll find her knee-deep in her latest creative endeavor, with projects ranging from sewing and crafts to home decor and kid-friendly ideas. Amy believes that everyone, regardless of skill level or experience, possesses the ability to create something beautiful, and Positively Splendid was born of her passion for helping others harness their innate creative potential.