By the chimney with care – December 2008
T

his little house's welcome has never worn thin.
Even after welcoming one bouncing baby…
and then another…
and then another.
And still, her eaves never groaned under the weight that was our family.
This house, if her walls could whisper of the things she has seen…
They would boast the tale of a young couple just starting our life together, so far from home.
Of the painstaking care that same couple took in carrying each of our little ones over her threshold.
Of the many sleepless nights my bare feet have spent pacing up and down her hallways, an infant cradled in my weary arms.
Of the precious sound of tiny bare feet creeping down that same corridor to the safety of Mama and Daddy's bedside.
She would stand tall to show the penciled markings on her kitchen wall. The ones labelled Jack, and then Charlotte, and then Cecily. A tiny demarcation to delineate a visual sign of how quickly the years go by; to remind us that time never ceases to march on, even when a mother's aching heart would will it otherwise.
Good-bye, squeaking doors…
uneven floors…
shower walls that never shine to my satisfaction, no matter how hard I might scrub.
Good-bye…
sing-song cadence of our childrens' voices as they play with their little friends from down the street.
Good-bye…
majestic oak trees that never seem to lack leaves to drop in our gutters…
neighbors who never seem to lack a kind gesture to brighten our day.
Good-bye, dear friend.
May the next family blessed enough to call you home find even a fraction of the joy we have within your walls.
12.10.2010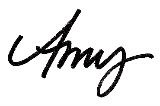 If you enjoyed this post, subscribe to Positively Splendid 
to receive updates, and join us on Facebook and Twitter!





Having grown up in a home brimming with sewing notions and paintbrushes, Amy has a deep love for all things creative. On any given day, you'll find her knee-deep in her latest creative endeavor, with projects ranging from sewing and crafts to home decor and kid-friendly ideas. Amy believes that everyone, regardless of skill level or experience, possesses the ability to create something beautiful, and Positively Splendid was born of her passion for helping others harness their innate creative potential.