Some of my favorite quick-and-easy projects are the appliquéd tees I make for my kiddos. It makes them feel special to have something "Mama-made" to wear on big days, and I love that these are projects that I can almost always complete from start to finish in the span of a naptime.
Not so long ago, however, I was a complete sewing novice. I can recall so vividly one day in particular standing in the Hobby Lobby sewing section, wanting to buy the supplies necessary to make an appliquéd onesie for my oldest daughter. I had absolutely no idea of where to even begin, much less of the specific products that would work best for a simple appliqué project like that one.
If that overwhelmed feeling sounds familiar, take heart: In today's post, I am going to share all of the tips and tricks I've learned for applique over the course of the last few years, plus some of my favorite product recommendations to help you achieve the best possible results for your projects!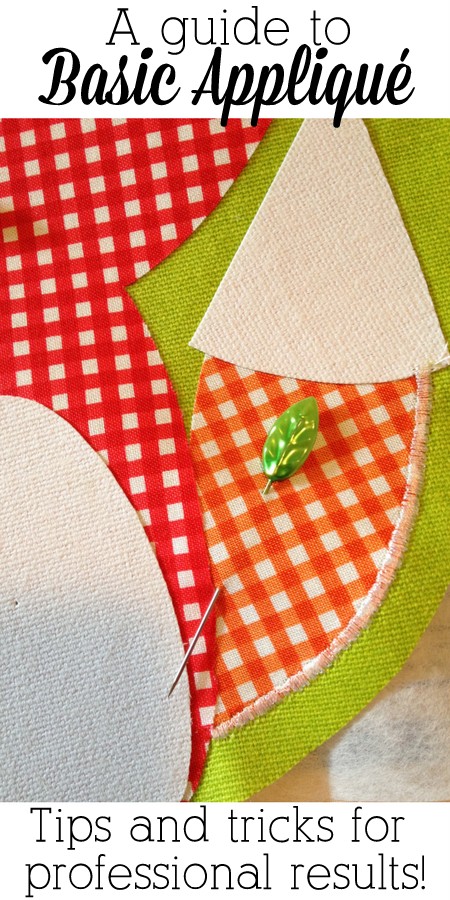 A Guide to Basic Appliqué Projects
Supplies:
Fabric (Scraps left over from another project work great here)
Fusible web (I use Heat'n Bond Lite)
Pencil
Sewing shears
Tear-away stabilizer
Thread
Additional embellishments: ribbon, buttons, rhinestones, etc. (optional)
Garment to be embellished
Step 1: Select an Appliqué Template
If you are particularly artistic, you can make a template of your own, simply by sketching a design onto paper. However, if the thought of that intimidates you, there are an abundance of terrific templates available for free on the web. For today's appliqué demonstration, I am using one of my Free Mickey Mouse Appliqué Templates.
When you have made or found a design you love, trace or print it onto copy paper and cut it out. For a layered appliqué design (such as my Pirate Mickey here, which has a bottom Mickey Mouse layer and a top bandana layer), you will need a separate template piece for each layer.
Step 2: Select Your Fabric
It is possible to appliqué with just about any fabric under the sun, although it is important to remember that some fabrics tend to fray more than others. Standard quilting cottons will fray a bit after a number of washes, but not nearly as much as a plush minky fabric, terrycloth or flannel. One way to minimize fraying is to use a heavier weight fusible web product, however, I prefer to use a lighter weight fusible web for the overall wearability of the garment later on.
Great materials for appliqué, if a small amount of fraying isn't a concern:
Quilting cotton
Jersey Knit
Twill
Corduroy
Great materials that eliminate fraying altogether:
Felt
Fleece
Leather, Suede and Ultra Suede
Marine vinyl
Important Note: Using options from the no-fray category can present a challenge, as they tend to be synthetic and thus very sensitive to heat. For that reason, the fusible web process I outline below won't work with these materials. Felt and fleece have a tendency to cling to whatever they are placed up against, so simply by placing them on your garment and securing with a pin or two before stitching, you should be good to go. For leather and marine vinyl, I recommend temporarily adhering the appliqué layers to your garment using a product called Wash-Away Wonder Tape. It works like charm!
Step 3: Apply Fusible Web to the Wrong Side of Your Material
To begin, cut a section of fusible web for each layer of your appliqué design. Important: Each section should be large enough to contain the entire design layer.
Remove one side of the backing from your fusible web sections. With the wrong side of your material facing up, apply the fusible web to the material. Your iron should be set at a cotton setting with no steam.
Step 4: Trace Appliqué Templates onto the Fusible Web Backing
With the right side of your templates facing down, trace each layer onto its respective fusible web-backed fabric piece. Important: You will need to trace a mirror image of your design so that your appliqué will display correctly once it's affixed to your garment.

Step 5: Cut Out Appliqué Pieces and Iron to Garment
Using sharp sewing shears, carefully cut out each layer of your appliqué design. It is important to cut very carefully, as this edge will be visible on your finished garment. Remove the paper backing from these pieces, and then arrange them, starting with the bottom-most layer and working up, onto your garment in your desired configuration. Using your hot iron, carefully press these pieces to affix them to your garment. Be careful not to drag your iron across your design, as this could cause your appliqué design pieces to shift. Instead, lift the iron up and then place it down onto the next section of your design as you work.
Step 6: Pin Stabilizer to the Inside of Your Garment
This is a step that often gets overlooked in basic appliqué projects, but it is incredibly important and not to be skipped! Cut a piece of tear-away stabilizer (I love Sulky stabilizers) that is just larger than the entirety of your appliqué design. Pin the stabilizer piece to the inside of your garment directly behind your appliqué design. Why use stabilizer? It will prevent ugly puckering during the next step, which will give your finished project a much more professional look.
Step 7: Stitch Your Appliqué Design into Place
You have a few different stitch options for securing your design to your garment.
Satin stitch (the traditional option)
A zig-zag (this minimizes fraying)
A straight stitch (by far the easiest option, but does allow some fraying to occur)
There are some sewing purists who feel very strongly that appliqué can only be done properly when finished with a satin stitch, which is essentially very tight zig-zag stitch. If you find that look to be the most appealing to you, this is a great video how-to.
Although I tend to love the more traditional look of satin stitch appliqué, it is also possible to finish appliqué designs with a simple machine straight stitch. This method is far less time consuming and complex than a satin stitch, although the results are not as durable as a satin stitch would be. On boys' garments, though, I think the fraying that occurs can actually add character to the finished project.
To finish with a straight stitch as I've done in my pirate Mickey, use a straight stitch set to a medium length (I set my machine at 3), and stitch all the way around your design, as closely as you can to the outer edge. Make sure to backtack at the beginning and end of your stitches so they don't come loose later on. Work in sections as you stitch, stitching around each layer of the design as you go. Make sure not to try to work too quickly here: slow and steady is the way to go! If you find curves to be too challenging, stop your machine with the needle down, lift the presser foot, and carefully pivot just a touch. Lower the presser foot, stitch one or two times, and then repeat. Although this process does take a fair amount of time, this will allow you to have a steady, well-rounded line of stitches even around the most challenging curves.
If you prefer to use a satin or zig-zag stitch, stitch all the way around the perimeter of the design as you would with a straight stitch, making sure that the "zig" of the stitch falls within the design, and the "zag" of the stitch falls just outside of it. This way the entire outer edge will be protected from fraying. I think designs finished with a zig-zag have a more homespun, cozy feel.
An important note about thread: I firmly believe that for projects done with a satin stitch, there is no substitute for a high-quality rayon thread (some brands are Sulky and Madeira). The produce a lovely, shiny finish that just isn't achievable with 1oo% cotton.
An important note about thread color: For appliqué beginners, I highly recommend using a thread color that matches well with the material in your appliqué design. For instance, in my Mickey shirt below, I used black thread to match the black fabric of the bottom layer, and white thread to blend well with the top striped layer. It is extremely difficult even for experienced sewists to make stitching look completely polished when using a thread color that contrasts considerably with the background!
Step 8: Tear Away Stabilizer
Once your design is stitched into place, turn the garment inside out and tear away the stabilizer. A pair of tweezers can be handy for getting rid of the any tiny pieces that remain.
Step 9: Apply Additional Embellishments to Your Design (Optional)
If desired, use a needle and thread to affix any additional embellishments to your design by hand. Great options here are bows, buttons and beads.
Now that you know the ins and outs of basic
appliqué, why not try out one of these fun projects from the PS archives?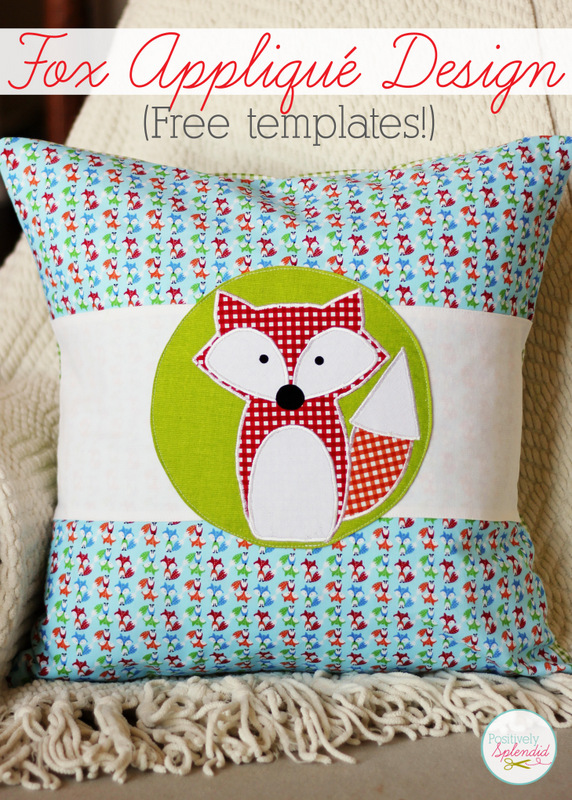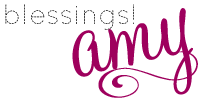 Having grown up in a home brimming with sewing notions and paintbrushes, Amy has a deep love for all things creative. On any given day, you'll find her knee-deep in her latest creative endeavor, with projects ranging from sewing and crafts to home decor and kid-friendly ideas. Amy believes that everyone, regardless of skill level or experience, possesses the ability to create something beautiful, and Positively Splendid was born of her passion for helping others harness their innate creative potential.