I am beaming. Really. Yesterday was a day like no other here at Positively Splendid.
Sipping my coffee in the early hours yesterday morning, I was absolutely tickled to realize I was the featured blog on Today's Creative Blog! I am a long-time fan of Kim's site, and I have been delighted to discover a plethora of terrific blogs through her features. Imagine how excited I was when I realized she had chosen to spotlight Positively Splendid! Wow!
Cut to the afternoon. The über talented Kari at U Create (another marvelous blog with more fabulous ideas than you can shake a stick at!) shared my Coke can napkin rings with her readers. And then, I discovered my citronella candles and tiered planter were both featured on Apartment Therapy/ReNest. Oh, the chic fabulousness that is present on each of those sister sites! I am so honored Sarah chose me to be included with such talent.
I hope y'all know how much I appreciate you. Each of you. I am having so much fun with this, because it truly fills me with joy to share the beauty that is to be found in life's simple pleasures with my readers. In a world obsessed with immediate gratification, I hope that a stop here at Positively Splendid prompts a desire to slow down and appreciate the things in life that take time: a hearty meal; a handmade craft; a useful item made at home instead of purchased at a superstore. I sincerely hope that this is a bastion of community and support, and a place where ideas are shared and friendships are fostered. It truly has been on my heart lately to approach this venture as blogging with a purpose. Of writing and sharing with intent.
Ok, friends. Gush over. But, once again, thank you. From the bottom of my pea-pickin' heart. 🙂
Fondly,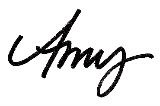 If you enjoyed this post, subscribe to Positively Splendid 
to receive updates, and join us on Facebook and Twitter!





Having grown up in a home brimming with sewing notions and paintbrushes, Amy has a deep love for all things creative. On any given day, you'll find her knee-deep in her latest creative endeavor, with projects ranging from sewing and crafts to home decor and kid-friendly ideas. Amy believes that everyone, regardless of skill level or experience, possesses the ability to create something beautiful, and Positively Splendid was born of her passion for helping others harness their innate creative potential.