My mom. I just cannot say enough how often this woman amazes me with the breadth of her knowledge pertaining to just about anything under the sun. I am so thankful for her, for so many reasons!
The drains in our bathrooms have been painfully sloooooow for far longer than I care to admit, but with a visit from our friendly plumber always breaking the bank, I have been reticent to bite the bullet and have them looked at. Liquid Plumber did absolutely nothing. Isn't is frustrating to spend so much money on something ineffective that you can (literally) watch swirl down the drain?
Then Mama Reita came in for a visit. I should've known she'd know how to take the proverbial bull by the horns!
Here's what we (she) did.
You'll need:
Boiling water
Masking/painter's tape
A plunger
Boil a few cups of water. (A teakettle works great for this.) Carefully pour water down the clogged drain. Using painter's or masking tape, cover the overflow hole on the front of your sink. With one hand on the tape to ensure it stays fully secured (trust me: this will save you a world of mess!), use your free hand to vigorously plunge the drain. For especially stubborn clogs, repeat the entire process until your drain runs clear.
That's it! A chemical-free, truly green solution to a very hairy problem! I just couldn't help myself, could I? 😉
Night-night!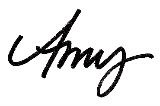 Having grown up in a home brimming with sewing notions and paintbrushes, Amy has a deep love for all things creative. On any given day, you'll find her knee-deep in her latest creative endeavor, with projects ranging from sewing and crafts to home decor and kid-friendly ideas. Amy believes that everyone, regardless of skill level or experience, possesses the ability to create something beautiful, and Positively Splendid was born of her passion for helping others harness their innate creative potential.