T

hree or four years ago, I stumbled upon a charming idea in Southern Living to create a cookie tree for Advent. Instead of a typical calendar, the concept is to make a cookie to be enjoyed each day from December 1st through Christmas. This has become one of my favorite Christmas decorating traditions, as it always brightens up my kitchen and it gives my kiddos tasty fun to look forward to each night after supper. This is a marvelous way to get children involved in preparing for the season, too!
Interested in putting together an Advent Cookie Tree of your own this year? You'll need a

small tabletop tree

(I have used the same pre-lit metallic tree for the last few years, and I love how it sparkles!), some

Wilton treat bags,

a bit of

metallic wire garland

(found in the miniature tree aisle at Hobby Lobby and similar stores), and all of your

cookie baking and decorating supplies.
So, how do I prepare my cookies? These are the recipes I use each and every time to yield the best results…
The moment I first used the sugar cookie recipe below that I came across in a set of Easter cookie cutters from Williams-Sonoma a few years back, it became an instant favorite. I use it each and every time I need to make a batch of cut-out sugar cookies, and I have found the dense, rich crumb of this cookie to be unrivaled by any other recipe I've sampled. As an added bonus, these cookies stay amazingly fresh throughout the month they are hung on the tree when they are wrapped properly.
Note: This recipe makes a very large amount of cookies, so you will only need about half of the dough to make the 25 cookies for the tree.
Favorite Sugar Cookies
5 cups flour
1 tsp. salt
32 Tbsp. unsalted butter
6 oz. cream cheese
2 cups sugar
2 egg yolks
2 Tbsp. vanilla extract
Have all of your ingredients at room temperature.
Sift together flour and salt. Set aside.
In the bowl of an electric mixer fitted with a flat beater, beat the butter on medium speed for 1 minute. Add the cream cheese and continue beating until smooth, about 2 minutes. Add the sugar, increase the speed to medium-high and beat until fluffy and pale yellow, about 3 minutes. Add the egg yolks one at a time, beating well after each addition, then beat in the vanilla.
Reduce the speed to low and add the flour mixture in 3 additions, beating in each addition before adding more. Beat just until combined, stopping the mixer occasionally to scrape down the sides of the bowl.
Turn the dough onto a floured surface. Using floured hands, form dough into a smooth mound and divide into 2 equal portions. Shape each into a disk and wrap separately with plastic wrap. Refrigerate for at least 3 hours or up to 2 days.
Line several baking sheets with parchment paper. Remove 1 dough disk at a time from the refrigerator and let stand 10 minutes. Place the dough on a clean, floured work surface and roll out to a thickness of ¼ inch. Cut out as desired. Refrigerate the cookies until firm, 20-30 minutes. (I will admit that I have skipped this step before, but the cookies maintain their shape much better if you have the time to chill them.)
Bake cookies in a 350-degree oven until lightly golden on the edges, 14-16 minutes. Place baking sheets on wire racks and let cookies cool completely before decorating as desired.
***
For icing, there is no better recipe than this one from Our Best Bites. Once they are frosted, the cookies dry to a glossy sheen that doesn't run or bleed, which is perfect for cookies that need to be packaged.
See this post here for a baby shower I hosted earlier this year using the above recipes. 
***
Once you have made and decorated your cookies, allow them to dry thoroughly (preferably overnight) before wrapping them. To wrap, place each individual cookie in a separate treat bag, and twist the top of the bag tightly to ensure each cookie stays fresh. Secure each with a 6-inch piece of your metallic wire garland. By using the wired garland, you can simply twist the wires around the branches of the tree to hang them when you're ready. Nothing to it!
I have been asked over the years how I keep the peace when there is only one cookie for each day, yet I have three children. The answer? The kiddos take turns each night being the one to enjoy the cookie from the tree, but I have an ample supply of cookies stored in Christmas tins for the other two. 🙂
Wishing you and yours a blessed weekend!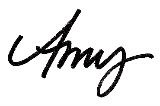 Linking this to…

If you enjoyed this post, subscribe to Positively Splendid 
to receive updates, and join us on Facebook and Twitter!





Having grown up in a home brimming with sewing notions and paintbrushes, Amy has a deep love for all things creative. On any given day, you'll find her knee-deep in her latest creative endeavor, with projects ranging from sewing and crafts to home decor and kid-friendly ideas. Amy believes that everyone, regardless of skill level or experience, possesses the ability to create something beautiful, and Positively Splendid was born of her passion for helping others harness their innate creative potential.