We are back getting settled in at home, which means it's time to get back to basics with our weekly meal plan. On tap this week:
Sunday – Asian-Inspired Spicy Pork Ribs with Asian Slaw (see recipes below)
Monday – Roasted Asparagus Salad
Tuesday – Chicken and Rice with Sauteed Brussels Sprouts
Wednesday – Cauliflower and Caramelized Onion Tart (All I can say about this recipe is WOW. A must-try!)
Thursday – Leftovers
Friday – Soft Tacos with Guacamole and Black Beans
Other treats – Crumb Cake, Granola Bars (Another recipe with a serious WOW factor compliments of Smitten Kitchen!)
During the (long!) drive down to the beach, I actually managed to organize myself a bit and jot down recipes from recent magazines that have caught my eye, as well as the issue month and page number for each one. I always seem to find myself at a loss when I try to remember the new recipes I want to add to our weekly lineup, and this little index will help jog my memory when I sit down to plan. I hope I can stick with this little system!
After a week of dining out during our vacation, Matt and I were clamoring to get back into the kitchen to prepare something delicious. On the ride back, we both decided pork ribs would scratch our culinary itch, and we agreed that an Asian-inspired slaw – something akin to the cabbage slaw with crunched up Ramen noodles we all know and love, just kicked up a couple of notches – would be the perfect accompaniment. I love collaborative efforts like this one in the kitchen. Matt and I both bounced ideas off each other as we played the parts of culinary mad scientists, and after eating the fruits of our labor, I just have one thing to say.
Folks, we are getting good at this recipe-concocting business.
The flavors in the marinade and the slaw meld gorgeously. Each part of the palate is given a bit of a treat with this one, with a perfect blend of sweet, spicy and tangy. I honestly wish I could go back and eat this meal all over again, from start to finish!
Forgive the lack of photos posted with these recipes here. With this being our first time out of the gate with these dishes, I devoted the lion's share of time jotting down recipe notes instead of wielding my camera. 🙂
Spicy Asian Marinade for Pork Loin Back Ribs
(Note: This made enough for one large rack of ribs.)
For a downloadable PDF of this recipe, click here.
2 tablespoons lime juice
2 tablespoons rice wine vinegar
1 teaspoon sesame oil
2 cloves garlic, pressed
¼ teaspoon ground ginger
1 tablespoon soy sauce
1 tablespoon oyster sauce
¼ cup sriracha (a hot chili sauce, found in the Asian section of most markets)
Combine all ingredients in a medium bowl. Whisk well to combine. Use a basting brush to spread marinade on both sides of the rack of ribs, reserving about 1/3 of the marinade in the bowl to baste the ribs as they cook. (Use your preferred cooking method for ribs here. I recommend either cooking over a slow grill or roasting in a low oven.)
********************
Kicked-Up Asian Slaw 
For a downloadable PDF of this recipe, click here.
For the dressing:
2 tablespoons rice wine vinegar
2 tablepoons lime juice
1 teaspoon sesame oil
2 tablespoons soy sauce
1 teaspoon grated ginger
1 tablepoon peanut butter
1-2 teaspoons finely diced serrano pepper
1 clove garlic, pressed
For the salad:
6 cups coursely shredded Napa cabbage
1 red bell pepper, finely chopped
1/4 cup chopped scallions
2-3 tablepoons sunflower seeds
1 package ramen noodles, crushed
Combine vinegar and next 7 ingredients in a small bowl, whisking to combine. Combine cabbage and next 4 ingredients in a large serving bowl. Pour dressing evenly over cabbage mixture, tossing thoroughly to coat. Cover and chill for two hours before serving.
Enjoy!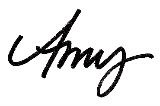 Having grown up in a home brimming with sewing notions and paintbrushes, Amy has a deep love for all things creative. On any given day, you'll find her knee-deep in her latest creative endeavor, with projects ranging from sewing and crafts to home decor and kid-friendly ideas. Amy believes that everyone, regardless of skill level or experience, possesses the ability to create something beautiful, and Positively Splendid was born of her passion for helping others harness their innate creative potential.