Amanda from Every Creative Endeavor is here for today's installment in the Swell Noel series with a sweet and clever Christmas decor project!
***
Hey everyone! My name is Amanda and I am the creator of Every Creative Endeavor!
I am so glad Amy invited me to be apart of "A Swell Noel!" I am loving this series and all the great talent from everyone involved! Truth be told it was sort of hard for me to switch from all the Halloween stuff going on around me to Christmas – It will be here before we know it! I wanted to make something with some of the things I had on hand – and we just got done with some remodeling in our laundry room so I had some bead board on hand and thought it was perfect for a shabby little Candy Cane!
If you would like to make one too – here are the simple steps!
Make the Pattern
for your candy cane! I always have to have a pattern but if you are great at freehand – go for it!
1. Cut 2 pieces of paper in half (the hamburger way!)
2. Cut out strips with 1 and a half of the papers and fan them out to make the cane section.
3. Tape them all together.
Cut out your candy cane:
4. Trace your candy cane on the backside for bead board.
5. Cut out the candy cane with a jig saw – usually I do all my cutting but if the hubby's home – I always put him to work!
6. Sand the edges smooth or fix any problem spots.
7. Then you will have two candy cane shapes!
Paint!
Now's the fun part!
8. I took mine candy cane outside and gave it a coat of rustoleum white. When it was finished drying, I used  bright red and painted stripes on the candy cane. I just painted them here and there until I liked it.
9. When it was all dry, I sanded it down a bit to shabby it up.
Lastly, I added a raffia bow and was done!
Super Easy. Super Shabby. Super Cute!
I love how the lines in the bead board give it texture!
Now the hard part will be waiting until after Thanksgiving to put it up! haha!
Thanks again Amy for letting me stop by! Please give your sweet little George a kiss on his darling little cheek from me!
***
What a clever way to make that candy cane template, Amanda! I absolutely love how this project turned out! I might have to ask Santa for a jigsaw. 🙂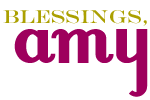 Having grown up in a home brimming with sewing notions and paintbrushes, Amy has a deep love for all things creative. On any given day, you'll find her knee-deep in her latest creative endeavor, with projects ranging from sewing and crafts to home decor and kid-friendly ideas. Amy believes that everyone, regardless of skill level or experience, possesses the ability to create something beautiful, and Positively Splendid was born of her passion for helping others harness their innate creative potential.