I love the beginning of the year. My resolve is always strong to accomplish so much in the next 365 days!
But then, reality usually sets in somewhere around January 15th. Life is hectic. Days are crazy. How will I manage to make good on even one – much less all – of my DIY goals? 
This year, I'm trying a new tactic to keep myself motivated:

Giving myself one major DIY project goal per month.

Just one. I've looked at my house and figured out the top twelve projects I want to tackle, and I've prioritized them and assigned each one to a particular month of the year. I really feel like this will help me be a focused and

intentional

DIYer in the new year! 
Having a pre-set DIY to-do list will allow me to plan ahead and maximize my time. No more waking up on Friday morning thinking, "What project could I tackle this weekend?" And then realizing I will have to take a full day to plan the project. Then a full day to acquire the necessary supplies. Then a full day wondering why I never get out of the planning process for big projects. 😉
 So what are my goals for each month in 2012? Here we go!
January
Pantry Organization
Oh my goodness. My pantry is a mess. We're talking the type of mess that makes you duck your head every time you open the door to avoid getting pelted by a rogue canned good. 😉 This pantry at House of Smiths will be my inspiration!
February
Board and Batten Hallway
With no mudroom or utility room to speak of, the kiddos' shoes, backpacks and the like always wind up right in front of the front door. I have plans to remake our back hallway into a command station of sorts for all of that stuff so I can reclaim my front entry! I fell in love with this board and batten hallway with hooks at Shanty 2 Chic the moment I saw it, and I'll be using their tutorial for the space!
March
Raised Flower Beds
This will be the summer that I finally manage to make good on my desire to maintain a garden! Prepping the beds well in advance should help with that, and this marvelous tute from The Pioneer Woman seems simple enough. (Fingers crossed!)
April
Gallery Wall
I've always wanted a genuine gallery wall, and this will be the year I come through on that. My upstairs hallway is a blank slate ready to be outfitted with lots of lovely photos! I love this idea for a 3D gallery wall from In My Own Style. So much yummy dimension!
May
Front Porch Swing
We have a fabulous front porch clamoring for a swing. I have in mind to create an outdoor living area to enjoy all summer long, something similar to this space at Southern Living.
June
Master Bedroom
Our poor, poor bedroom. It needs some serious help. I plan to use a coral and slate blue color scheme like the one below. Can't wait!
July
Master Bathroom
Our bath is as plain vanilla as they come. I really want to make this space into something special! I still really love this chunky framed mirror from Show & Tell.
August
Master Closet
Purge, purge, purge! I intentionally assigned this task to a month further down the road to give myself time to lose the baby weight. That will enable me to get rid of all of the clothes I have in a bazillion transitional sizes! I absolutely love this master closet at A Thoughtful Place.
September
Painted Hutch
Should I go antique white? Black? Bold red like this lovely number from The Crafting Chicks? This is a project I have been intending to complete for two years now, and I am determined to finally get it done!
October
Laundry Room (ahem, closet)
I have no utility room. Just a little closet off of our upstairs landing. I am determined to make the most of this very limited space, much like this makeover at Your Home Only Better.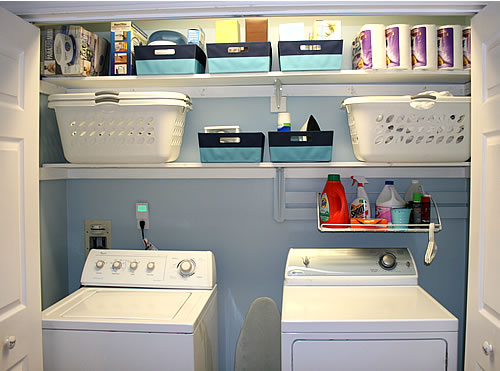 November
Kitchen Backsplash
Cheap construction-grade eggshell paint + grease = blech. My backsplash (or lack thereof!) needs some serious help. I am thinking of a stenciling project something akin to this look from Landee See, Landee Do.
December
Beadboard Kitchen Accents
I plan to treat our breakfast bar and one wall in our kitchen with beadboard, much like Emily at Decor Chick did here. Love this look!
***
So there you have it. Twelve months. Twelve DIY goals. I can do this!!
Do you have any DIY goals for 2012? I'd love to hear about them!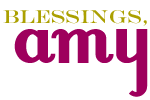 Having grown up in a home brimming with sewing notions and paintbrushes, Amy has a deep love for all things creative. On any given day, you'll find her knee-deep in her latest creative endeavor, with projects ranging from sewing and crafts to home decor and kid-friendly ideas. Amy believes that everyone, regardless of skill level or experience, possesses the ability to create something beautiful, and Positively Splendid was born of her passion for helping others harness their innate creative potential.