It has been cold here. Seriously. (Stop snickering, you Yankees, you. 😉 And when it's cold out, the first things I crave are #1) soup and #2) good New Mexican food. When you're a mom of three small children, you learn to streamline, and I was as pleased as could be that it dawned on me to scratch both of those itches last week with one delicious recipe.
I have had carne adobada (literally, "marinated meat") many times before, but until last week, I had never prepared it myself. I knew what I wanted it to taste like, and I had an idea of the method I wanted to use to create the dish I had in mind, but I was unable to find a recipe that jived exactly with my expectations. So I went ahead and made one up. 😉
All I can say is, wow.
This was seriously good. Matt and I both agreed that this will be our family's version of chili (with no beans, of course) from here on out. And served alongside this cool-as-a-cucumber avocado salad, this meal was a knockout!
A note: If you are not from the Southwest, it is unlikely you will be able to find frozen red chile puree. Instead, you can make your own from dried red chiles. Both Kroger and Wally World in good ol' Maumelle, America carry dried New Mexico red chiles, so you should be able to get your hands on them with no problem. For a tutorial on how to turn the dried chiles into a puree, check out my post on the topic here.
3 lbs. pork blade steaks
1 Tbsp. olive oil
Salt and pepper
2 Tbsp. butter
2 Tbsp. flour
2 cloves garlic, peeled and pressed
3 cups chicken stock
3 ½ cups red chile puree (frozen or made from dried chile pods)
2 tsp. dried oregano
Salt, to taste
Pat steaks dry with paper towels and season both sides generously with salt and pepper. Heat olive oil over medium-high heat in a heavy Dutch oven. Add steaks to hot oil in batches (it is important not to overcrowd the pan during this step), and brown generously on both sides, about 3 minutes per side. Remove steaks to a plate.
Lower heat under same Dutch oven to medium and add butter, swirling to melt. Add flour and pressed garlic and stir constantly until flour smells toasty and garlic is fragrant, about 2 minutes. Gradually add chicken stock to the flour mixture, whisking vigorously to prevent lumps from forming. Stir in red chile puree and oregano, and bring sauce to a boil. Adjust heat to low and simmer for 5 minutes to combine flavors. Check for seasoning, and add salt as desired.
Return steaks to the sauce, cover and remove from the heat. Allow mixture to cool at room temperature for about 1 hour before placing in the refrigerator to marinade for at least 8 hours.
Remove Dutch oven from the refrigerator and bring to room temperature. Uncover and heat over medium-high heat until sauce comes to a boil. Cover and place in a 350 degree oven for about 90 minutes, or until pork is tender. Remove pork from pot, and cut into large chunks, discarding bones. Return pork to pot and simmer until sauce reduces and pork is very tender, about 30 minutes more. Serve with hot tortillas or garlic bread and Avocado Salad with Spicy Vinaigrette (recipe follows).
Avocado Salad with Spicy Vinaigrette
(yields 2 servings)
For the salad:
2 large avocados, halved, pitted and sliced into half-inch wedges
1/4 of one large red onion, very thinly sliced
One handful of cherry tomatoes, halved
For the vinaigrette:
2 Tbsp. olive oil
2 Tbsp. red wine vinegar
1/4 tsp. garlic powder
2 dashes hot sauce
1/4 tsp. salt
1/4 tsp. pepper
Combine avocado, onion and tomatoes in a large bowl, and stir gently. Set aside.
In a cruet, combine olive oil and next five ingredients. Shake vigorously to mix. Pour over avocado mixture and toss gently to coat. Can be served chilled or at room temperature.
Enjoy!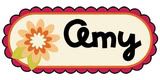 Having grown up in a home brimming with sewing notions and paintbrushes, Amy has a deep love for all things creative. On any given day, you'll find her knee-deep in her latest creative endeavor, with projects ranging from sewing and crafts to home decor and kid-friendly ideas. Amy believes that everyone, regardless of skill level or experience, possesses the ability to create something beautiful, and Positively Splendid was born of her passion for helping others harness their innate creative potential.