I so appreciate everyone's lovely compliments on the cake I made for Jack's party! (Click
here
for more pics of the big day, and the cake, too. 🙂 It really was a fairly straightforward cake to put together. I have managed to slowly accumulate a collection of Nordic Ware shaped cake pans, and it just so happened the two I needed for this cake –
trains
and
dinosaurs
– were in my stash! I must be living right. 😉
For the base of the cake, I used two 9-inch round cakes, fitting them together by cutting off a small wedge from the joining sides. (I made a race track cake in this fashion for Jack's second birthday, and I thought that figure eight shape would work perfectly for a train track, too.) Using a basic white cake mix, I made a pan's worth each of dinosaurs and trains. Jack wanted his dinosaurs to look just like the characters from the show, so I separated the prepared batter into several bowls to mix in a bit of gel food coloring before I poured it into the pans. I made orange, blue, green and purple. The purple turned out to be a very odd looking color once it was baked, but thankfully no one else seemed to notice. 🙂
Now, I am certainly no cake-decorating expert, but after making my fair share of birthday cakes, I've learned a few tricks…
1
Before you begin, invest in a few important supplies to make the process as easy as possible. A good spatula made specifically for frosting cakes is imperative. Trust me: it will work much better than a butter knife. (And I do know this from experience!) For the other decorating supplies (frosting bags, piping tips, couplers, etc.), I recommend buying a pre-packaged kit
like this one
. For a beginner, this really takes the guesswork out of figuring out what you need to get started.
2
Using the correct frosting recipe is crucial. I use
this Wilton recipe
each and every time, and I am never disappointed. To keep the colors of my frosting from bleeding into one another, I always add 1 Tablespoon of meringue powder to the frosting along with the powdered sugar. (You can find this anywhere Wilton products are sold.) I have found that 1-1/2 times this recipe is usually a perfect amount for frosting and decorating a cake.
3
To color you frosting without thinning it out, always use gel food coloring (made by Wilton) instead of the liquid variety.
4
Before you begin frosting your cake, add a dab of frosting to the cake board and place your base cake on top. The frosting will act as a "glue" of sorts, anchoring the cake to the board as you work to keep it from shifting around.
5
To keep your cake board clean as your frost the cake, slip some sheets of wax or parchment paper just under the edge of the perimeter of the cake. This way, any smudges that don't wind up on the cake (on in your mouth 😉 will wind up on the paper and can be easily removed, leaving your cake board nice and clean for a tidy presentation.
6
If you have a particular shape or path you want to make with your frosting (for instance, the train track on my cake here), use a toothpick or wooden skewer to make a light outline for tracing. This really helps!
7
I know this sounds cliché, but have fun! And try not to worry about the mess you make in the process. 😉
So how about some cake for breakfast? 😉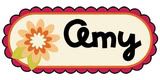 Having grown up in a home brimming with sewing notions and paintbrushes, Amy has a deep love for all things creative. On any given day, you'll find her knee-deep in her latest creative endeavor, with projects ranging from sewing and crafts to home decor and kid-friendly ideas. Amy believes that everyone, regardless of skill level or experience, possesses the ability to create something beautiful, and Positively Splendid was born of her passion for helping others harness their innate creative potential.