O
nce upon a summer morning, there was a mother who promised dessert to her three little ones. 
The day passed, and there was much mirth to be had by all. 
Dinnertime came many hours hence, and the mother realized something abominable: she had forgotten her dessert promise. Whoops!
Scouring the pantry, the mother learned she had very few ingredients on hand, and time was scarce. Suddenly, however, visions of a tried-and-true favorite prepared years and years ago by her own mother came to mind, and she knew precisely then that there would, indeed, be a sweet end to that day.
(That's a true story, friends. And never fear: I will not quit my blogging day job to become a fiction writer any time soon. 😉
Today I am sharing a beyond-simple dessert recipe that yields amazingly rich and delicious results. For those unfamiliar with pudding cake, the concept is thus: hot water is added in the final stage before popping the pan into the oven, which somewhat magically causes the dessert to separate into two luscious layers as it cooks. Nestled beneath the top layer of chocolate-cakey goodness is a ribbon of decadent fudge-like sauce. 
My own mother, Mama Reita, made a dessert like this one countless times when I was growing up. I was one of those immeasurably blessed children who had a mom who not only cooked for us every night, but who also insisted we end our meals on a sweet note. 
Chocolate Pudding Cake
(adapted from Gourmet Magazine; found via Epicurious.com)
1 cup all-purpose flour
2/3 cup unsweetened cocoa powder
3/4 teaspoon double-acting baking powder
3/4 teaspoon salt
2 large eggs
1 cup granulated sugar
6 tablespoons unsalted butter, melted and cooled
1/2 cup milk
1 teaspoon vanilla extract
3/4 cup firmly packed light brown sugar
1 1/3 cups boiling water
Preheat the oven to 350°F. Into a bowl sift together the flour, 1/3 cup of the cocoa powder, the baking powder, and the salt. In another bowl whisk together the eggs, the granulated sugar, the butter, the milk, and the vanilla. Add the flour mixture, and stir the batter until it is just combined. Spread the batter evenly in an ungreased 8-inch-square baking pan. 
In a bowl whisk together the remaining 1/3 cup cocoa powder, the brown sugar, and the water. Pour the mixture over the batter, and bake the cake in the middle of the preheated oven for approximately 30 minutes, or until a tester comes out with crumbs adhering to it.
Serve the cake warm with a healthy dollop of whipped cream.
Enjoy!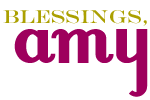 Having grown up in a home brimming with sewing notions and paintbrushes, Amy has a deep love for all things creative. On any given day, you'll find her knee-deep in her latest creative endeavor, with projects ranging from sewing and crafts to home decor and kid-friendly ideas. Amy believes that everyone, regardless of skill level or experience, possesses the ability to create something beautiful, and Positively Splendid was born of her passion for helping others harness their innate creative potential.