Today's project was born out of necessity. I have a piece of furniture that is fine in its own right, but that needed some tweaking to make it suitable for its current prominent location in our front entry. For a bit of enlightenment as to the situation surrounding this piece, refer to the letter below.
You see, the table in question was purchased in my naive, before-kids days. I am sure those of you with children remember those days, when you could decorate and buy to your heart's content, never thinking of the  havoc that can be wreaked by pint-sized hands.
Needless to say, those days are behind me. 😉
So. Here was my issue with this table. As stated in the letter above, the glass-paneled doors were constantly smudged with hand/fingerprints and who-knows-what-else. The fact that this piece needed to earn its keep by storing all of our board games, yet the transparency of the doors made the act of doing so a true eyesore, made it obvious that something needed to be tweaked.
Oh. See those baskets on the right? That actually used to be another door just like the others until an unfortunate accident caused one to be shattered 

(five years ago),

 and I never got around to getting it fixed. I think the baskets do just fine, thank you! Although I would love to get around to making liners for them one of these days.
 It must be something from my New Mexico upbringing, but I adore the look and texture of hammered metal. In figuring a way to upgrade the doors of the piece easily, I started looking into purchasing hammered copper ceiling tiles that I could trim down to fit in the opening of each door. Two problems there: (1) The panels were difficult to find locally and (2) It was nearly impossible to find a place to order them online that didn't force me to buy in bulk.
So, in typical Amy fashion, I put on my thinking cap for how to achieve the look I wanted without having to spend a fortune. And then I saw this gorgeous tutorial on All Things Thrifty using paintable wallpaper. Eureka!
I removed the glass panels from the doors to measure them, and then I had the lovely guys and Lowes trim me two pieces of thin MDF (3 mm thick, I believe) to fit the opening. I covered each piece in paintable wallpaper in a ceiling tile pattern from Lowes, making sure the pattern on each door lined up precisely. After allowing the paper to dry overnight, I sprayed each one with Valspar metallic copper paint. Once they were dry, I tucked each one in place of the glass panels (my doors were outfitted with knobs to hold the pieces in place). That was it!
It's a subtle change, but it makes my heart happy to have things look so much tidier!
I can see so many other uses for the panels I created here. They would make gorgeous wall art, or backsplashes in vignettes on mantels or tabletops. My creative wheels are turning!
Thanks so much for stopping by!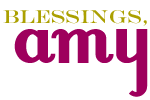 Linking this to…
Home Stories A to Z
Having grown up in a home brimming with sewing notions and paintbrushes, Amy has a deep love for all things creative. On any given day, you'll find her knee-deep in her latest creative endeavor, with projects ranging from sewing and crafts to home decor and kid-friendly ideas. Amy believes that everyone, regardless of skill level or experience, possesses the ability to create something beautiful, and Positively Splendid was born of her passion for helping others harness their innate creative potential.