I try to be a positive, glass-half-full kind of person, which I hope is something that comes through on this blog. I have shied away from sharing my project fails for that very reason, tending to wait until I had worked all of the kinks out of the process before sharing here. But, a very wise friend recently opened my eyes to the fact that if I can take something away from my less-than-stellar projects (which I nearly always do), all of you could probably benefit from my trial and error, too! 

So, in the spirit of keeping it real, I'm not even going to mince words in describing the painted rug project that I embarked on yesterday:

It is just plain

ugly.

 No bones about it! But, I think I have learned a thing or two about how not to paint a rug, and I will pass that information on to all of you so you can learn from my experience and hopefully avoid any ugly craft fails of your own! 
To preface, I have been wanting a little navy and white striped rug for my front door to coordinate with the rest of my front porch decor. Something like this one…
Or this one from Ballard Designs…
Aren't they pretty? Nautical and summery and perfect for the feel I'm going for with this space. But, the DIYer in me just can't leave well enough alone: Why order one, I thought, when I can make one for way cheaper? 
Here was my initial plan: Buy a little $5 outdoor rug from Target. Spray paint the entire thing white, tape off stripes with painters' tape, and then spray paint some navy stripes. Easy, right? Hardly!
I first sprayed a coat of white, which resulted not in a nice, even coverage but in little beads of white paint pooling on the surface of the rug. Hmmm. I opted to change course at that point and attempt to spray paint the entire thing navy. Splotchy! In a last-ditch effort to salvage my work, I taped off some stripes and attempted to paint white stripes with a can of latex paint and a small roller I had on hand. I found it impossible to apply the paint so it would penetrate all of the nooks and crannies of the fibers of the rug, and instead of the crisp white stripes I had dreamed of, I had brackish, dingy ones. To add insult to injury, when I removed the painters' tape after I was done painting the stripes, huge sections of my navy paint were stripped away from the fibers of the rug!
At this point, I did something that is very hard for a type A person like myself to do: I gave up. 😉 Pictured below is the fruit of my labor, and, for obvious reasons, I don't think this little guy will be hanging out on my front porch any time soon!
**Edited to add: Another problem I've encountered, which I noticed after nearly a full day of drying time, is that the rug is still sticky. I am now almost 100% certain my issues have to be due to a protective coating on the rug, as I mention below.
Here is my take on what I can learn from this project failure to turn it into a project success later on:
Being an outdoor rug, I am fairly sure it was coated in a moisture-repelling substance of some form or another. In my next rug-painting attempt, I will look for all-natural, untreated fibers.
The ridges in this particular rug made it impossible to get a nice, even coat, even with spray paint. Next time, I'll hunt down a rug with a uniform pile height. 
I might have been on the right track as far as the latex paint/roller method I attempted at the end, but I think I should have tried thinning out my paint a bit beforehand (water?) to ensure it would penetrate the fibers of the rug more evenly.
Have you ever had a successful rug-painting project? What do you think I should do differently next time?
(And of course, if you've had a craft fail like mine and would like to share, feel free to do that, too!)
And now the conundrum of the week: do I try this rug-painting thing again, or just lick my wounds and head over to place my order for one of the ready-made rugs above? 😉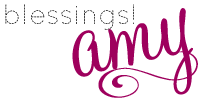 P.S. – Thank you so much for your encouraging words about this project! If it weren't for the fact that it will. not. dry. I would probably do as many of you have suggested and just display it in a different place. 🙂
Having grown up in a home brimming with sewing notions and paintbrushes, Amy has a deep love for all things creative. On any given day, you'll find her knee-deep in her latest creative endeavor, with projects ranging from sewing and crafts to home decor and kid-friendly ideas. Amy believes that everyone, regardless of skill level or experience, possesses the ability to create something beautiful, and Positively Splendid was born of her passion for helping others harness their innate creative potential.