Today is without a doubt the biggest day yet for my second-born: Not only is she celebrating her fifth birthday, she is also starting kindergarten! That hot August day five years ago when we welcomed Charlotte into our family truly seems as though it were yesterday, yet here she stands before us, a self-assured, sharp-as-a-tack, genuine delight. And a kindergartener, to boot!
I had planned for today's post to focus on the cupcakes I made to send to school today as a birthday treat for Charlotte to share with each of her new little friends. But, in the hectic rush of toting a backpack brimming with school supplies, the cupcake carrier, and my camera (of course!), while also attempting to negotiate the crowded hallways of the school with a double stroller in tow, what started off as cupcakes that looked like these…
…wound up looking like this.
Suffice it to say, Charlotte was absolutely devastated. And as I stood there consoling her and attempting to wipe away her crocodile tears, I perceived the familiar tug in my heart the Lord uses when he needs to get my attention:
"This is a learning moment, Amy. Recognize it."
It is so easy to get caught up in the hustle and bustle of preparing for the momentous days in life. How many times have you heard a new bride lament that she knew her wedding must have been amazing, if only she could have slowed down to soak it all in? As parents, first days of school, birthdays and other important days are no different.
The last week has been a flurry of activity preparing for today:
I made sure Charlotte had the perfect outfit to wear.
I filled her backpack with all of the supplies on her list, meticulously labeling each and every one.
I snapped dozens of pictures to commemorate the big day.
I spent the better part of an afternoon making special cupcakes to help her celebrate.
And then, the mishap. There is nothing like a mess of bright-red frosting to give you some perspective.
"Mama?" Charlotte said, sniffling. "Will my new friends like me, even though I don't have any cupcakes?"
And just like that, it hit me. The crux of this first day of school had nothing to do with cute outfits or photo ops or cupcakes. It was about what Charlotte needed most from me on this day, her first foray into the wide world beyond the familiar comfort of our family nest. She needed my words of affirmation, the strength of my encouragement to help coax her to take those first tentative steps into this wide new world. As we stood there, face to face in that hallway, her lips quivering, I pulled her in tight and did for her the most fundamentally important thing any parent can do for a child: I reminded her what a special person she is, and how much she is loved.
I am a firm believer in living life like you mean it, which includes celebrating special days to the utmost. Cupcakes, handmade outfits and other goodies will always be one of my outlets for showing my children how much I care about them.
But on those occasions when the drive to outdo myself strikes and I lose focus of what really matters, I hope I'll always remember sweet Charlotte on her first day of kindergarten, and how she walked into that classroom, eyes sparkling with the knowledge that she is loved beyond measure and able to handle anything that comes her way.
Even without cupcakes.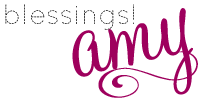 Having grown up in a home brimming with sewing notions and paintbrushes, Amy has a deep love for all things creative. On any given day, you'll find her knee-deep in her latest creative endeavor, with projects ranging from sewing and crafts to home decor and kid-friendly ideas. Amy believes that everyone, regardless of skill level or experience, possesses the ability to create something beautiful, and Positively Splendid was born of her passion for helping others harness their innate creative potential.