These custom wall decals I created with scraps of fabric from the baby bedding I sewed for George's nursery took me a total of one hour to cut out and hang, but the personality they add to the space is huge. These give a cheery polka dot sensibility to the accent wall behind George's crib, and they mimic the look of painted wall stenciling, but with a fraction of the work. The secret? Use spray starch to temporarily adhere fabric shapes to your walls. That's it! For those living in rented spaces or those wanting to keep their options open to change out their decor frequently, this is the perfect wall solution. These decals will pull down from the wall easily when I am ready to change things up down the road, and the wall will be absolutely no worse for the wear!
Curious to see how I put these together? Read on!
I was first introduced to the idea of using spray starch to adhere fabric to walls by Brandy of Gluesticks in this post. I banked the idea away for future reference, and when I was staring at the blank wall behind the crib in the nursery a few weeks back, I knew exactly how to put it to good use!
For this project, you will need…
Newspaper or Kraft paper
Circle templates in various sizes
Washable ink marker
Scissors
Scotch tape
Various fabric scraps
Sewing shears
Spray starch
Plastic bin or bucket
Start by tracing your circle templates onto your newspaper or Kraft paper, and then cut each circle out. You will need to cut out a circle for each polka dot you want on your wall. This might seem like a lot of work, but trust me: it will make achieving a nice, balanced polka dot pattern so much easier! For my templates, I used serving bowls in various sizes from my kitchen.
Using your Scotch tape, adhere the circles in your preferred configuration on your wall. This might take some finagling, but arrange and rearrange the circles until you achieve a pattern you like.
(The photo above presents a very strong case for using the proper lighting in photos. Taken at night, with a flash. Yikes!)
Once you are happy with your pattern, I recommend using a pencil to label each hanging circle with the description of the fabric you want to use for it. You can refer to this as you cut out your fabric circles to ensure you don't wind up with too many or too few of a particular pattern.
Now, set to work cutting out circles from your fabrics. Don't remove your paper circles from your wall to do this! Instead, use the bowl or template you used to make each paper cutout to trace a circle using your washable ink marker onto your various fabrics. By doing it this way, you will simply be able to swap out your paper circles for your fabric ones later on, saving you the frustration of trying to remember exactly which size circle belongs where!
Once your circles are cut out, it's time for the fun part of the process: adhering them to your wall! Place each circle in your plastic bin, and spray it with starch until it is completely saturated. There should be no dry spots remaining on your fabric. Hang each starched piece over the side of your bucket for a minute or so to allow any excess starch to drip off. 
Now, swap out each paper circle with its respective fabric replacement. Adhering your starched fabric is much like placing a giant sticker on your wall: simply place it facing out on your wall, and then, starting at the center, smooth out any bubbles or wrinkles. So easy! This part really goes quite quickly.
As you're working, try to touch the outer edges of your fabric circles as little as possible, since their unfinished edges will fray with too much contact. If some fraying does occur, you can use your fingernail to smooth out the strings to conceal them along the edge of your circle. If you have any starch drips down your wall, use a damp rag to wipe them away. 
That's all there is to it!
Your polka dot accent wall is complete.
I have been so overwhelmed by the positive feedback regarding this space. Thank you so, so very much for all of your sweet comments! The pennant valance and drape tutorial is on its way tomorrow, so I hope you'll make plans to stop back by.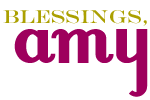 Linking this to…
Skip to My Lou
Home Stories A to Z
Having grown up in a home brimming with sewing notions and paintbrushes, Amy has a deep love for all things creative. On any given day, you'll find her knee-deep in her latest creative endeavor, with projects ranging from sewing and crafts to home decor and kid-friendly ideas. Amy believes that everyone, regardless of skill level or experience, possesses the ability to create something beautiful, and Positively Splendid was born of her passion for helping others harness their innate creative potential.