Handmade felt flowers are some of the most versatile craft projects around. Used to punch up everything from throw pillows to wearable accessories, it is a must for any crafter to have two or three terrific go-to DIY felt flower tutorials in his or her creative arsenal. Today I'm sharing three felt flower ideas that can be made in no time, and with no sewing whatsoever! Using an assortment of brightly colored felt, making two or three of these is a great way to carve out some creative time to make something beautiful! Let's get started.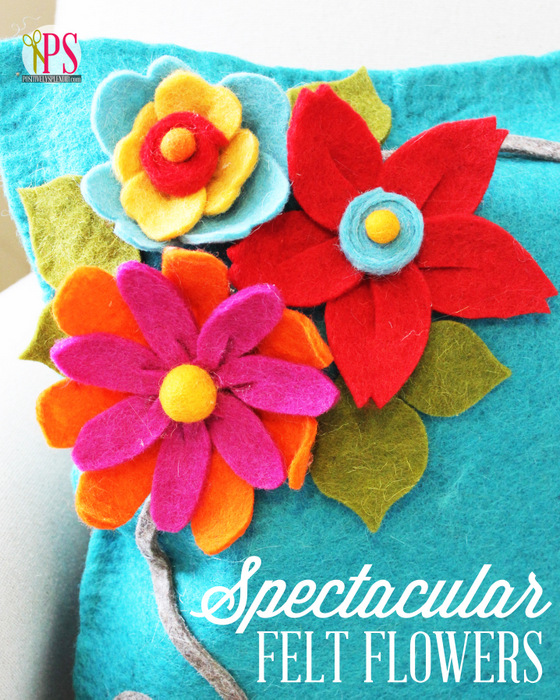 I shared last week about my work with Michaels and their Cre8time initiative, where they challenged me to carve out one hour each day for eight days to be creative. I have loved every day of this challenge! While I was shopping at Michaels and scheming my project, I absolutely fell in love with some rolls of yummy wool felt in an assortment of vibrant colors.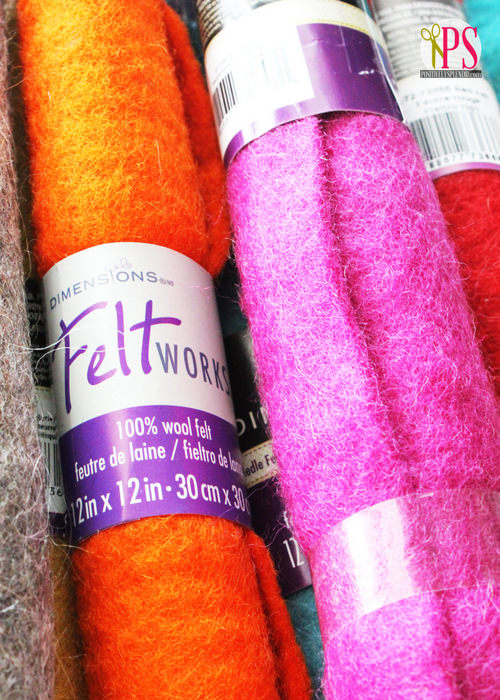 Along with the felt, they had some coordinating pom-poms…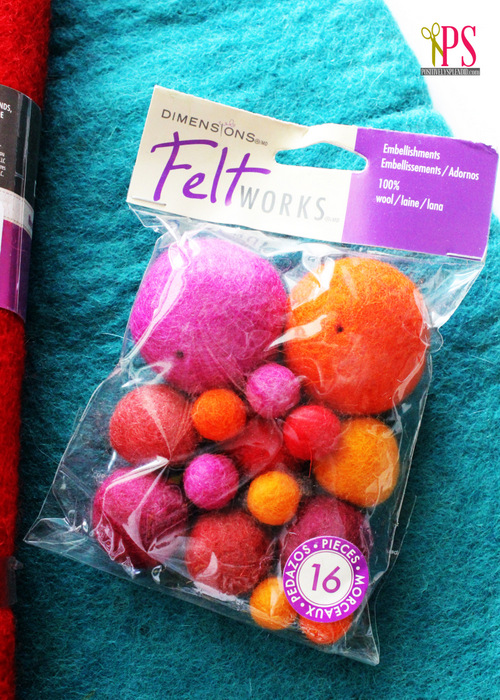 …and a gorgeous turquoise felted wool pillow cover.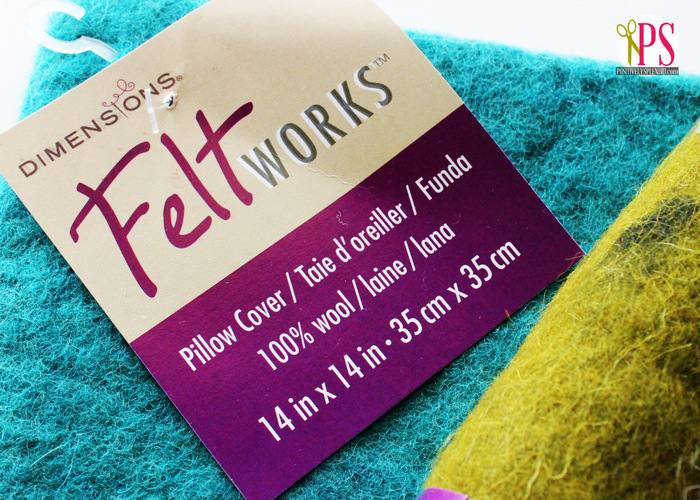 To really make my pillow something special, I decided to come up with a few different flower designs that broke from the standard felt flowers I've seen before. The beauty of these tutorials is that although the flowers all look quite different, each is constructed in the same fashion. I love streamlining!
For each flower type, you'll need a few basic supplies:
Felt (The wool felt sheets I purchased from Michaels are terrific for this because they are so nice and thick)

Hot glue
Cardstock
Flower center embellishments: pom-poms, buttons, decorative brooches, etc.
Shears
Flower 1: Five-Petal Penta Flowers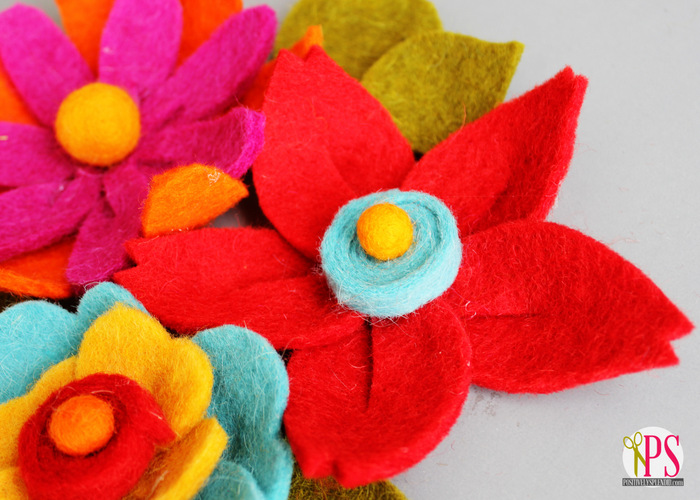 Start by cutting five tear-drop-shaped petals. Make a slit at the bottom center of each petal 2/3 of the way up, as shown.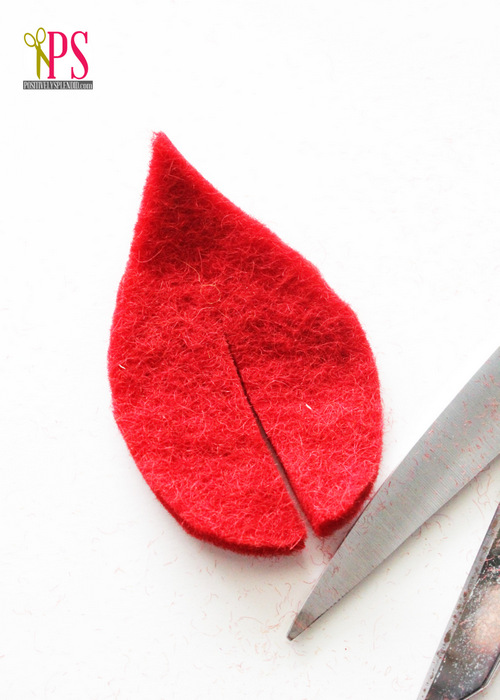 Place a small dab of hot glue on one of the flaps…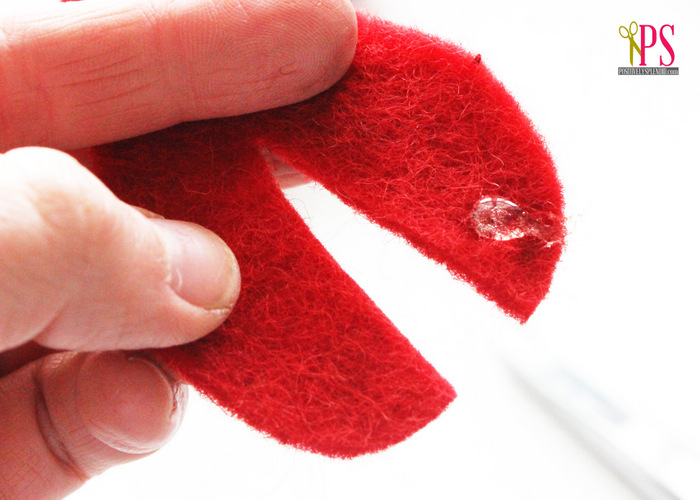 …and overlap the opposite flap to adhere. This will add nice dimension to your petal, resulting in a more realistic flower. Repeat with the remaining four petals.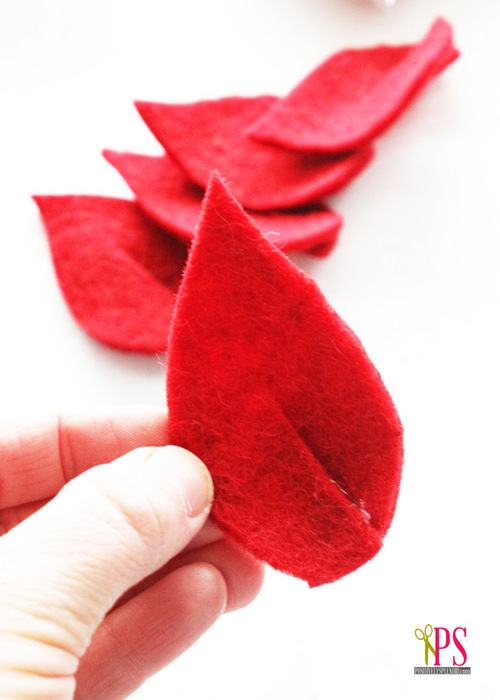 Cut a 2″ circle from cardstock, and place a dab of hot glue along one of the edges.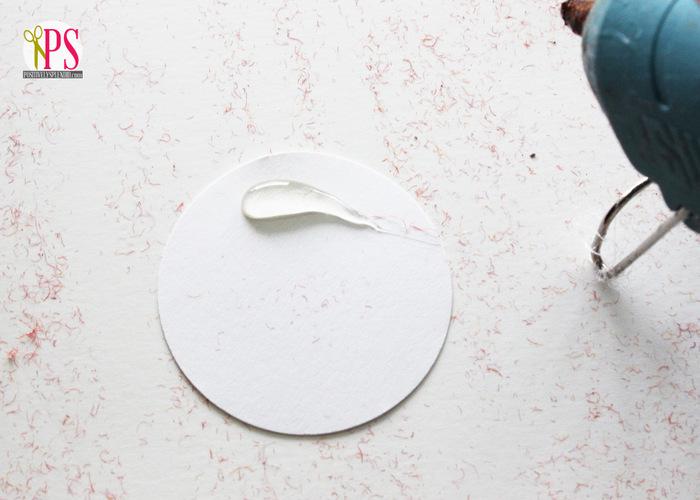 Working with one petal at a time, adhere the petals to the cardstock circle, overlapping the edges slightly as you work.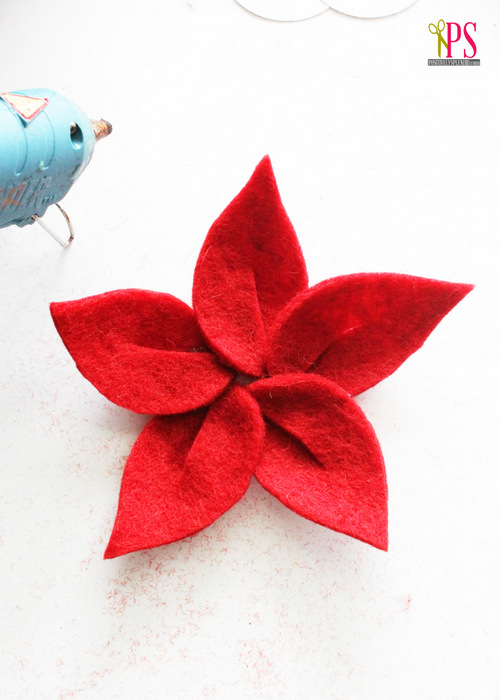 Finish the flower with the center of your choice. I cut a 1/4″ strip of contrasting felt that I rolled up and secured with hot glue before finishing with a pom-pom center.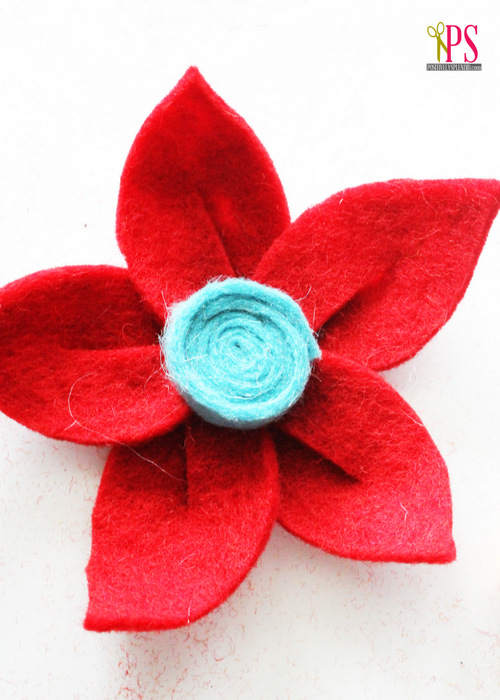 If desired, for added interest, snip a triangular notch from the tip of each petal. (Refer to the photo of my finished flower above.)
Flower 2: Stacked Daisies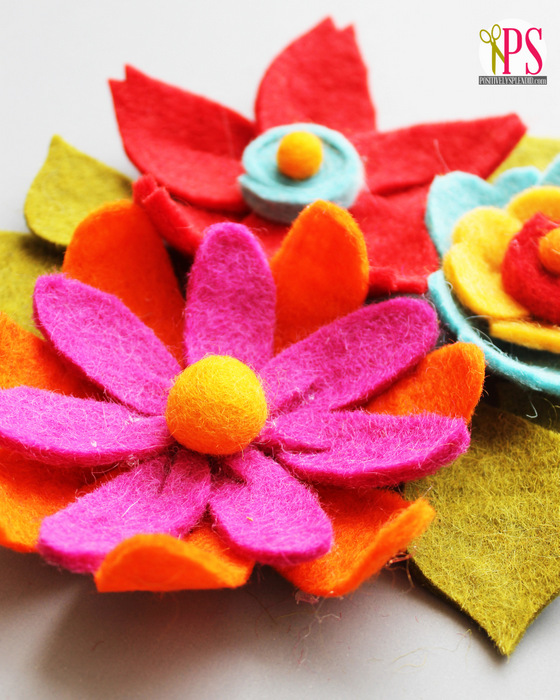 Cut 7 long ovals in 2 sizes from 2 contrasting colors of felt, for 14 petals total. (My large ovals measured 3 x 1″ and my small ovals measured 2 x .75″.)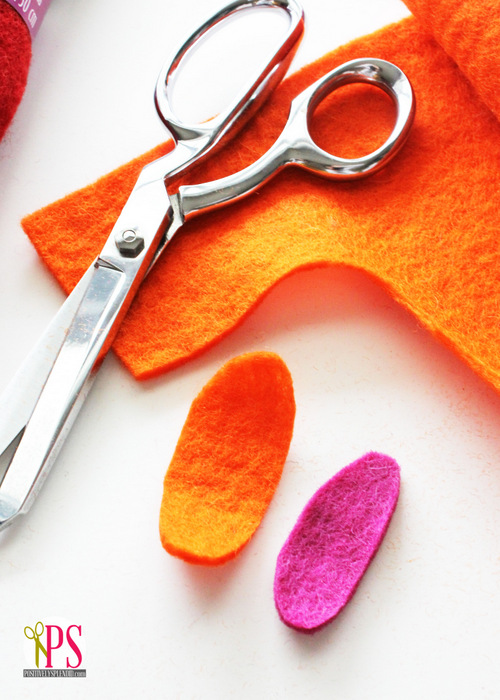 Make a slit at the bottom of each petal about 1/3 of the way up. Overlap and adhere the flaps as described above.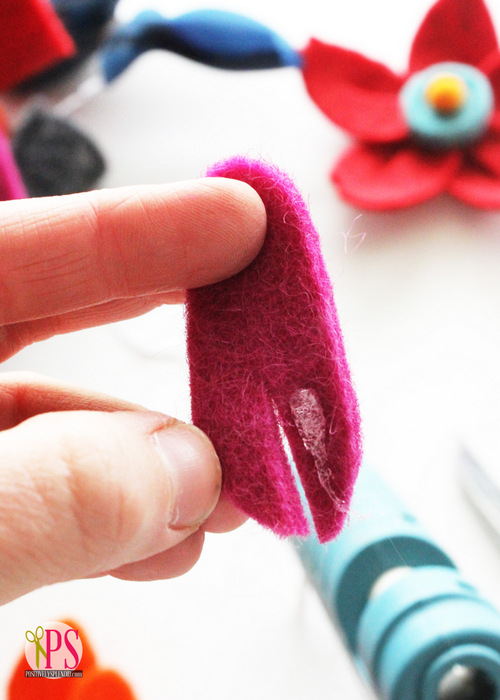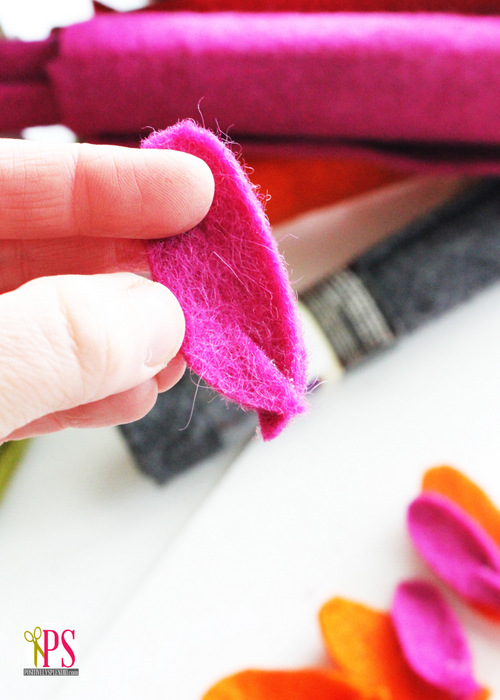 Adhere the larger petals around the perimeter 2″ piece of cardstock with hot glue, overlapping each one slightly. Adhere the remaining  7 smaller petals on top of the bottom petal layer, staggering the smaller petals between the larger petals. Finish with a flower center of your choice. (I used a pom-pom center.)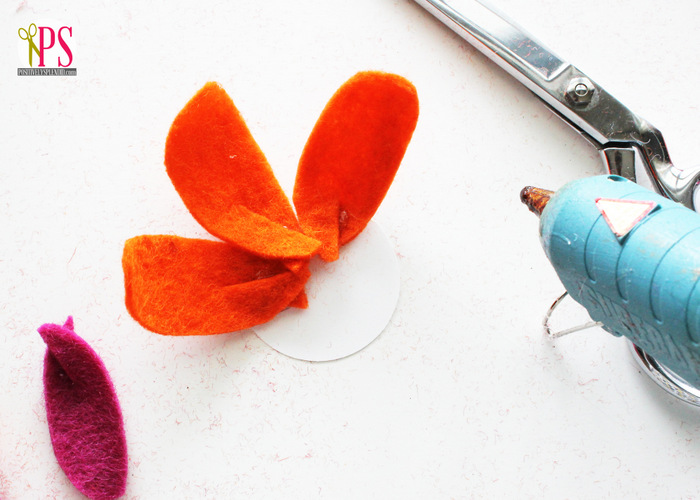 Flower 3: Stacked Pansies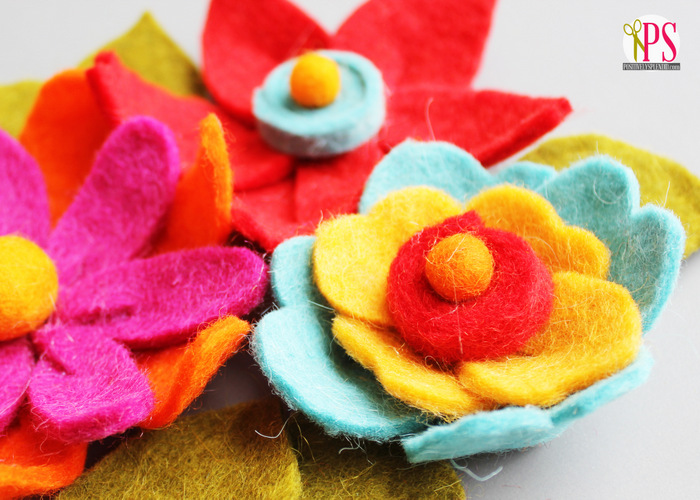 Cut 4 large circles and 4 small circles from 2 contrasting colors of felt. (My large circles measured 2″ and my small circles measured 1.5″.) Make a curved notch at the top of each circle, as shown, and trim a small slit at the bottom.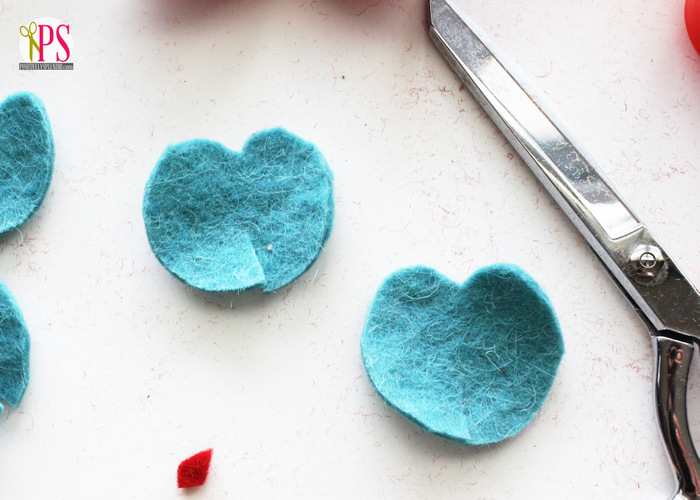 Overlap and adhere the bottom flaps with hot glue as described above. Adhere the larger petals to a 2″ circle of cardstock with hot glue, overlapping the petals slightly. Layer the smaller petals on top of the first petal layer, and adhere with hot glue. Finish with the flower center of your choice. (I used a rolled 1/4″ piece of felt and a pom-pom.)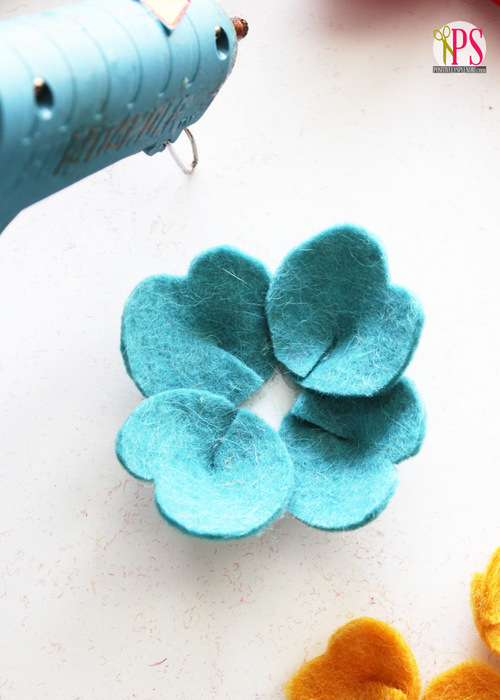 These felt flowers are deceptively easy to make, and they look absolutely gorgeous clustered together with some green felt leaf shapes!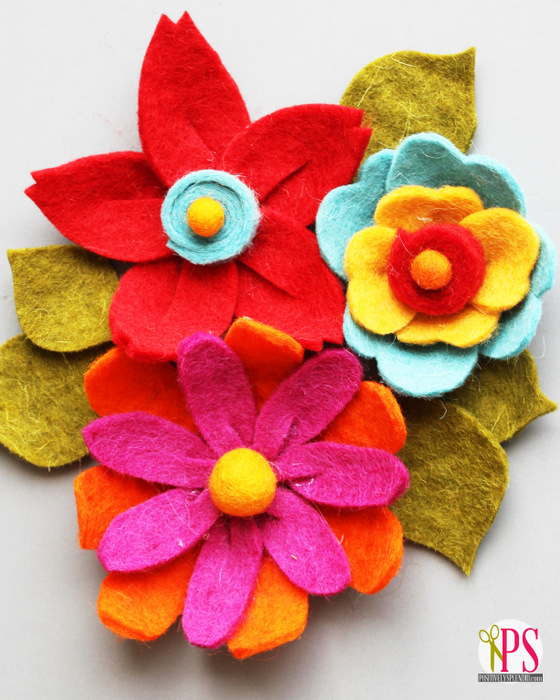 I adhered by flowers to my pillow cover with hot glue…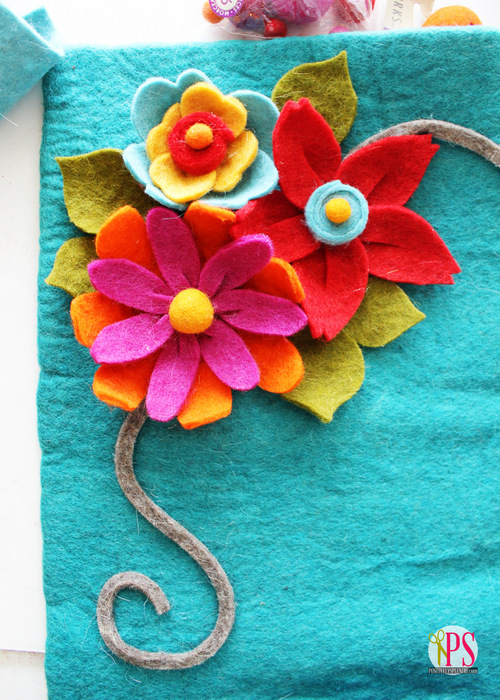 …and added a couple of 1/4″ grey felt swirls for a special touch.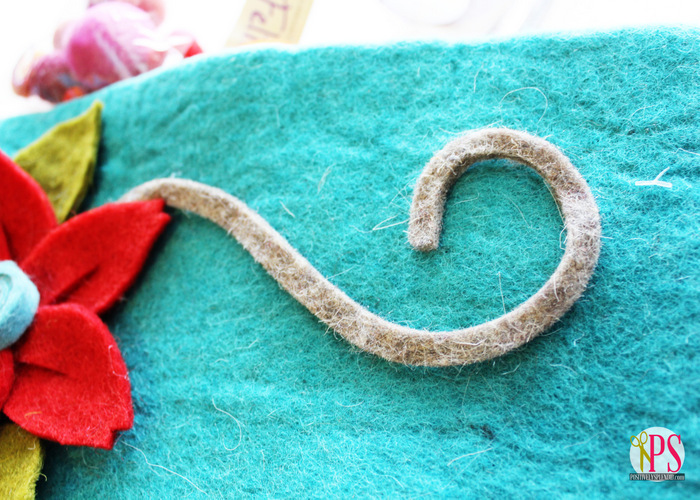 The end result? A pillow that doubles as a piece of art! So pretty, bright and fun!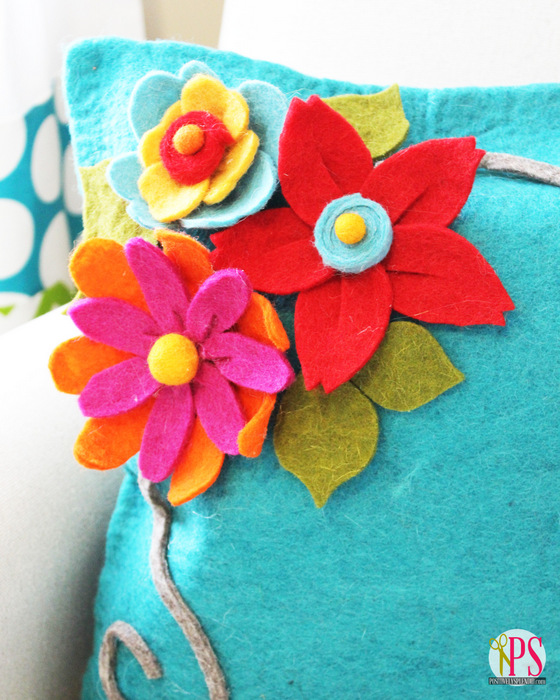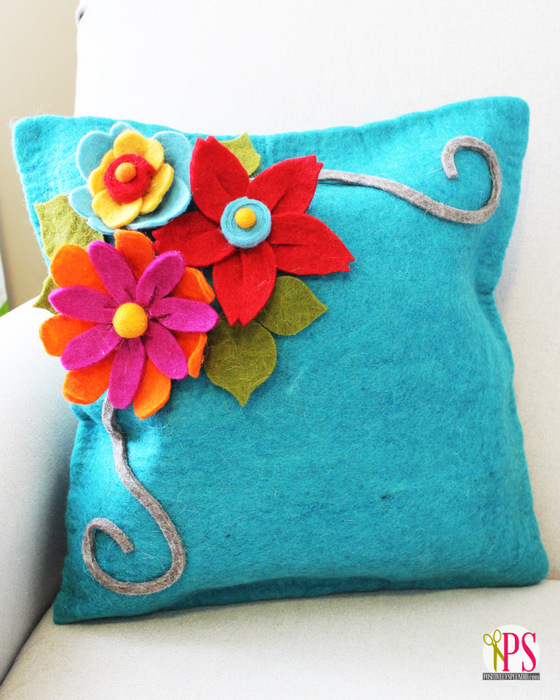 These flowers could be used on any craft project under the sun, from pillows like this one to brooches, handbags and more. Imagine the possibilities!
A huge thank you to Michaels for encouraging me to carve out some creative time in the midst of my everyday hustle and bustle. There really is nothing more gratifying than to take ordinary supplies and turn them into something beautiful!
This is a sponsored post written by me on behalf of Michaels. Rest assured that all opinions shared here are entirely my own, and I am committed to sharing only products and ideas that I feel my readers will benefit from and enjoy.
Having grown up in a home brimming with sewing notions and paintbrushes, Amy has a deep love for all things creative. On any given day, you'll find her knee-deep in her latest creative endeavor, with projects ranging from sewing and crafts to home decor and kid-friendly ideas. Amy believes that everyone, regardless of skill level or experience, possesses the ability to create something beautiful, and Positively Splendid was born of her passion for helping others harness their innate creative potential.