In honor of National Craft Month, Michaels recently invited me to join them in supporting the Cre8time initiative started by the Craft and Hobby Association to encourage everyone to reclaim creativity in their lives. The mission Michaels gave me was simple: carve out one hour a day for 8 days to do something creative. The moment I heard about about the idea, I was totally on board!
It's no secret that I am a staunch advocate of the benefits of a creative lifestyle, and I credit crafting and creativity with helping me manage stress, find satisfaction in creating something beautiful, and generally have a great time in the process.
Crafting gives me something that is just for me, something that won't be undone the moment I finish, unlike laundry or dishes or house cleaning. It's a therapeutic, relaxing way for me to escape the daily grind.
Last Friday, the babies and I sneaked away to Michaels to pick up some supplies for my 8 days of crafting. Folks, as I walked through the aisles of that store, I found inspiration at every single corner! I absolutely adored these frames, which I can see being so perfect for any number of purposes…
…but what really made me swoon was this luscious 100% wool felt in an assortment of rich hues. I couldn't decide which color I loved best, so I just went right ahead and picked up a roll of every color they had!
For the last couple of days during my creative time, I have been scheming and planning various projects and ideas for how to put the felt to good use. Something that I think is far too often underestimated when it comes to the creative process is how helpful and downright exhilarating the planning process can be.
Even if you don't have time to messy up your crafting table each day, consider devoting a few minutes to sketching out the ideas dancing around in your head so that the next time you do sit down to create, you can be one step closer to making those ideas a reality.
I was so glad to have sketched out my ideas, because they yielded the most lovely results!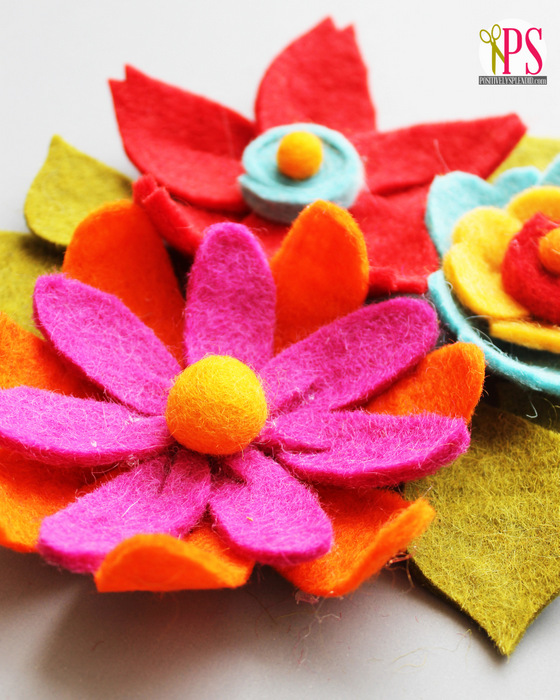 I'll be wrapping up my 8 days of crafting next week when I share the full project details and tutorial for these beautiful DIY felt flowers, as well as the home accessory I made with them. You won't want to miss it!
Thanks so much for making PS a part of your day!
This is a sponsored post written by me on behalf of Michaels. Rest assured that all opinions expressed are my own, and I am committed to sharing only products I feel my readers will benefit from and enjoy.
Having grown up in a home brimming with sewing notions and paintbrushes, Amy has a deep love for all things creative. On any given day, you'll find her knee-deep in her latest creative endeavor, with projects ranging from sewing and crafts to home decor and kid-friendly ideas. Amy believes that everyone, regardless of skill level or experience, possesses the ability to create something beautiful, and Positively Splendid was born of her passion for helping others harness their innate creative potential.