Do you ever get a project in your head that just won't let you rest until you get it done? When I first stumbled upon this sweet nursery decor at Spearmint Baby (which I referenced in my Chalkboard Birth Announcement post earlier this week), that is exactly how I felt. 
I knew I wanted a board like that in George's nursery, but with a budget so tight it almost squeaked, I really couldn't justify breaking the bank to buy one. I knew I could either doctor up an old painting like I did for the chalkboard in my kitchen, or I could set to work making a chalkboard from scratch. Being too impatient to hunt down a thrift store painting, I opted for the latter option. 
This really is a super simple project. We're talking a total of 30 minutes of active time (plus drying time). 
Here's what you need:
(1) 2-foot square piece of precut birch (my piece was about $8 at Lowe's)
Decorative trim (Mine was 3 inches wide with four grooves in the middle)
(4) 3.5-inch square decorative corner blocks
Primer
Chalkboard paint
Paint for your trim
Construction adhesive (I used Liquid Nails)
D-ring hangers
Note: I used birch because it was my smoothest option, and smooth is a must when creating a chalkboard surface. Birch is more expensive than, say, typical plywood, so if you're wanting to minimize costs, you can purchase a less expensive type of wood and do some sanding. I was hugely pregnant when I tackled this project, so I opted to take the easy way out. 🙂
First things first: Have the lovely folks at your home improvement store cut your trim down for you. You'll need four pieces that are each 17 inches long.
Apply a coat of primer to your square piece, and also to your trim and corner pieces if you aren't using the pre-primed variety. Allow to dry completely.
Apply a few coats of chalkboard paint to your square piece, allowing each coat to dry before adding another.   I found three coats to be just right. Paint your trim pieces in your desired color, and allow to dry completely.
Once all of your paint is dry, assemble your board. You'll have a square block at each corner with the straight trim pieces connecting them along of the outer edges. To maximize the size of your chalkboard writing area, place your trim pieces so they hang over the edge of your birch piece by a half inch or so all the way around. I found it easiest to lay all of my trim pieces on top of my chalkboard piece just like I wanted them before starting to glue everything into place with my Liquid Nails. Make sure all of your pieces are butted up closely to one another as you glue, minimizing the gaps between them as much as possible. (I found it unnecessary to use any caulking to fill in gaps between the trim pieces once I was done adhering them, but if you have any gaping spaces that need attention, that will do the trick.)
Now, affix your D-ring hangers to the back of your board. That's all she wrote!
I love that this will be a dynamic piece of artwork that can be changed with seasons or events. What a fun concept for a baby or child's room! Of course, if you don't have little ones to decorate for, this would be a great decor option for a kitchen, home office, or mantel, too!
Thanks so much for stopping in!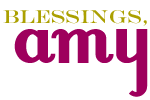 Having grown up in a home brimming with sewing notions and paintbrushes, Amy has a deep love for all things creative. On any given day, you'll find her knee-deep in her latest creative endeavor, with projects ranging from sewing and crafts to home decor and kid-friendly ideas. Amy believes that everyone, regardless of skill level or experience, possesses the ability to create something beautiful, and Positively Splendid was born of her passion for helping others harness their innate creative potential.