This week, I'm sharing some of the DIY organizational projects I completed for my new sewing room and home office. One of my main challenges in this tight space was finding a way to keep everything organized without having everything become overly cluttered, and I knew I needed to find an attractive, discreet way to stash all of my magazines, which lately have started to take over just about every flat surface in my home!
After my little helper above assisted me in purging my magazine collection (no small feat!), I started looking for magazine files to purchase so that I could store them on the bookshelf in the space. During a recent trip to the Container Store, I was really attracted to these files:
They are sturdy and make a nice decorative statement, but the DIY'er in me simply couldn't abide paying $11 apiece for something made of cardboard! Instead, I set to work creating a template of my own to use to make something similar for a fraction of the cost. My secret? Foam core board! Let me show you how I did it.
For this project, you will need:
Foam core board (1 20×30″ piece for each file)
Pencil
X-Acto knife
Scoring tool
Clear ruler (recommended) or yardstick
Clear packing tape
Patterned paper
Scissors
Mod Podge
Label holders
To start, print off and assemble the magazine file template, available for download below.
Helpful hints for assembling the template: First, connect pieces 1, 2, and 3, and then connect those joined pieces to piece 4. Next, connect pieces 5, 6, and 7, and then connect those joined pieces to piece 8. With the left- and right-hand sides of the template assembled, join them together at their centers, as indicated on the template pieces.
With a pen or a pencil, trace the assembled template onto the foam core board.
Working slowly and carefully, cut over the traced lines with an X-Acto knife. Be sure to work on a self-healing mat or a piece of scrap cardboard to protect your work surface!
Using a scoring tool and a clear ruler or yardstick, score along the dotted lines indicated on the template piece. Hint: To transfer these marks easily from the template onto your foam core board piece, place the template on top of the piece and mark the end points of these dotted lines onto your foam core board piece with a pencil. Then, connect the two points with your ruler and score. 
Using the scored lines as a guide, fold the the side panels to create all four vertical sides of the file. (Be sure to fold toward the scored lines.) Secure the joint where the sides connect generously with packing tape.
Fold the bottom flaps of the file and secure them with packing tape in a similar fashion.
To cover the assembled file, trace each side onto patterned paper, cut the pieces out, and then affix the paper to the file with Mod Podge. If desired, apply a protective coat of Mod Podge over the paper to seal. (FYI: I opted not to cover the bottom of my box, since I knew it wouldn't be visible, but if having the exposed foam core board bothers you, by all means, cover it up!)
Now, attach a label holder to the front of the file. You can find traditional label holders at office supply stores, but I fell in love with these label holders from Tim Holtz that I found in the scrapbooking section at Jo-Ann.
You are finished!
There are so many options for these files!
 You could even cover them in fabric for a more streamlined, sophisticated look.
I recommend making a separate file for each magazine your subscribe to. 
Fill your files with magazines and display them happily on a shelf. No more clutter!
To download the template pieces for this project, click on the arrow in the right-hand side of the box below. Please note that if you are enjoying this post in a reader or via email subscription, you will need to click over to the blog for the download.
If you haven't already, be sure to check out how I made a no-sew version of my diaper box storage bins for additional storage in this space.
Thanks for making me a part of your day!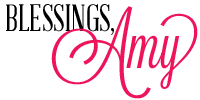 Linking this to…
Skip to My Lou
Serenity Now
Home Stories A to Z
Tidy Mom
Tatertots and Jello
Flamingo Toes
A Glimpse Inside