Last week, I shared the details about my brand-new home office and sewing room, a small space that is big on hidden storage. One of my favorite ways to maximize the functionality of any room is to have many items that I use frequently hidden in plain sight, and one tutorial I return to again and again to accomplish that feat is my diaper box canvas bin how-to. 
In my new office space, I needed a place to store my camera and its accessories, and I knew two of these bins placed on the bottom shelf of the bookcase in the room would be perfect for just that. 
Since I first shared these last year, I have made numerous versions to place in various rooms in our home. You might remember these, which can be found in the built-ins in our family room, and are used to house our family's movie collection…
…and these, which I made to hold toys in George's nursery.
As you can see in the bins above, I typically opt to sew liners for each bin. Because I was crunched for time this time around, though, I opted to come up with a way to mimic the look of liners without having to sew a single stitch! Here's how I did it.
First, I covered my diaper boxes using the method detailed in my original diaper box canvas bin post. (By the way, I have discovered that it is very cost-effective to cover the boxes with canvas drop cloths rather than with canvas material purchased by the yard.)
With the box covered, I measured all the way around the top edge of my box, and then added 2 inches to that measurement. My box measured 41 inches around, so: 
41″ + 2″ = 43″
I then measured down from the top edge of the box to the point I wanted the edge of the liner to fall on the outside of the box. 
I decided I wanted mine to end 4.5 inches from the top edge of the box. I added 2 inches to that measurement, to compensate for the amount of material that would be folded toward the inside of the box later on. Thus:
4.5″ + 2″ = 6.5″.
I used those dimensions to cut my decorative liner piece, which was 43″ x 6.5″.
In order for this to be a completely no-sew project, I knew the material I used for the liner piece needed to be something that wouldn't fray once it was cut. Felt and fleece would both fit that bill, but I opted to use some of my favorite material, marine vinyl. 
As you can see, this material comes in an assortment of lovely colors (pictured above is the selection at my local Jo-Ann store), and it has a nice, crisp edge once it is cut. Perfect!
Once my liner piece was cut, I used a scallop template (available for download below) to add a decorative touch to one of the edges. I traced the template onto the back side of the material using a Sharpie…
…and then I carefully cut along the traced lines. Note: It is very important to cut very carefully in this step, as this edge will be the finished edge of your liner piece!
With my scalloped edge complete, I used my hot glue gun to affix the liner piece to my bin, making sure the bottom edge of the scallop measured 4.5″ from the top of the box (my measurement from above) as I worked. I overlapped the two ends of my liner pieces at the back of my bin so that the final project would be nice and polished.
I affixed the visible (outside) portion of the liner piece first before folding over the excess toward the inside of the box and securing it with hot glue.
Finally, I outfitted the front of the bin with a felt bow made using my no-sew felt bow tutorial (available for free to all PS Facebook fans).
All finished!
I love how these bins turned out. The leather look of the vinyl gives them such a professional appearance!
Once I finished the set for my sewing space, I made another bin for my craft closet, to store crafts in progress. For this version, I used the same method, but I opted to use felt instead of vinyl. I accented the front of the bin with a decorative bow made with ribbon and a chalkboard vinyl decal for easy labeling.
As you can see, there are so many options for these bins! If you want to try your hand at creating a set of your own, download my scallop template for free by clicking on the arrow in the bottom right-hand side of the box below. (If you're enjoying this post in a reader or via email subscription, you'll have to click over to the blog for the download.)
Thanks so much for stopping in!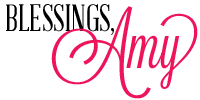 Linking this to…
Serenity Now
Home Stories A to Z
Tidy Mom
Tatertots and Jello
Flamingo Toes
A Glimpse Inside
Having grown up in a home brimming with sewing notions and paintbrushes, Amy has a deep love for all things creative. On any given day, you'll find her knee-deep in her latest creative endeavor, with projects ranging from sewing and crafts to home decor and kid-friendly ideas. Amy believes that everyone, regardless of skill level or experience, possesses the ability to create something beautiful, and Positively Splendid was born of her passion for helping others harness their innate creative potential.