The front porch is continuing to come along quite nicely! So far, I've shared my tiered planter and the floating citronella candles I put together for the space, and today I'm sharing the monogram pillows I created this weekend that will sit happily on each of the porch's wooden rocking chairs.
Some of you might remember the Freshly Squeezed Pillow set I made last year. I wanted these pillows to coordinate with those, so I utilized the leftover coral fabric from that project as a unifying element. And, since I am all about pops of navy lately, I opted to use some of the navy marine vinyl I had left over from my Numbered Outdoor Pillow Set and my Patriotic Pillow Set to make the prominent B monogram for each pillow.

I love how the leather look of vinyl adds so much terrific dimension to pillows!
Before I continue:

Don't be intimidated by the vinyl applique here.

 I'm going to walk you through exactly how to do it, and when you see how easy it is, you'll be wanting to outfit everything in sight with a vinyl embellishment!
For this project, you will need:
An 18-inch pillow form* 
Decorative fabric (for the top and bottom panels on the front of the pillow): 2 pieces cut to 5.5 x 18″
Solid fabric for the front center panel (I used a remnant from an old drop cloth): 1 piece cut to 8 x 18″
Solid fabric (for the back envelope closure): 2 pieces cut to 12 x 18″
Marine vinyl in two colors
Washable ink marker
Wash-Away Wonder Tape
Heavy-duty thread
All-purpose thread
Leather sewing machine needle
Tissue paper
Word processing software and printer
Basic sewing supplies: shears, machine, etc.


*You might notice my pillow doesn't look quite square in these photos, and that is because it actually isn't! I have adjusted the measurements I used for my pillow to accommodate a standard 18-inch pillow.
To begin cut out all of your fabric pieces to the dimensions specified above.
Place one of your top panel pieces on top of your front center panel piece, right sides facing, lining them up along two of their long edges; pin. Sew together using a 1/4″ seam allowance. 
Press seams open, and edge stitch along either side of the seam for a decorative, polished touch, if desired. 
Now, sew your bottom panel piece to the remaining long side of your center panel piece in the same fashion. Set this completed piece aside for now.
Using your washable ink marker, trace an 8-inch circle onto the back side of your marine vinyl. (I used a bowl as my template.) Carefully cut your circle out, taking care to ensure your edge is nice and tidy.
Now, create a monogram template using your word processing software and printer. (My template was made using Big Mummy font at 300 pixels.) Cut your template out, and trace it onto the back of your contrasting color of marine vinyl, making sure to trace it in reverse so it will be properly aligned once you cut it out and place it on your pillow. Carefully cut this monogram piece out as you did your circle before.
Using Wash-Away Wonder Tape, adhere your monogram to the front of your circle piece. Cut a piece of tissue paper that is big enough to cover your entire monogram piece. (This paper will help your machine's presser foot glide over the vinyl without getting stuck.) Place the tissue on top of the monogram, and, with your sewing machine outfitted with a leather sewing needle and your heavy-duty thread, carefully edgestitch around your entire monogram to affix it to your circle piece just as you would a traditional fabric applique, stitching through the tissue paper as you go. 
When you are done stitching, tear away and discard the tissue paper (it will tear away much like perforated paper), using tweezers, if necessary, to get rid of any small pieces that remain.
Center the stitched circle/monogram piece on top of your pillow front panel, and affix it with Wash-Away Wonder Tape. Cut a piece of tissue large enough to cover the circle monogram piece, and stitch the monogram piece to the pillow front using the same method detailed above. Set the pillow front piece aside.
Fold under one of the long edges of one of your back panel pieces 1/4″; press. Fold this same edge under another 1/4″ and press. Outfit your machine with a regular needle and all-purpose thread, and stitch along this edge to create a narrow hem. Repeat with your remaining back panel piece.
Now, stack and stitch the front and back panel pieces to create and envelope closure. With your completed pillow front face up on your work surface, lay one of your back panel pieces on top, right sides facing, so that the corners and edges are all aligned and the hem you just sewed runs through the center of your front piece. Pin. Now, position your other rectangle piece on the bottom portion of your pillow front piece in a similar manner. Pin.
Note: The hemmed edges of your rectangle will overlap by a few inches at the center of your pillow.
Using a 1/2″ seam, stitch all the way around the outer perimeter of your pinned pieces. Clip your corners and turn your pillow cover right-side out.  
(I go into full detail of how to do this in my Freshly Squeezed Pillow set tutorial, so if you would like to see step-by-step photos for this step, click over there.)
I love how polished and professional the vinyl applique looks here!
The stitching against the leather look of the vinyl reminds me of my high school letter jacket! See what I mean about how much dimension it adds?
You can *just* see my Freshly Squeezed pillow peeking out from their perch on the porch swing. 🙂
I hope your week is off to a great start! Thanks so much for stopping by.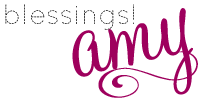 Linking this to…
Skip to My Lou
Home Stories A to Z
Serenity Now
Tatertots and Jello
Oopsey Daisy
Creations by Kara
Every Creative Endeavor
Lolly Jane
Lil Luna
Flamingo Toes
Having grown up in a home brimming with sewing notions and paintbrushes, Amy has a deep love for all things creative. On any given day, you'll find her knee-deep in her latest creative endeavor, with projects ranging from sewing and crafts to home decor and kid-friendly ideas. Amy believes that everyone, regardless of skill level or experience, possesses the ability to create something beautiful, and Positively Splendid was born of her passion for helping others harness their innate creative potential.