I absolutely love the look of the stacked colorful frames in funky shapes that have become so popular lately. I have had in mind to find and/or make some frames like these to hang on either side of the framed chalkboard in the nursery, and while perusing Pinterest, I saw a pin that suggested buying wood plaques from Hobby Lobby and Mod Podging photos on to achieve the look of these frames for a fraction of the cost. One problem: by doing it that way, you wouldn't be able to switch out your photos later on. Very impractical! I loved the idea to use the unfinished plaques, though, so I set to work creating a version that would give me more flexibility in displaying new photos later down the road. This is the project I came up with, and I achieved the look I was going for for a fraction of the cost of buying the pre-made frames!
Here's how I did it!
For each frame, you will need:
One large unfinished wooden plaque
One 5×7″ unfinished wooden frame 
Acrylic paint
Polyacrylic (optional, but I like the sheen and protection this provides)
Foam brushes
White adhesive vinyl OR painter's tape and white paint
Rotary cutter and mat
X-Acto Knife
Industrial-strength adhesive-backed Velcro*
One 5×7″ piece of foam board or thick cardboard
Sawtooth hangers
*This is found in at DIY and hardware stores, not in your sewing department
step one /  Paint your plaque and wooden frame in your desired colors using your acrylic paint and foam brush and let dry. Apply a coat of polyacrylic a to each piece and allow to dry completely. 
Project Note: If you want a flawless look for your frames, sand the plaque with fine-grit sandpaper to smooth it out before painting. I wish I had done this with mine!
step two / Cut 1-inch strips of vinyl using your rotary cutter and mat. Arrange your pieces to form vertical stripes on your plaque. I had to get creative with my stripes on my frames, since I only had a small amount of white vinyl on hand and I didn't want to drag all of my kiddos to the store to buy more. 🙂 At the center of my frame, instead of forming complete stripes, I placed a 3-inch section of vinyl on either side (see below). Since your photo will be covering the center part of your plaque later on, you really don't have to worry about what this area looks like, and no one will know the stripes don't extend all the way across your plaque. Now, use your X-acto knife to carefully trim away any vinyl that hangs over the edge of your plaque.
Project Note: Alternatively, if you prefer to paint the stripes instead of using vinyl, you can tape off your stripes with painters tape and paint them with acrylic paint before you coat your plaque with polyacrylic. It is totally up to you!
step three /  Remove the easel back from your 5×7 frame and set it aside to use for a later project. Carefully remove any hardware from the back of the frame, as shown. The goal here is to have a frame that is completely flat on the back. 
step four /  Now, cut two 2.5 x .5-inch strips of Velcro. Pull the loop and hook portions of each section apart. Adhere the loop (softer) portion of your strip to the back of your frame, centered at the top edge, as shown. Place another loop piece at the bottom edge in a similar fashion.
step five /  Place your frame on top of your plaque so that the frame is precisely centered. Use a pencil to lightly mark the center of the top and bottom edges of your frame, and use these marks as guide to place the hook portion of your Velcro on your plaque. You will place the top hook section just below your top mark and your bottom hook section just above your bottom mark, so that each section will be concealed by your frame  when you sandwich your frame and plaque pieces together. The Velcro will hold your top and bottom pieces together securely, but you will still be able to switch out your photos any time you like! Now, place a sawtooth hanger on the back of your plaque for hanging.
 step six /  If your frame came with a glass piece, place that in your frame before inserting your photo. Fit your piece of foam board into the frame snugly behind your photo, and then affix your front frame to the plaque piece using the Velcro strips.
All finished!
I just love how these came together! They are the perfect way to display precious photos of my sweet baby boy!
Thanks so much for stopping by!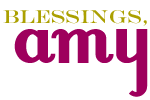 Linking this to…
Skip to My Lou
Home Stories A to Z
Serenity Now
Oopsey Daisy
Lil Luna
Creations by Kara
Every Creative Endeavor
Tatertots & Jello
Flamingo Toes