I love to find fun craft projects to make with my daughter now that she is officially a tween. We've been looking for a way to organize her earrings in a functional but cute way, so we came up with the idea together to turn a hinged picture frame and some cross-stitch fabric into an earring organizer for her room. We had so much fun making it together using paint and stencils from Martha Stewart, and she loves it! Continue reading for all the details!
This post is sponsored by Plaid. All opinions are entirely my own.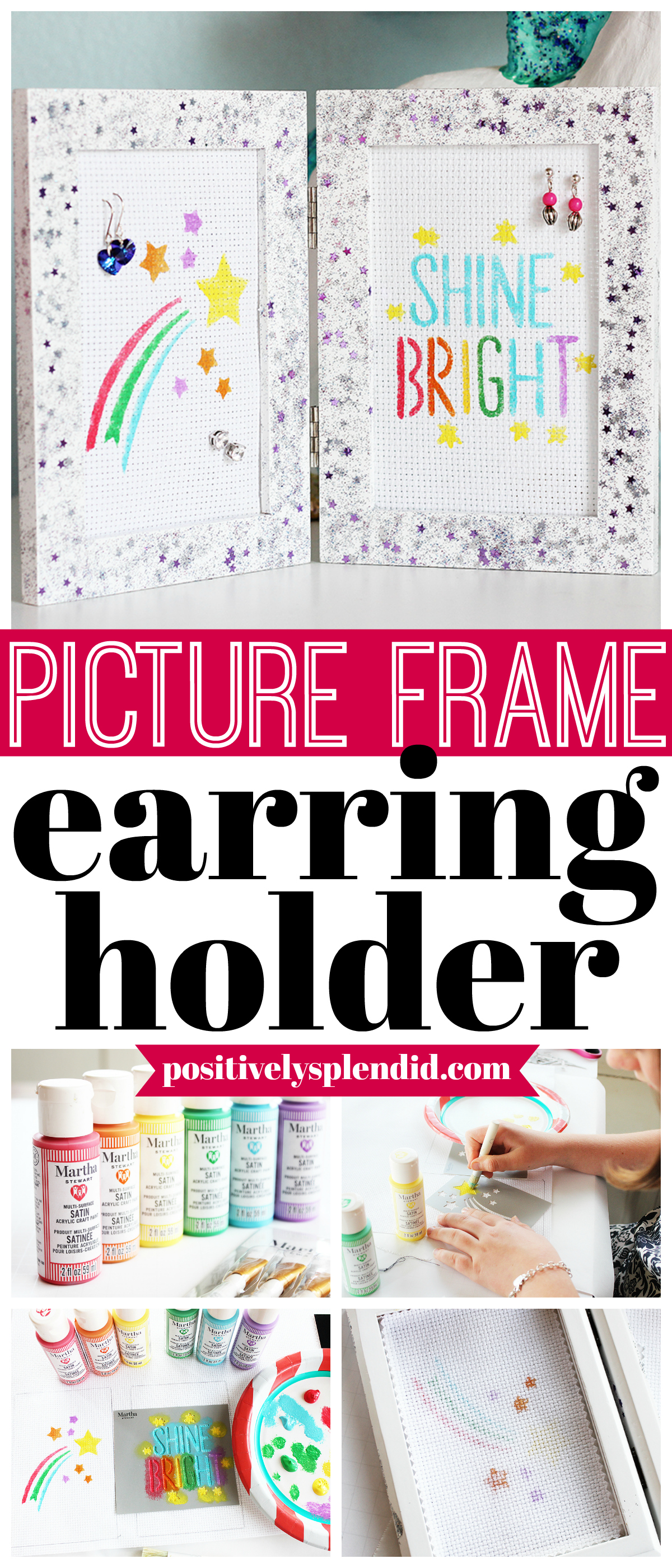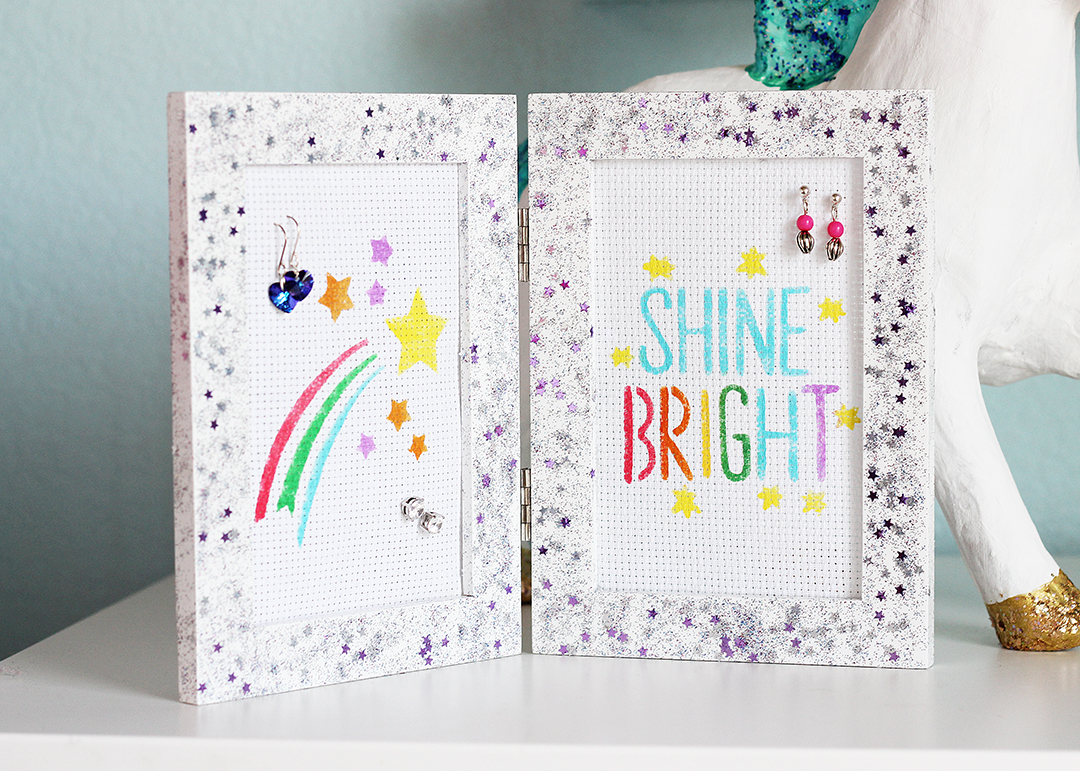 Framed Earring Organizer Supplies
---
Martha Stewart Multi-Surface Satin Acrylic Craft Paint
Martha Stewart Multi-Surface Star Glitter Acrylic Craft Paint
Martha Stewart Adhesive Paper Stencils
Martha Stewart Brush Set
Martha Stewart Stencil Brushes
Hinged Picture Frame
White Cross Stitch Fabric (Aida Fabric)
Pencil
Pinking Shears
Hot glue
Pssssst… You can find Martha Stewart products exclusively at Michaels!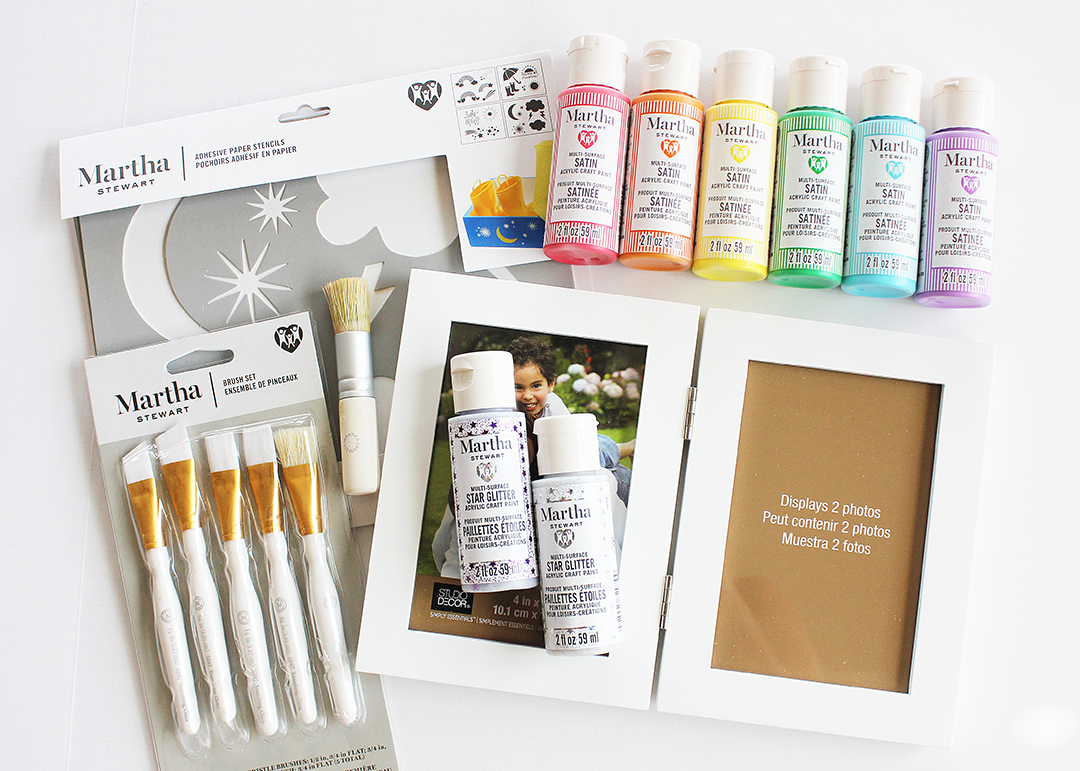 Framed Earring Organizer Directions
---
Remove the glass and back panel pieces from the frame, settling aside one of the panels to use as a template later on. Use the natural bristle brush from the brush set to apply the star glitter paint to the frame. Use a dabbing motion to apply the paint instead of a typical brushing method.
Tip: Move around the star glitter pieces by dragging them with the tip of the brush.
Apply as many coats as you like for an ultra-glittery finish, allowing the paint to dry for one hour between coats. Set the frame aside to dry completely.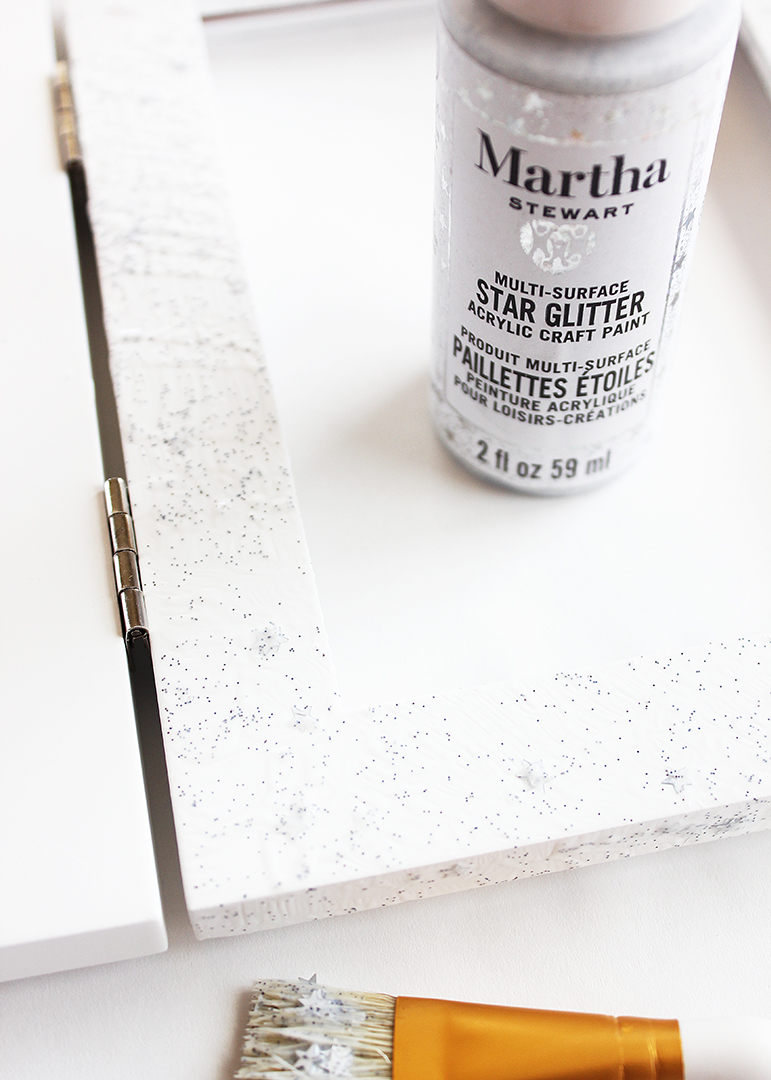 Trace around the panel piece onto the cross stitch fabric, making sure the shape is squared up with the grid of the pattern so everything is nice and straight.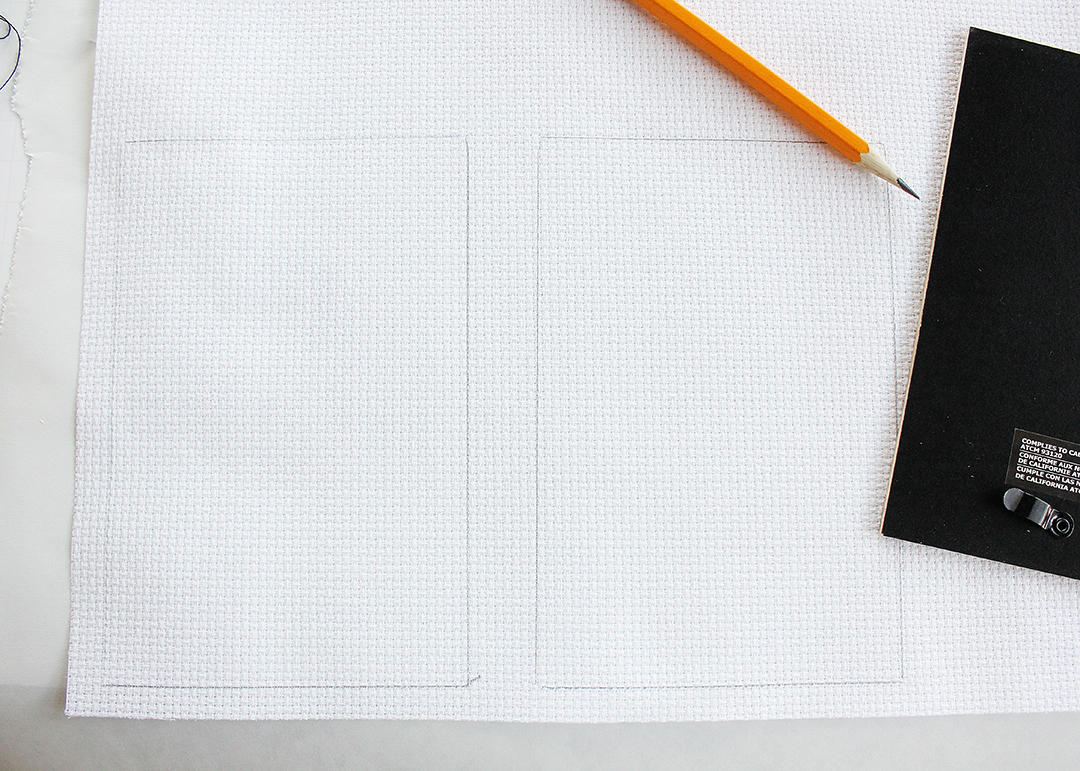 Now, it's time to add some colorful personality with Martha Stewart paint and stencils!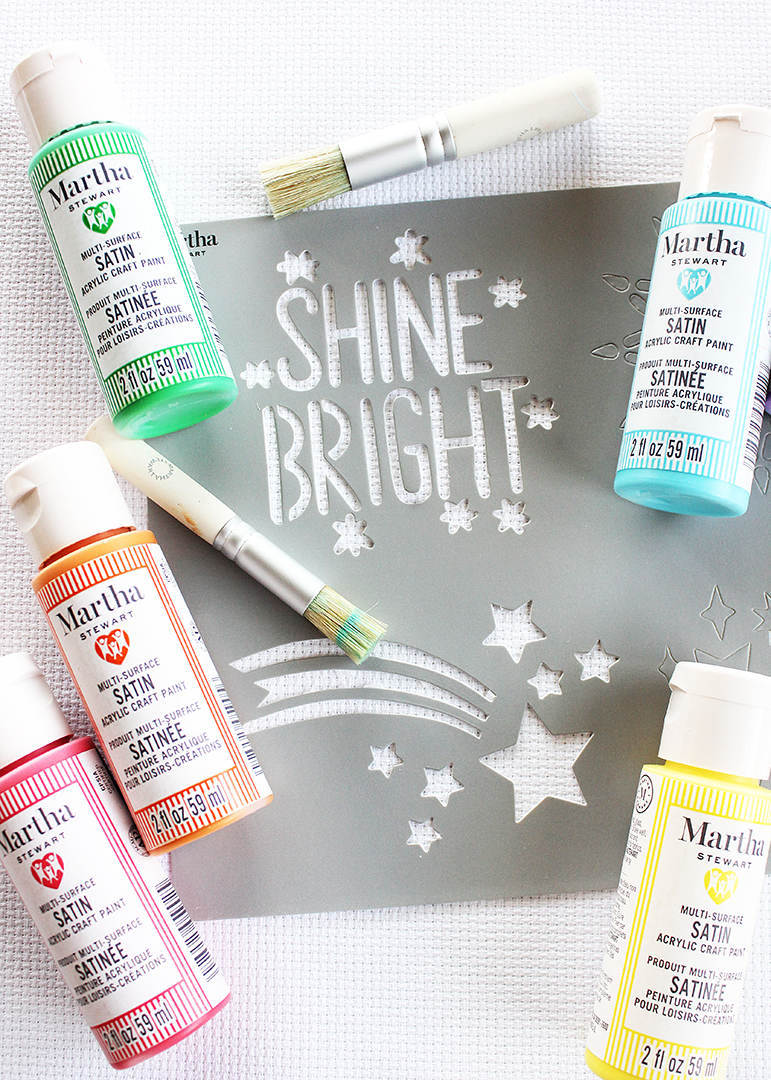 These paper stencils come in so many cute designs, and they have a handy adhesive backing that helps keep them anchored in place while stenciling. I love them!
Cut around the stencil design you wish you use, and peel off the paper backing.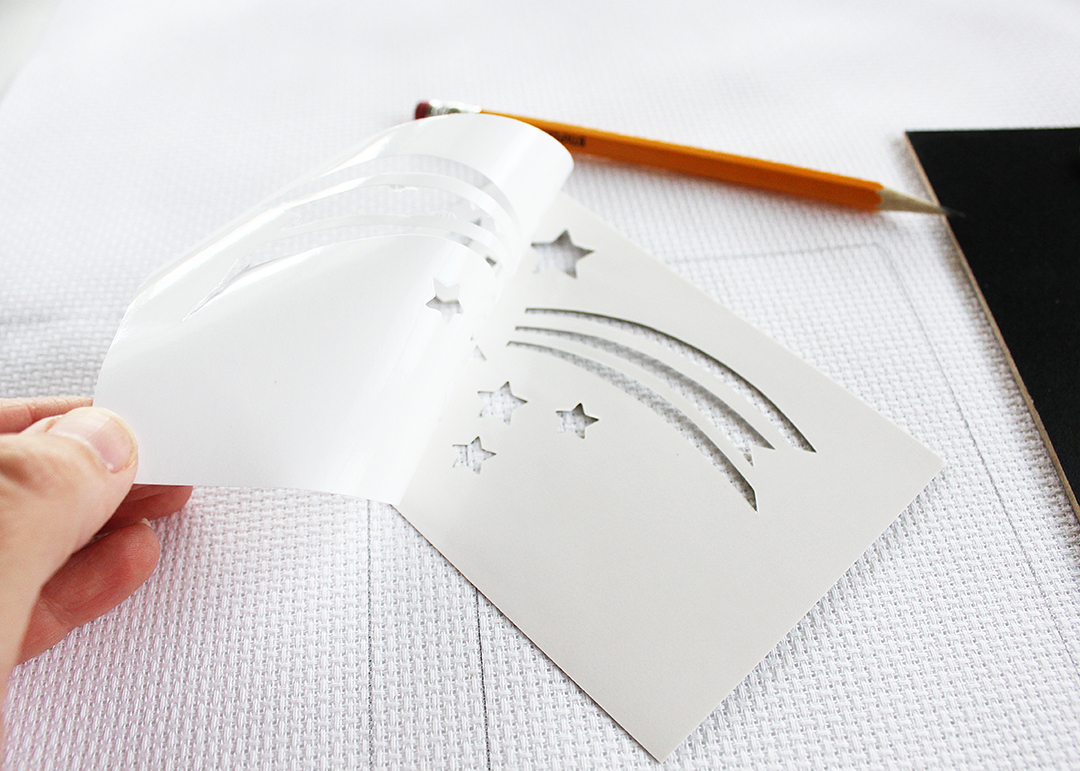 Affix the stencil as desired onto the traced off section of the cross stitch fabric. Use the stencil brush and the satin paint to create a stenciled design on each of the panels. My daughter had so much fun mixing and matching the bold, bright rainbow of colors!
Stenciling tip: Dip the brush into the paint, and then dab the end of the brush onto a paper towel several times to remove the excess paint. This will prevent the brush from being too wet and having the paint bleed under the stencil as you work.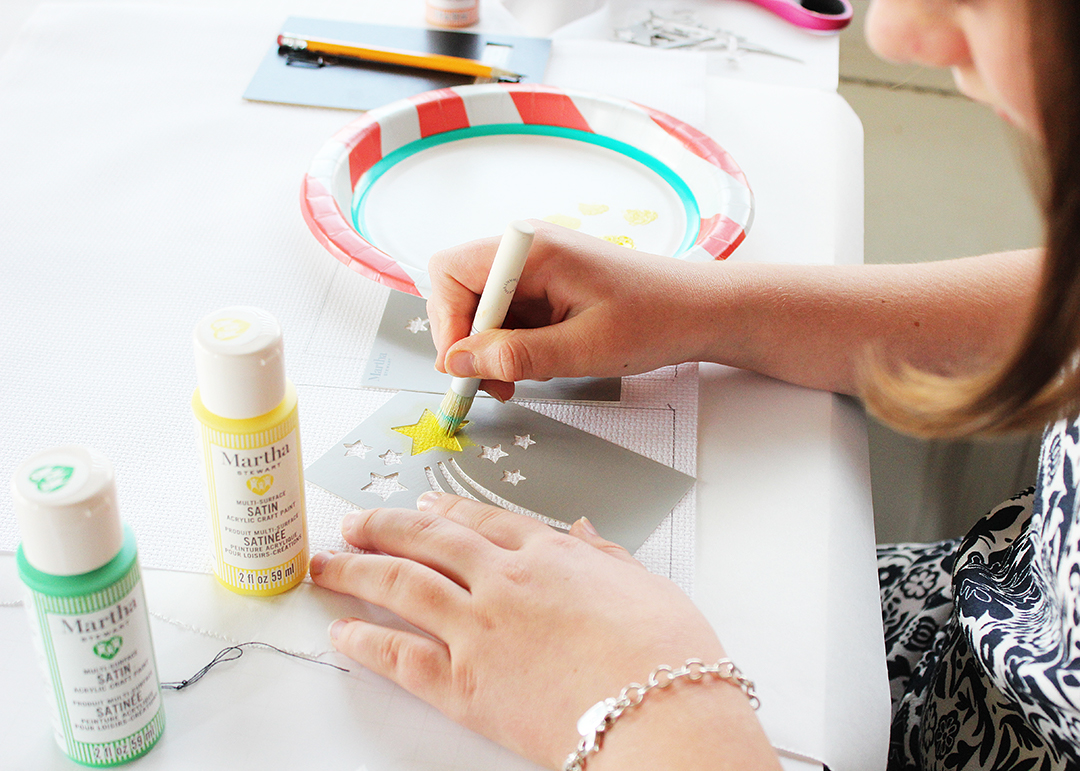 Martha Stewart Multi-Surface Acrylic Paint is the perfect paint for all kinds of family crafts like this one–and even school projects! There are over 80 bright, cheerful colors to choose from in six great finishes (satin, glitter, pearl, metallic, neon and glow-in-the-dark), and the paints can be used on on any surface, including wood, terra cotta, ceramic, glass and tin. They are perfect for using with stencils.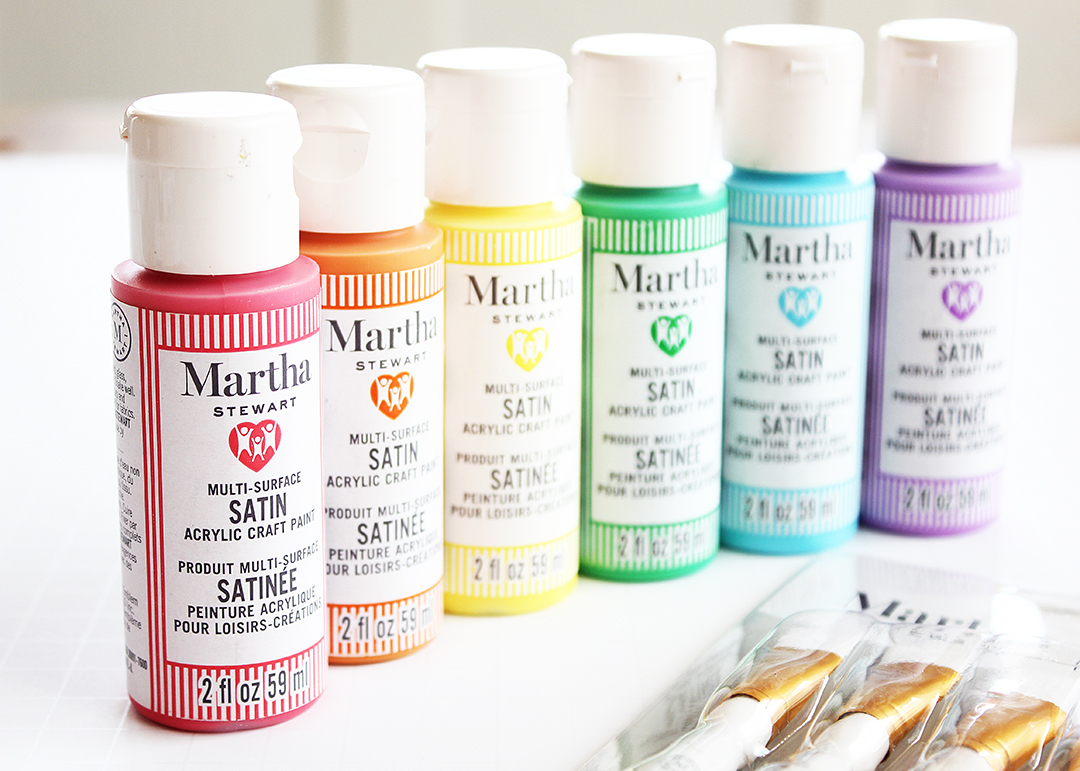 When your stenciled design is complete, remove the stencil from the fabric while the paint is still wet, then set the fabric aside so the design can dry completely.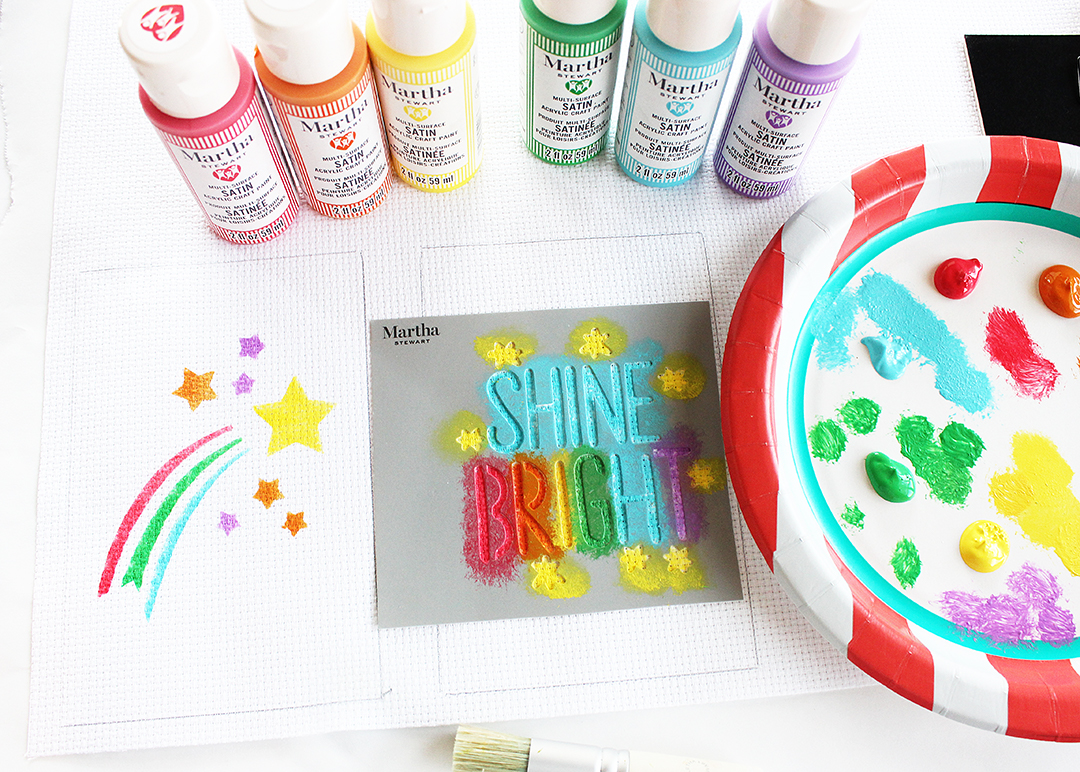 Use pinking shears (or regular shears) to trim around the traced outer edge of the fabric rectangles. Tuck each one through the back side of the frame, and secure the fabric to the inside lip of the frame with hot glue.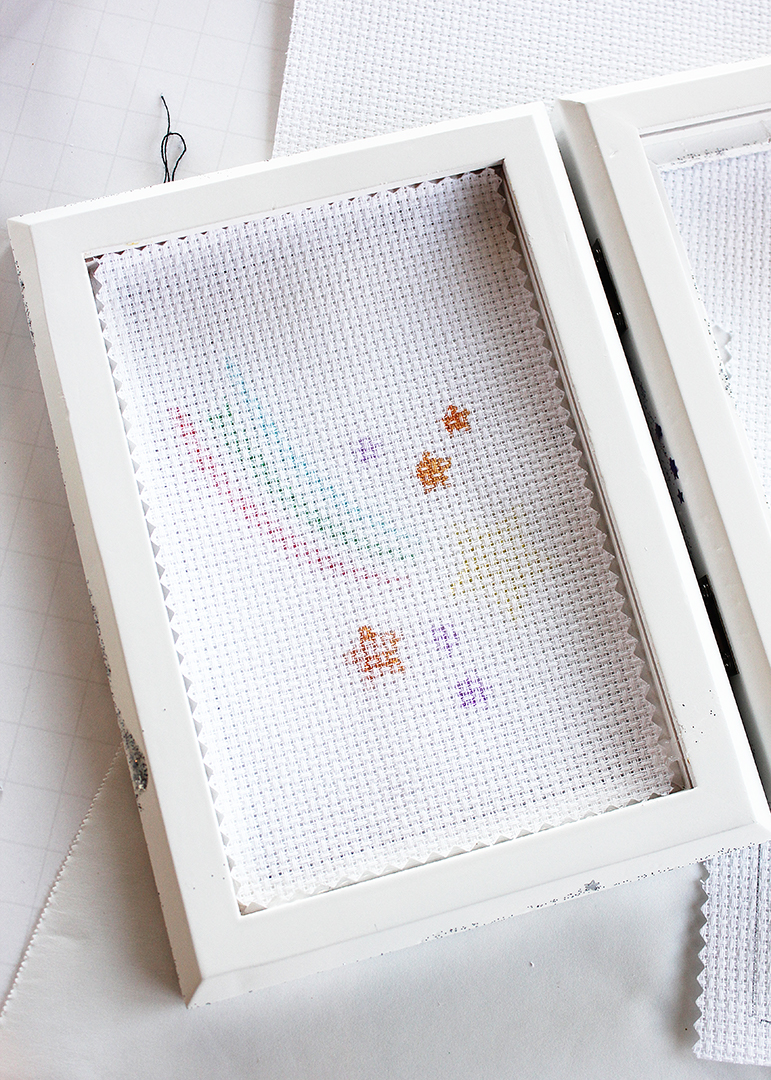 Your DIY framed earring holder is complete and ready to be filled with your favorite earrings!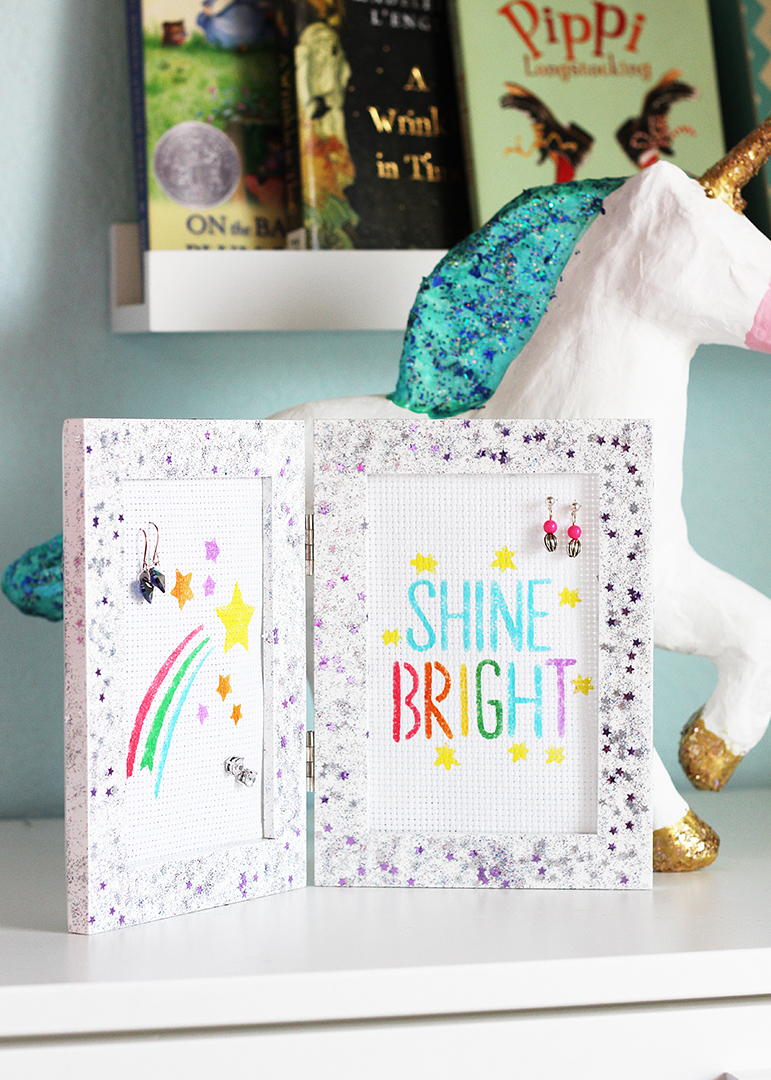 I love the way the Martha Stewart glitter paint really makes this project sparkle and shine. This star shaped glitter was my daughter's favorite part of the project.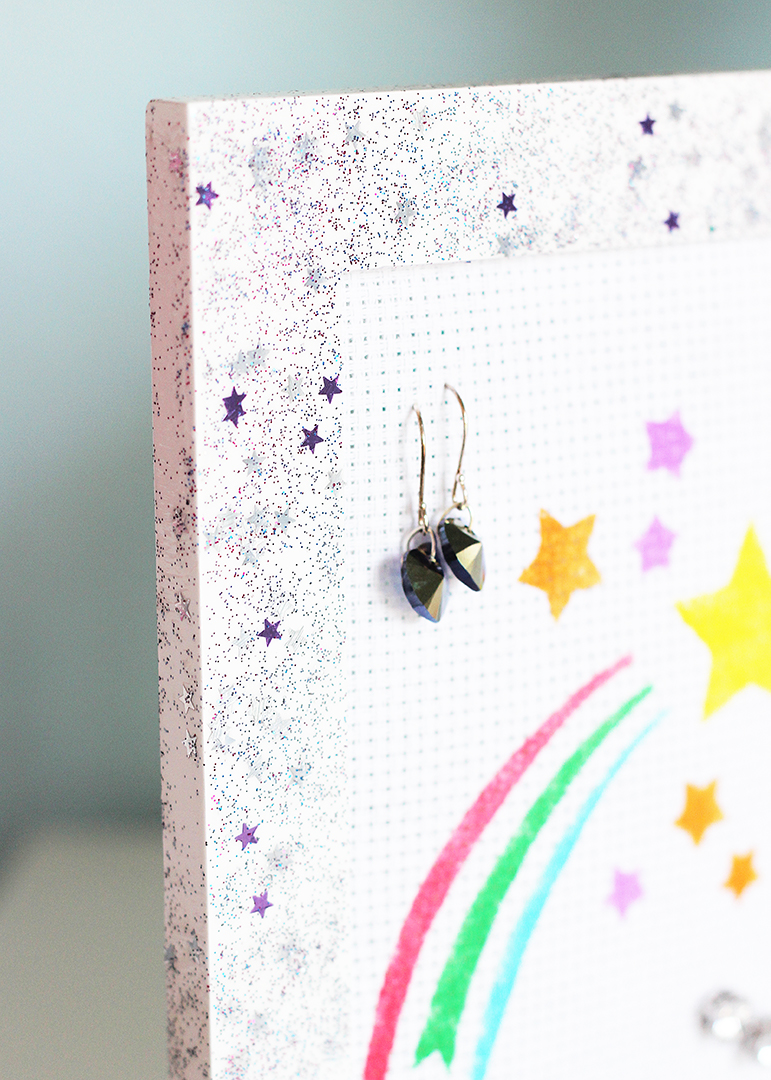 The holes in the cross-stitch fabric are just right for poking earring backs through for hanging. It is so fun that this earring holder not only serves a handy purpose, but it looks great, too, with the colorful stenciling and glittered frame!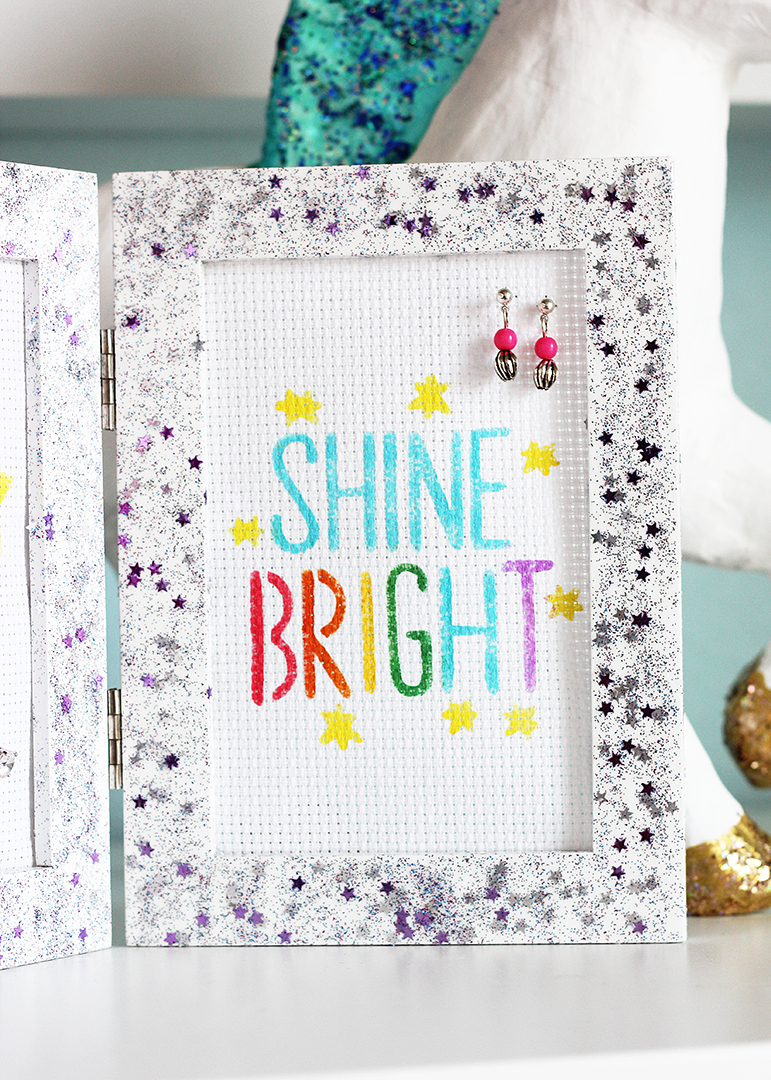 Don't miss the 168 new additions in the Martha Stewart line, including new silkscreens, which are great for achieving highly detailed designs with ease. They are seriously awesome, y'all!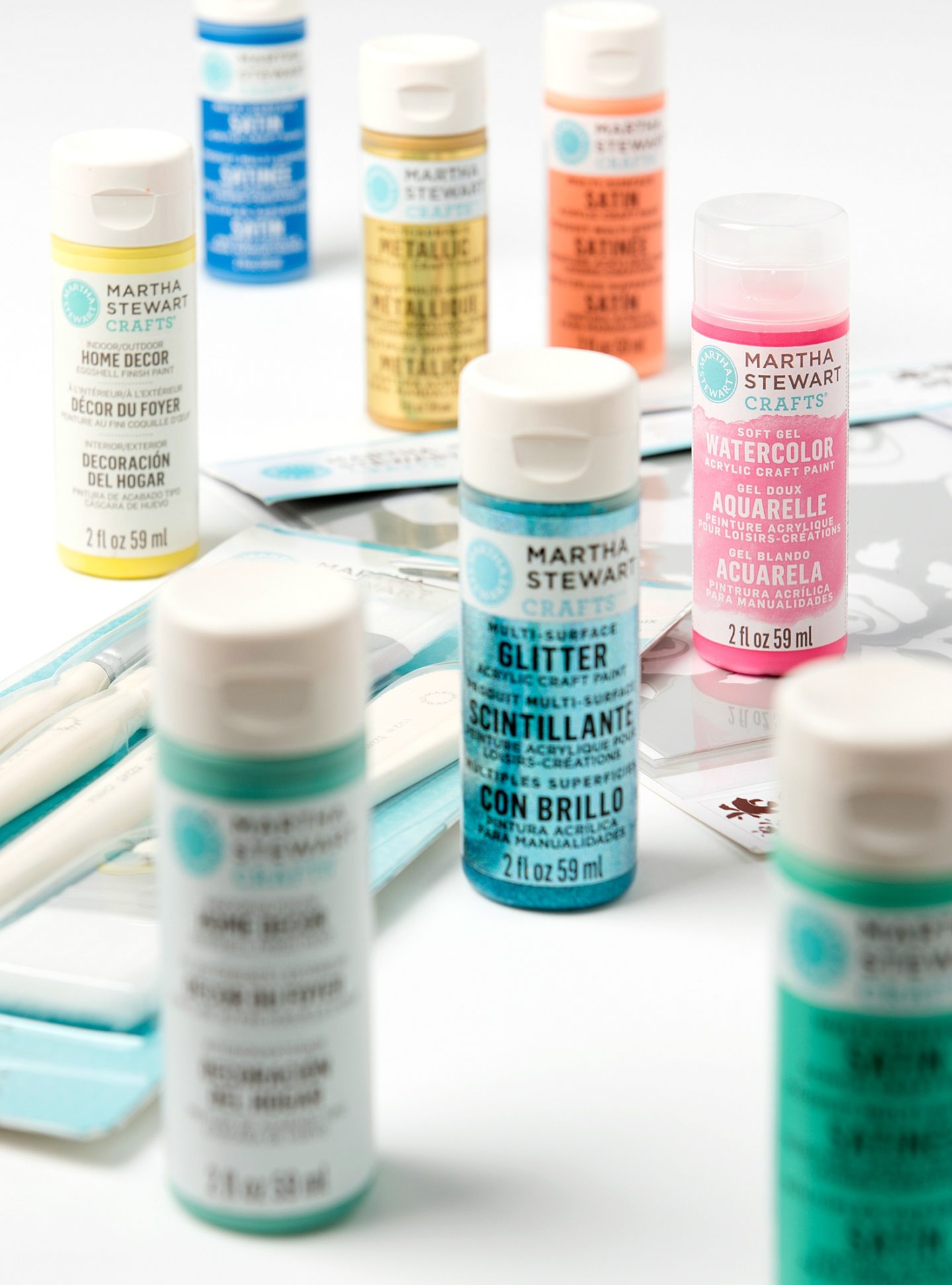 I created this earring organizer as part of a fun challenge with the Plaid Creators team. Be sure to stop by each of my friends' blogs below to check out how they used the Martha Stewart paints and stencils, too!
DON'T FORGET TO FOLLOW PLAID ON PINTEREST, FACEBOOK, INSTAGRAM AND YOUTUBE FOR PLENTY OF OTHER CREATIVE IDEAS TO KEEP YOU CRAFTING!
Having grown up in a home brimming with sewing notions and paintbrushes, Amy has a deep love for all things creative. On any given day, you'll find her knee-deep in her latest creative endeavor, with projects ranging from sewing and crafts to home decor and kid-friendly ideas. Amy believes that everyone, regardless of skill level or experience, possesses the ability to create something beautiful, and Positively Splendid was born of her passion for helping others harness their innate creative potential.