This is a sponsored post written by me on behalf of Boar's Head. All opinions are 100% mine.
School is back in session, which means it's time to come up with plenty of healthy, fun lunches to pack for my kiddos. I love to make creative treats to surprise them, and sandwiches in cute shapes are always a hit. These adorable woodland creature animal sandwiches are made with delicious Boar's Head deli Meat and Cheeses. I'm going to share all about how to make these adorable hedgehog, fox, owl and raccoon sandwiches to surprise your own kiddos!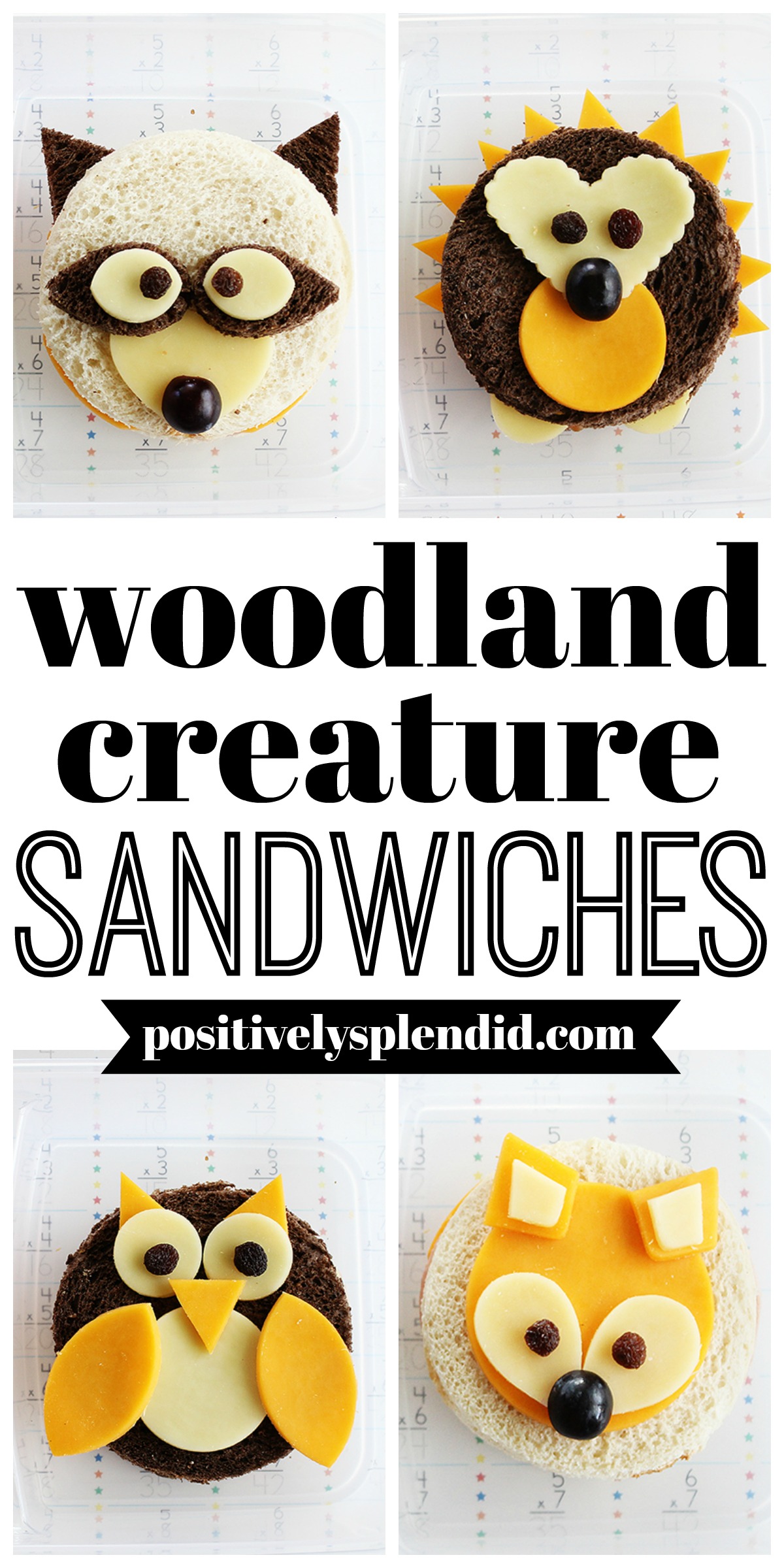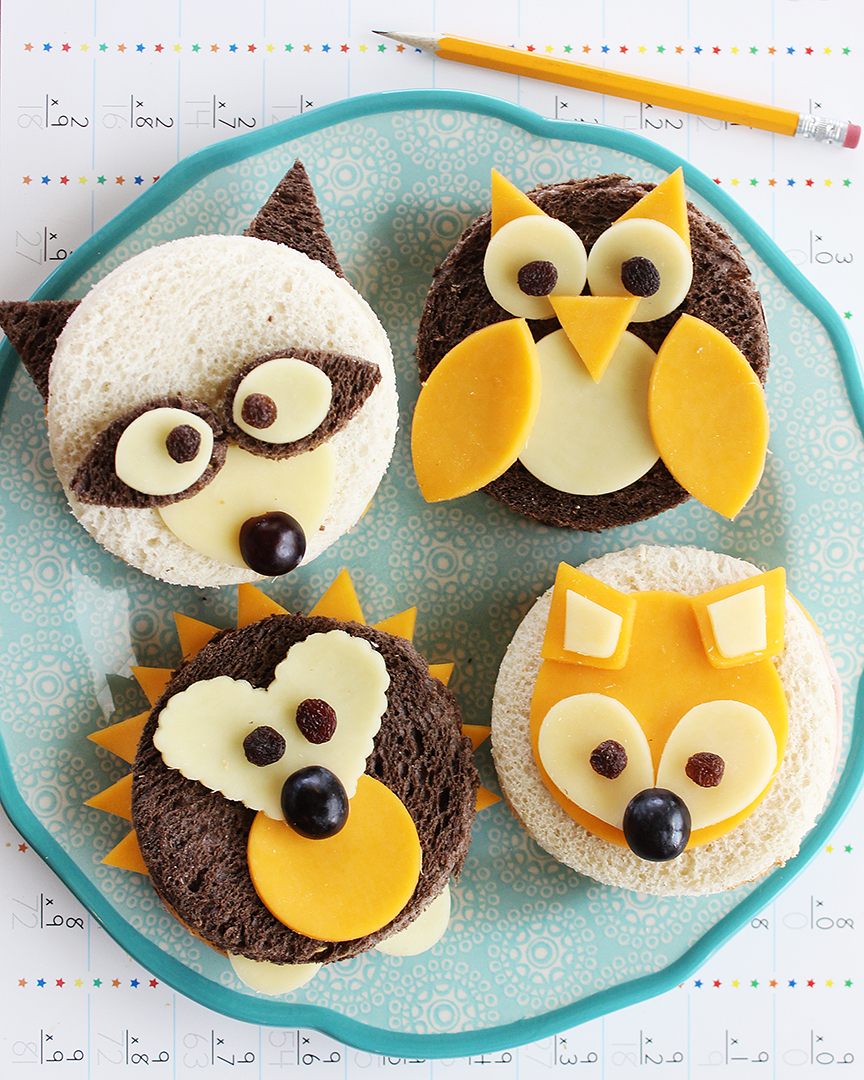 Each of the animal sandwiches I'm sharing today are made with different combinations of the same delicious Boar's Head Ham and white and yellow Cheddar Cheeses along with other easy-to-find ingredients, so you really get the most return for your investment–and minimal waste!
Woodland Creature Animal Sandwich Ingredients
---
Boar's Head Sweet Slice

®

Ham
Boar's Head White Vermont Cheddar Cheese
Boar's Head Yellow Vermont Cheddar Cheese
Raisins
Black Seedless Grapes
White sandwich bread
Pumpernickel Sandwich Bread
Tools: Circle cookie cutters, heart cookie cutters, paring knife. When it comes to deli meats, Boar's Head is our family's go-to. Boar's Head products are made of only the finest ingredients: wholesome beef, pork and poultry, and spices sourced from around the globe. Boar's Head makes school lunch easier for parents by offering nourishing products that make quick and unique recipes that kids love!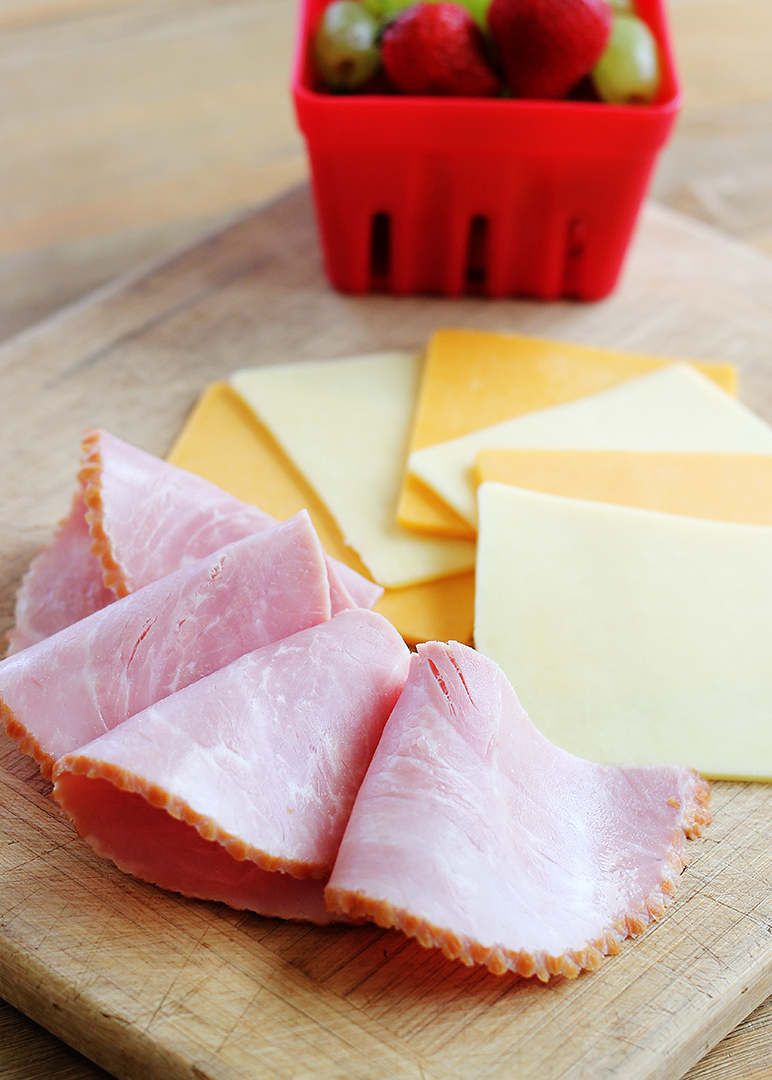 All of the sandwiches I'm sharing with you today (the hedgehog, owl, fox and raccoon) start with the same sandwich "foundation." Layer your favorite Boar's Head Meat and Cheese on top of one slice of bread. (For my kiddos, the Sweet Slice® Ham and Vermont Cheddar Cheeses can't be beat!) Add your favorite condiment to a second bread slice, and use it to top off the sandwich. Or, leave the other slice dry if your kids prefer. The choice is totally up to you.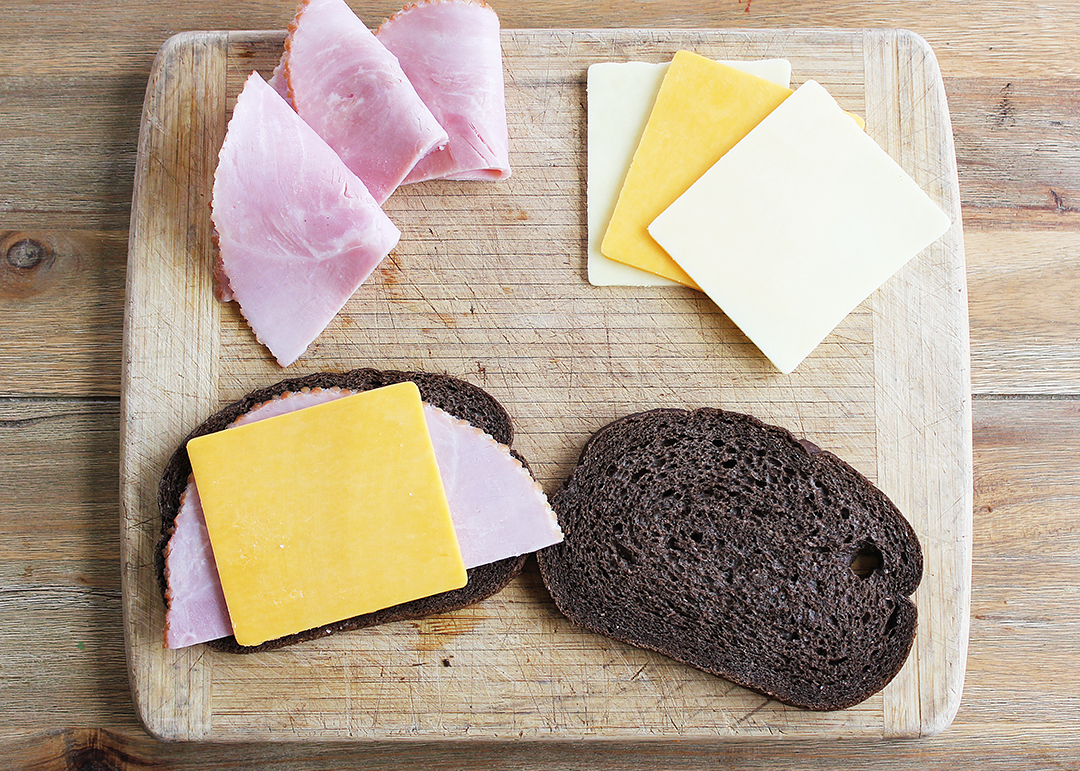 Now, use a round cookie cutter to cut the sandwich into a circle.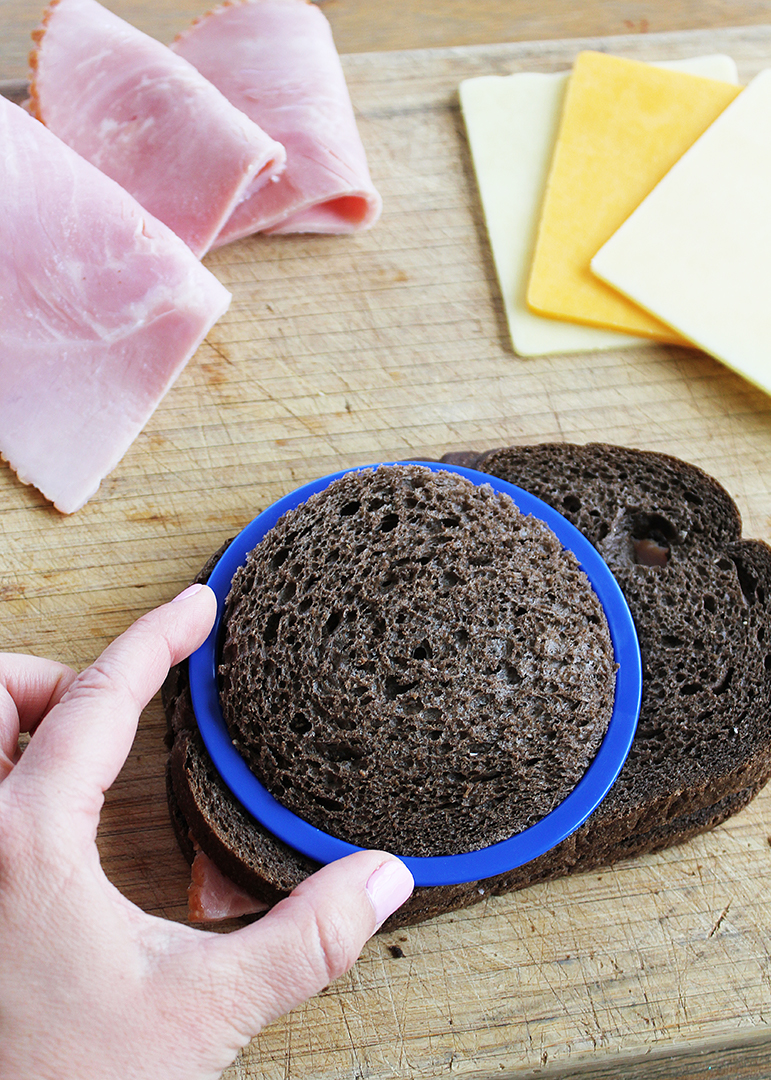 Once your circle sandwich is formed, you're ready to turn it into any of these adorable four woodland creature designs! Wondering what to do with the leftover bread and meat and cheese pieces? I love to use the bread remnants to make fresh breadcrumbs, and the cheese and ham pieces are great to put in a baggie along with assorted dried fruit and almonds for my kids to enjoy as an after-school snack. Note: To make the sandwich layers stay put when carried in a lunchbox, I recommend using a condiment like mayo or mustard to act as "glue" to hold everything in place.
Animal Sandwich Option 1: Hedgehog Sandwich
Make a round sandwich as described above using pumpernickel bread.
Cut a small heart shape from the white cheddar cheese and a small circle from the yellow cheddar cheese. Place the pieces as pictured on top of the sandwich.
Add two raisin eyes. Trim a grape in half lengthwise, and place on the bottom point of the heart to form a nose.
Use a paring knife to cut small triangles from the yellow cheddar. Tuck these between the layers of the sandwich to form the hedgehog quills.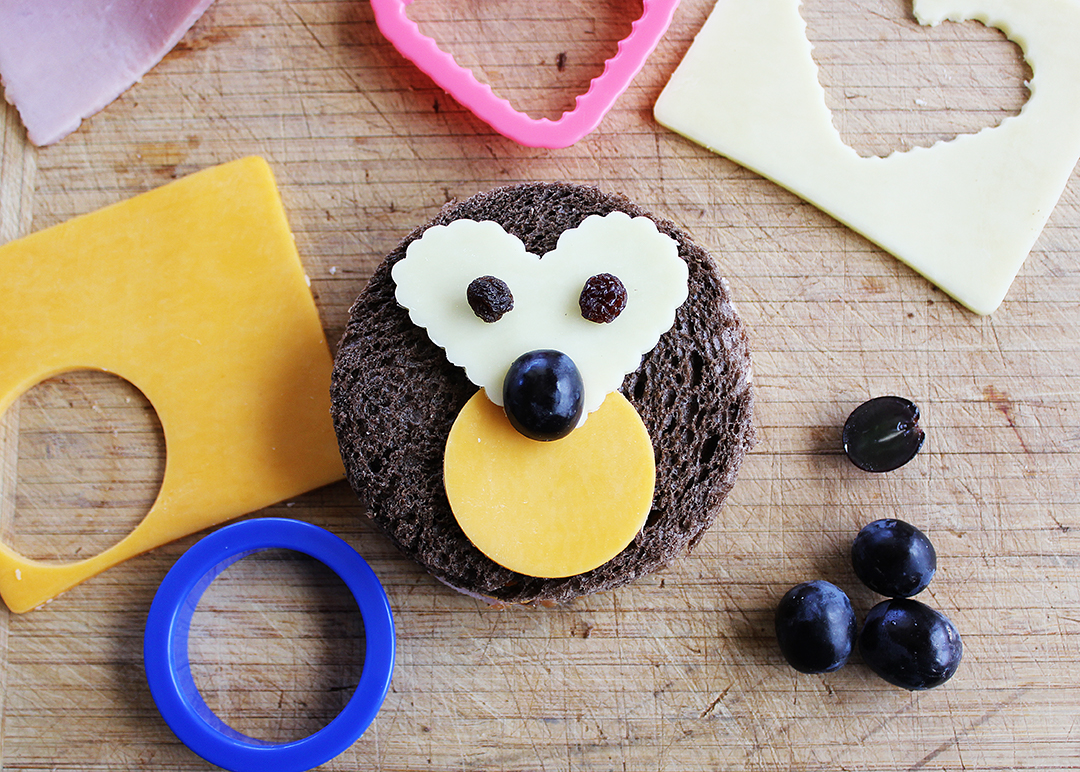 Your cute hedgehog sandwich is all finished! Pack with some yummy grapes and carrot sticks for a wholesomely delicious lunch.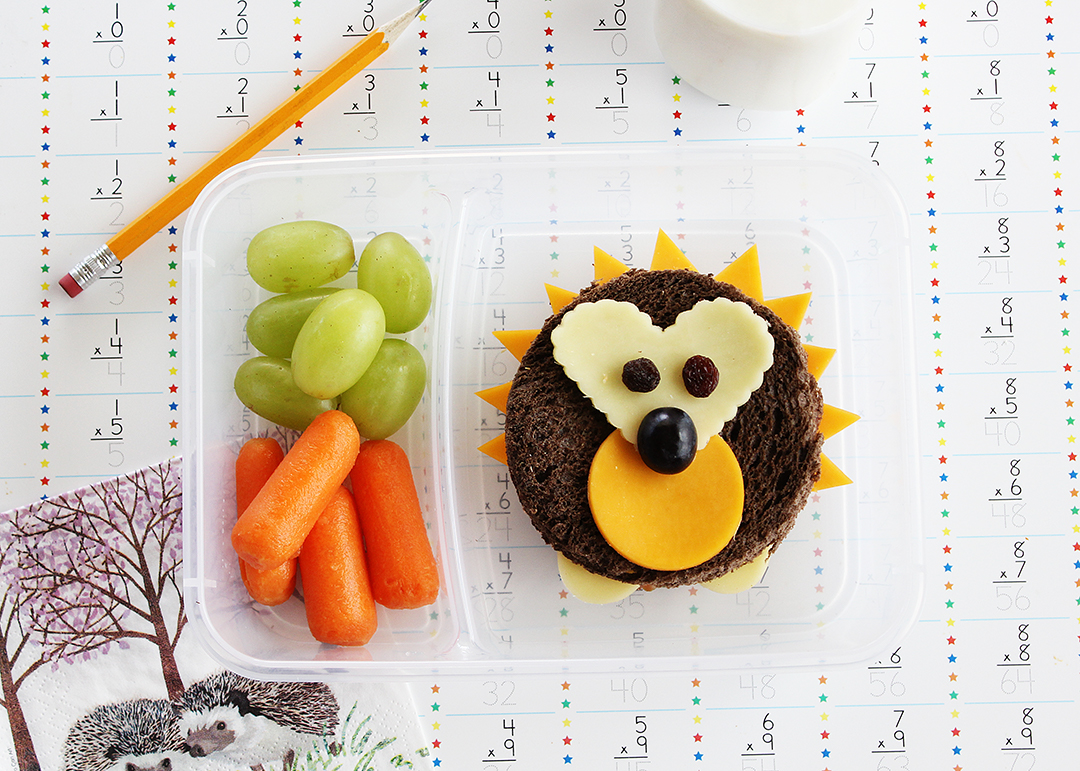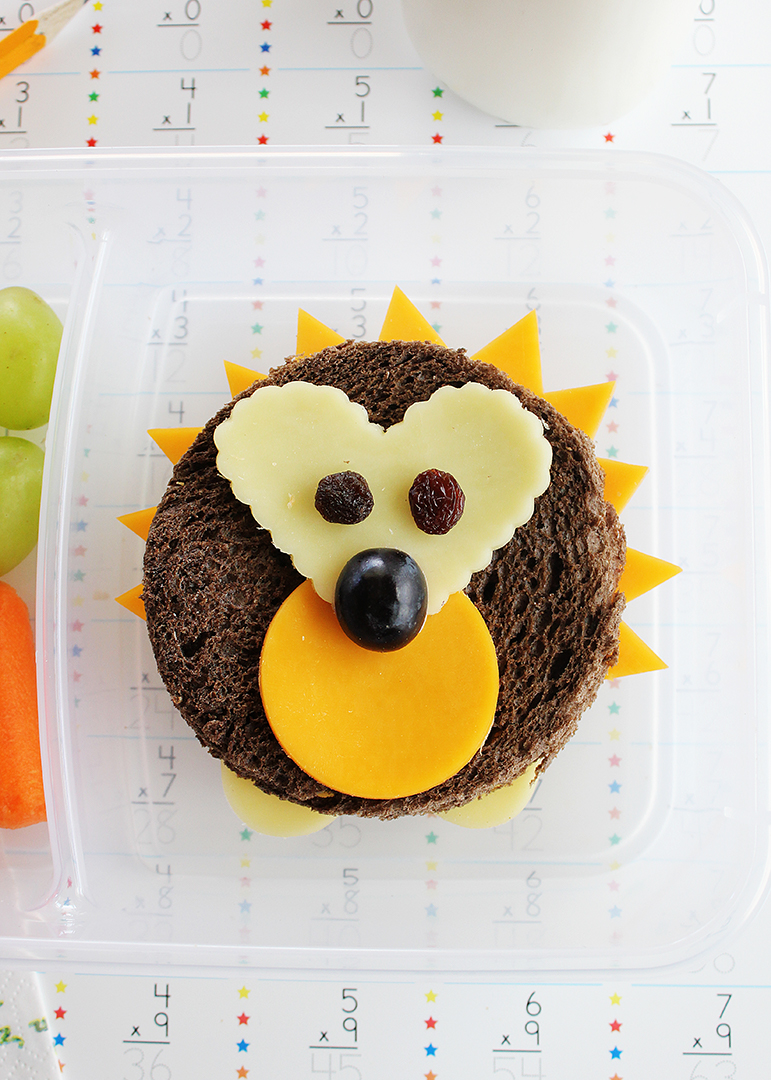 Animal Sandwich Option 2: Owl Sandwich
Make a circle sandwich as described above using pumpernickel bread.
Using a circle cutter, trim two half circle yellow cheddar pieces. Trim each of the half circles into a football shape by rounding off the straight edge with the same cookie cutter.
Cut two small circles and one medium circle from the white cheddar.
Cut three small triangle shapes from the yellow cheddar.
Position the medium white cheddar circle piece along the lower center of the sandwich. Place the two small white cheddar circles above the medium circle to form the eyes, and a yellow cheddar triangle behind each one. Place the remaining yellow triangle piece between the two eyes, as shown, to form a beak.
Finish by placing the yellow football-shaped pieces along either side to form wings, and then add two raisin centers to the eyes.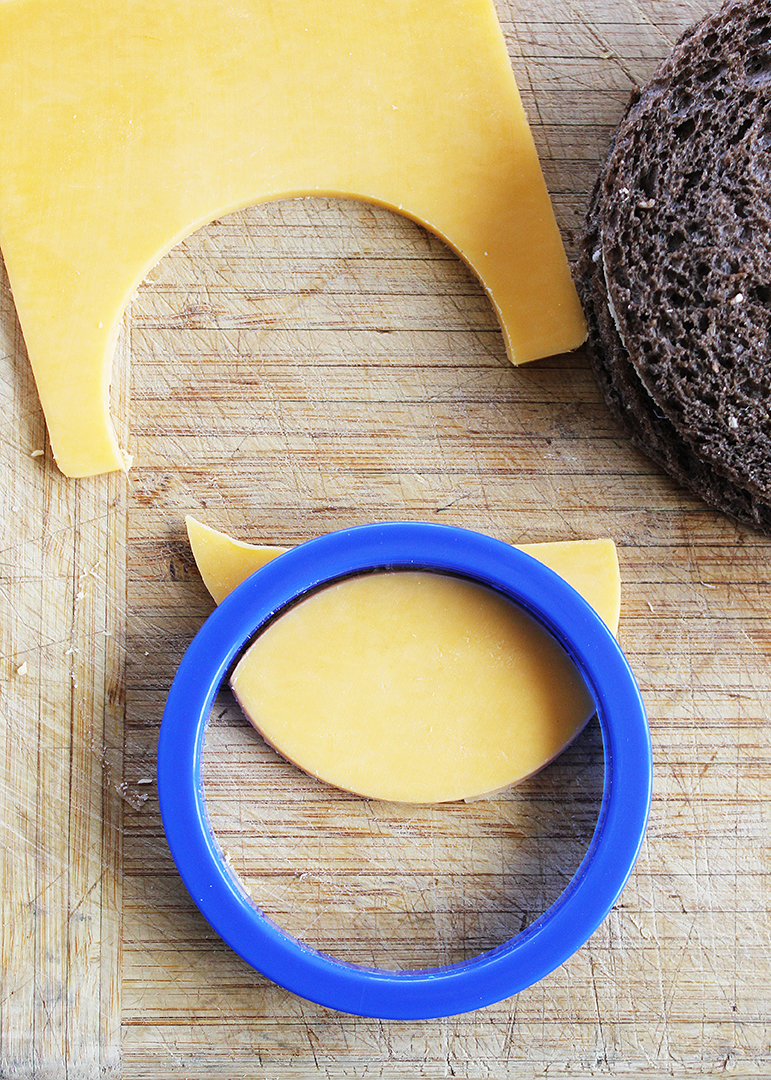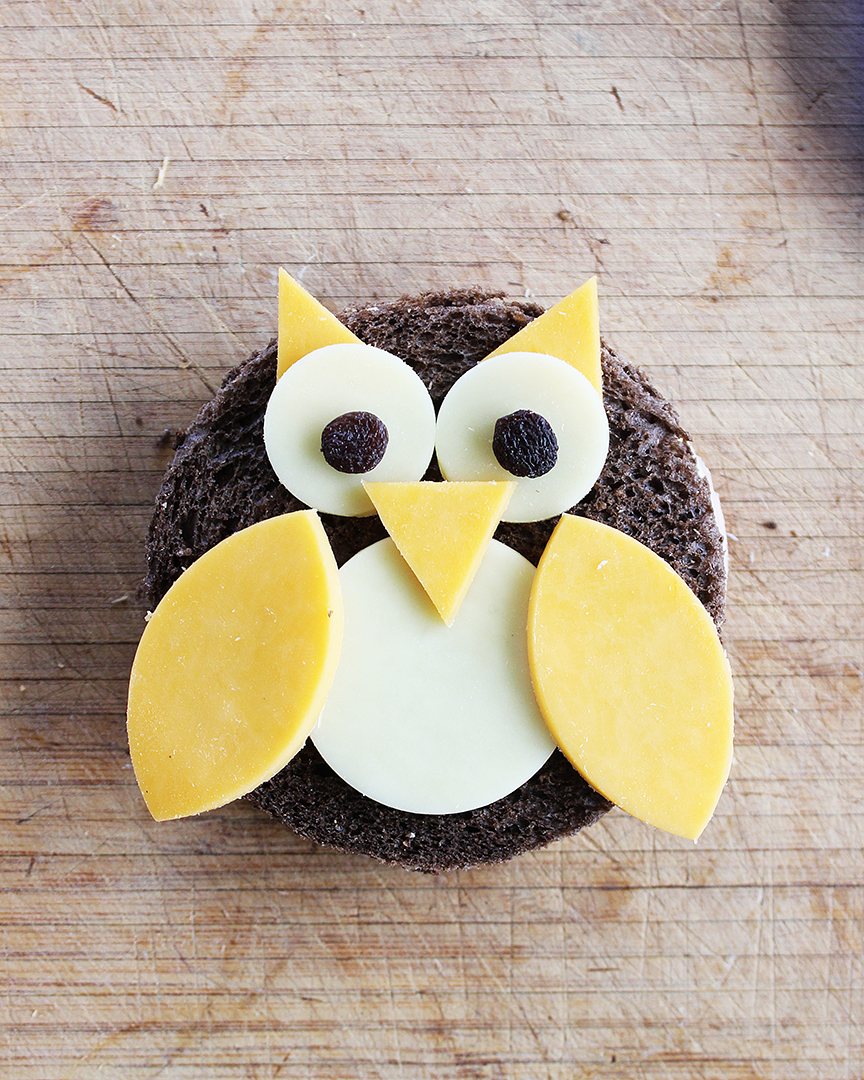 "Owl" bet your kids will love to find this adorable owl sandwich in their lunchbox, packed up with a crisp, yummy apple!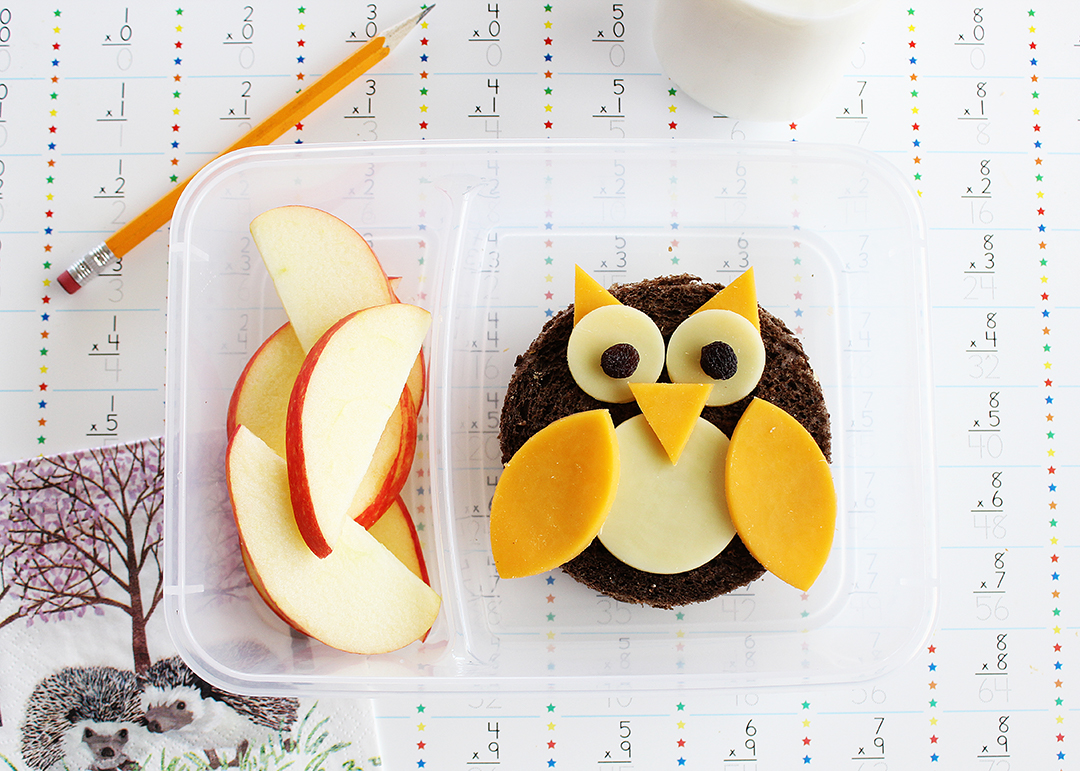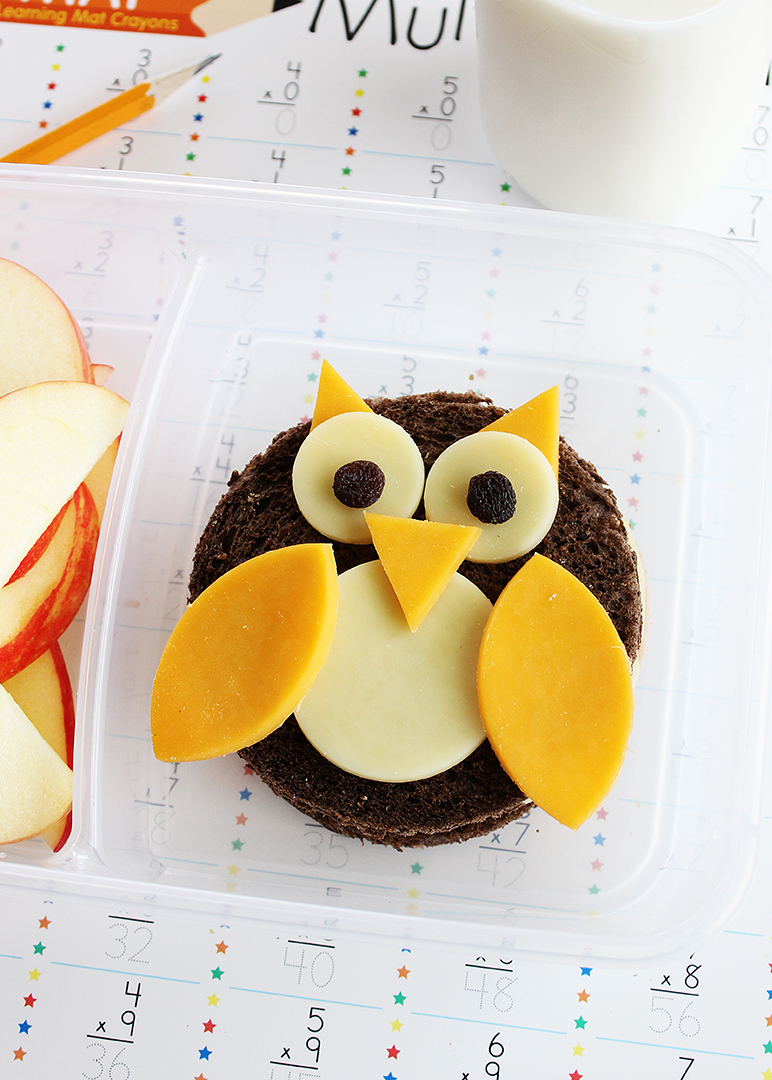 Animal Sandwich Option 3 : Fox Sandwich
Make a circle sandwich as described above using white bread.
Cut a large yellow cheddar circle, and center it on top of the sandwich. Cut two yellow diamond shapes and two smaller white cheddar diamond shapes. Layer the white cheddar diamond pieces on top of the yellow cheddar diamond pieces, and place them along the top left and right side of the yellow circle to form ears.
Cut two small hearts from the white cheddar. Trim each heart in half with the same cookie cutter to form a teardrop shape, as shown. Arrange these pieces along the lower edge of the circle so their points meet. Finish with two raisin eyes and a grape trimmed in half for a nose.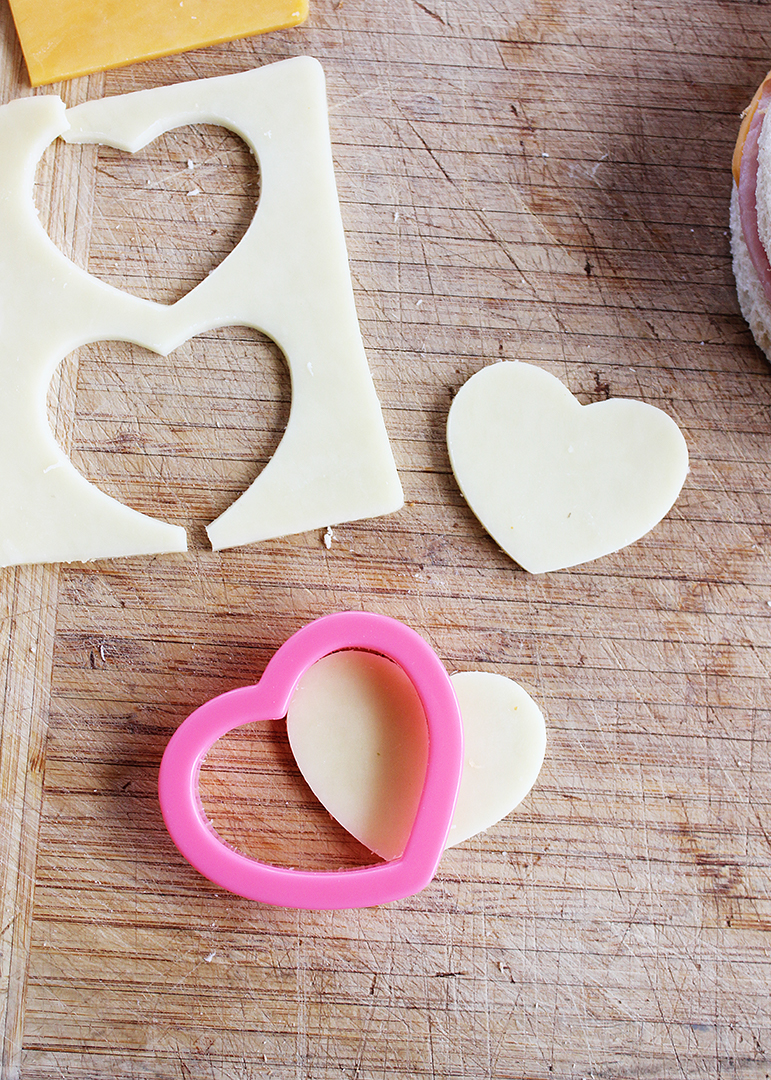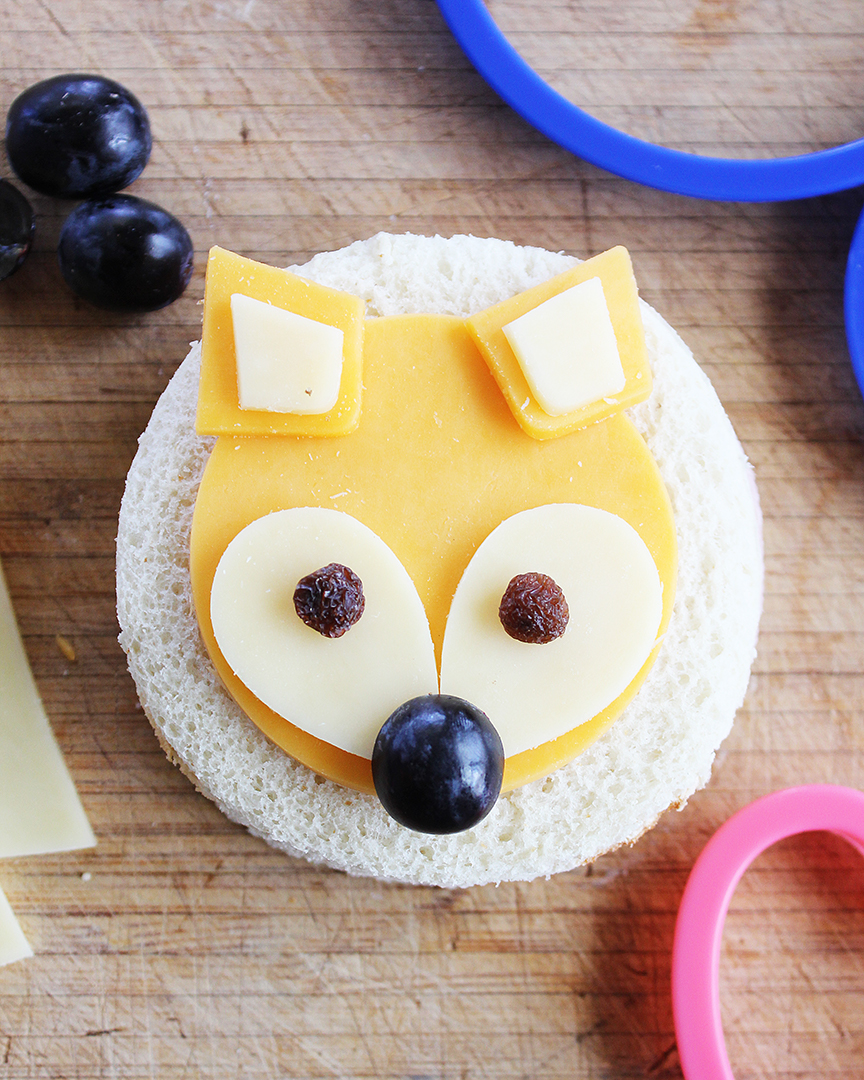 Strawberries and grapes make this fox sandwich the perfect healthy lunch!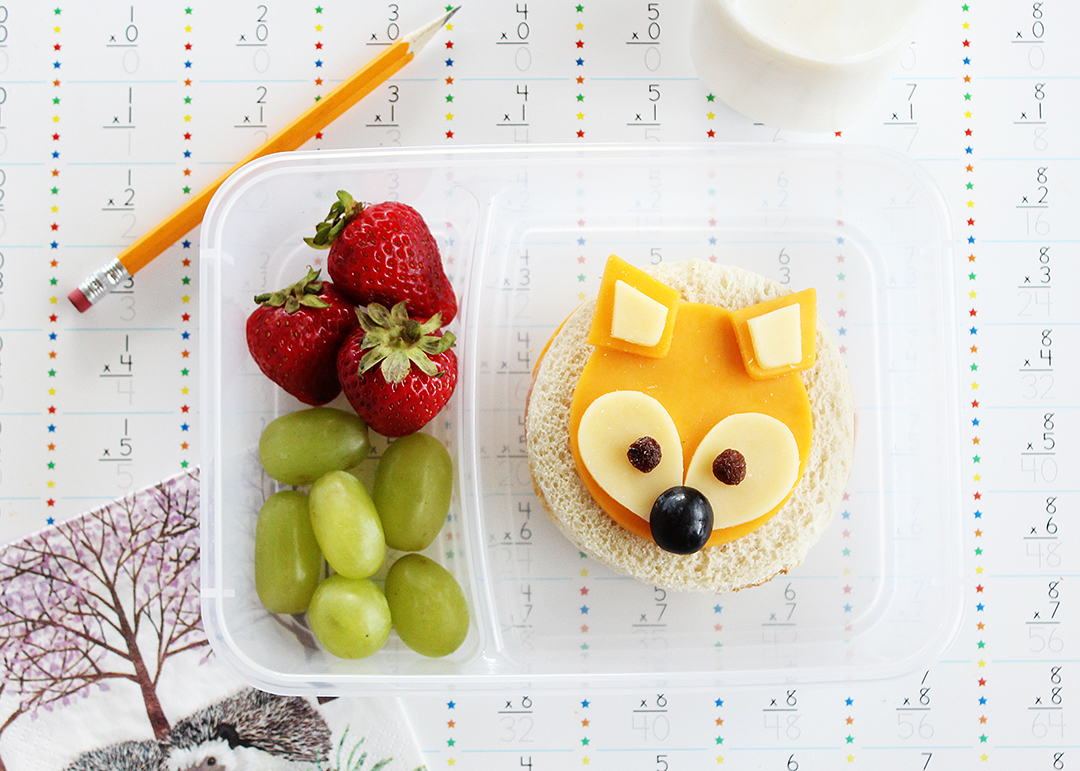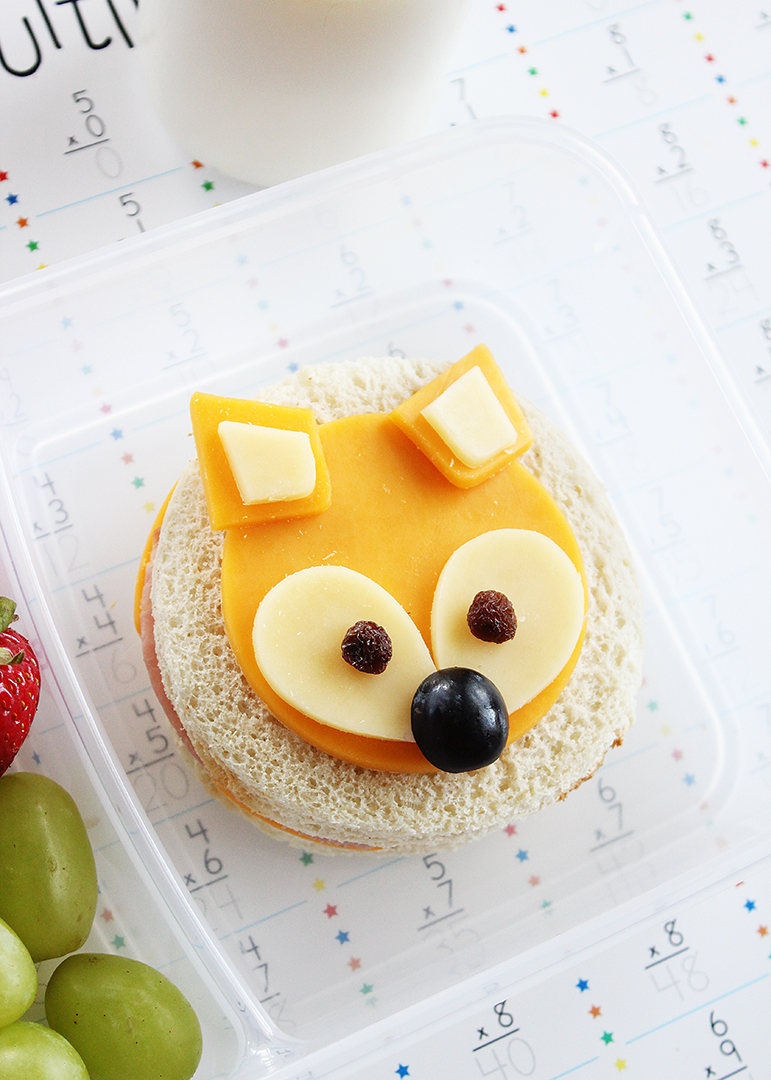 Animal Sandwich Option 4: Raccoon Sandwich
Make a circle sandwich as described above using white bread.
Cut two triangles of pumpernickel bread, and tuck them along either top side of the circle. Cut a small white cheddar heart piece, and position it along the lower center edge of the circle.
Trim two small football shapes from the white cheddar (use the same method used to create the owl wing pieces above).
Trim two teardrop pumpernickel pieces using the same method used to create the fox eyes above. Place these pieces just above the white cheddar heart so their curved edges are just touching. Place the white cheddar "football" pieces on the pumpernickel pieces, and finish with two raisin eyes and a trimmed grape nose.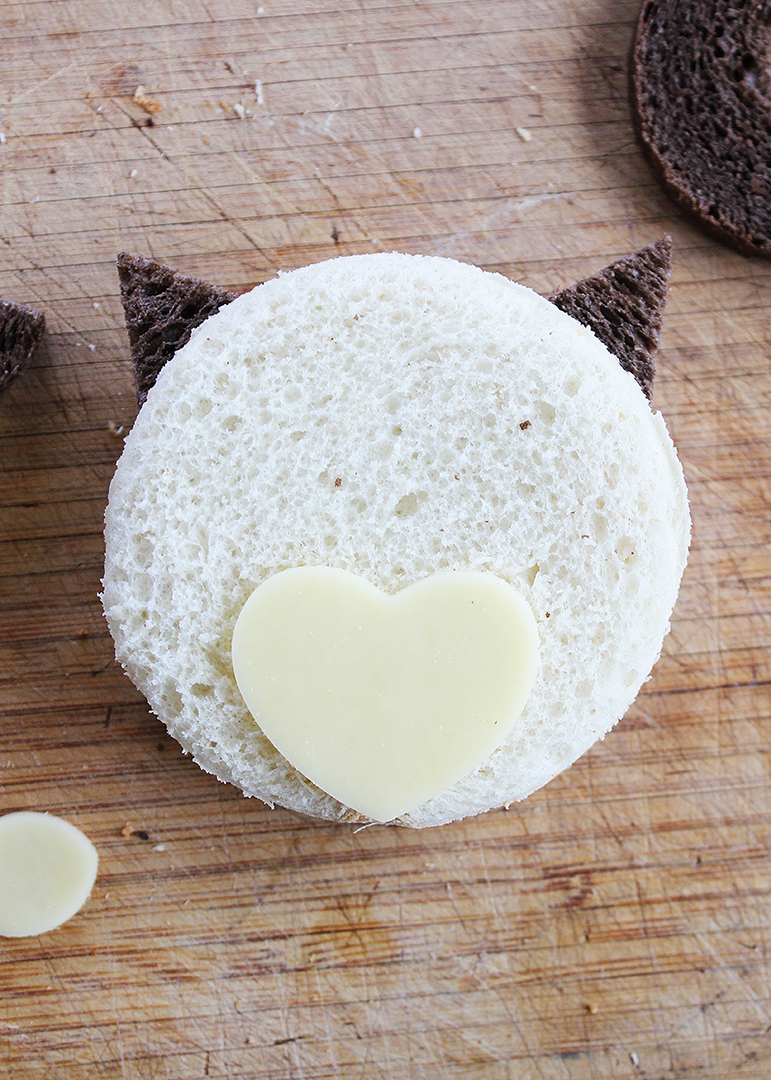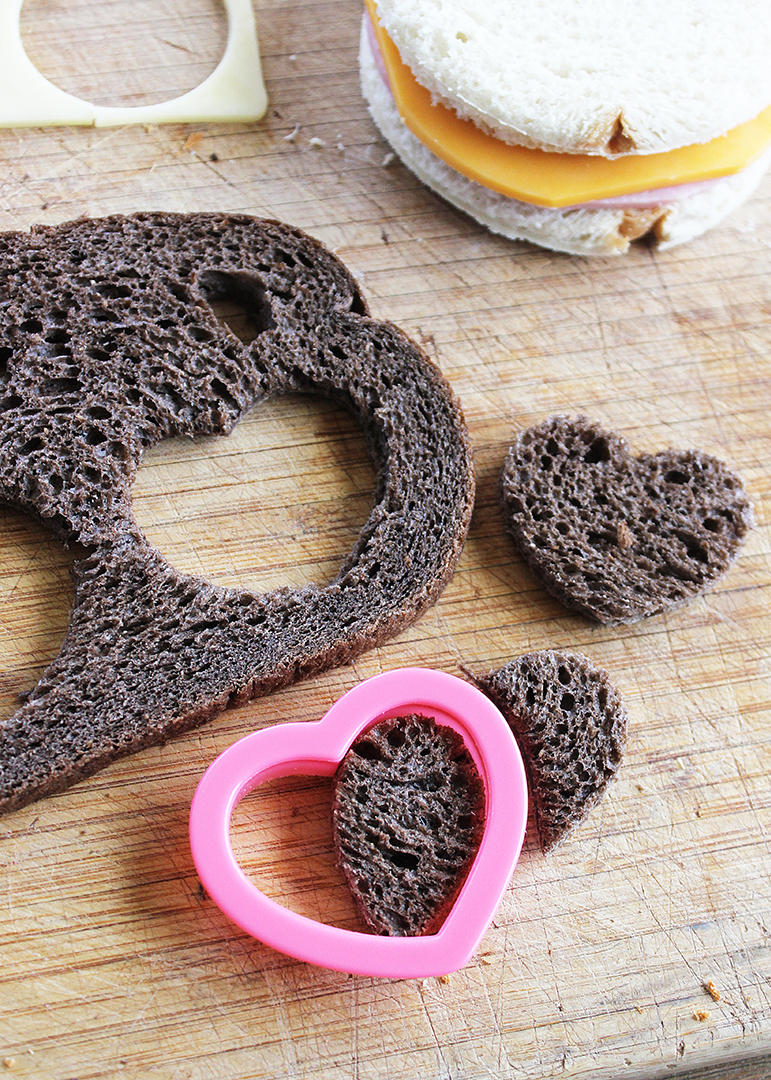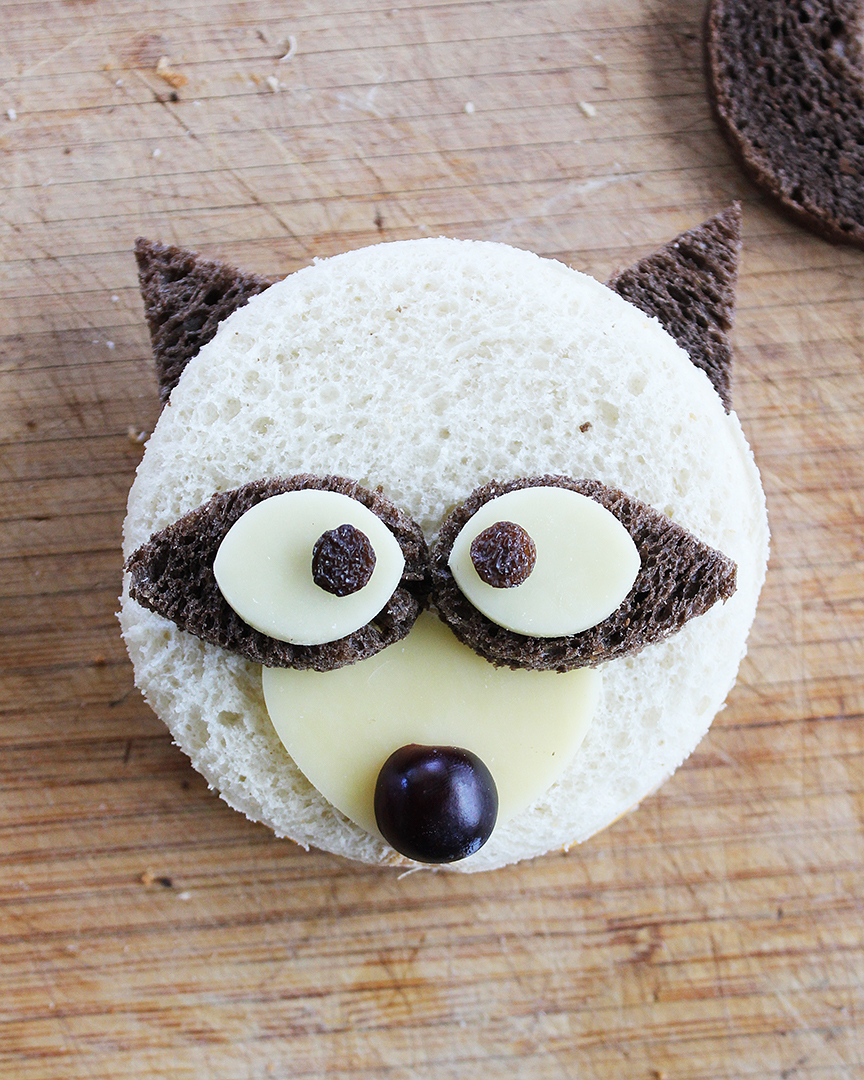 Packed with carrot sticks and slices cucumbers, kids will love to dig right into this delicious lunch!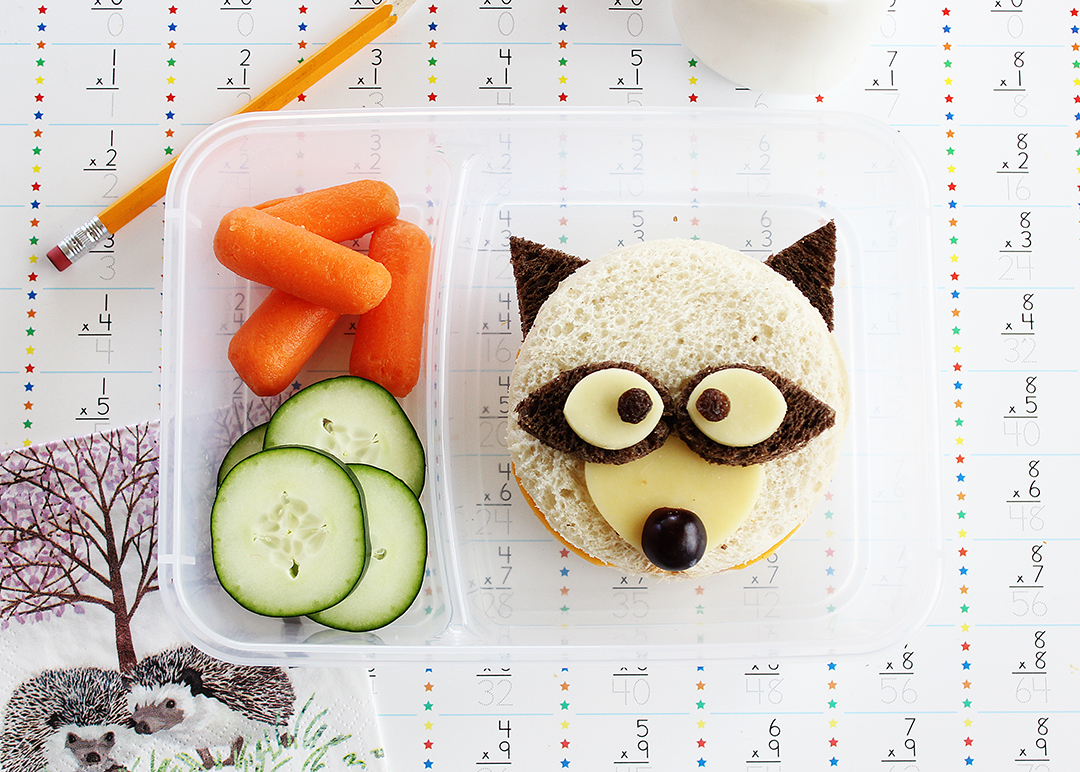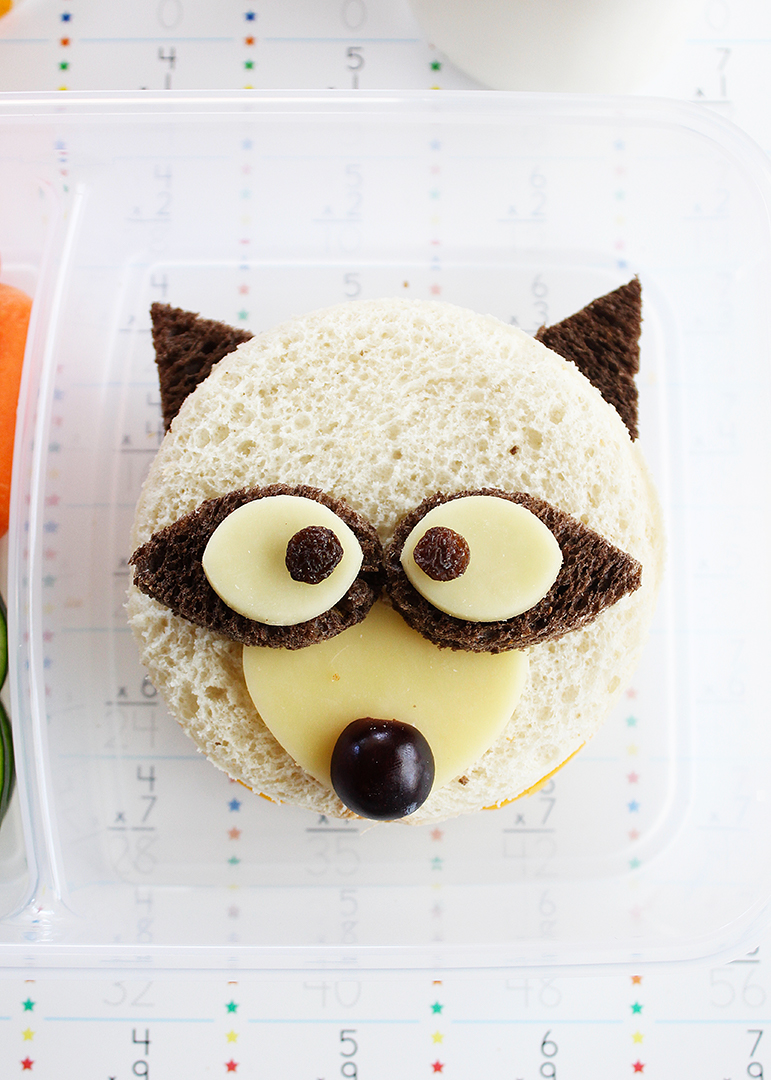 Which one of these little woodland creature animal sandwiches is your favorite? I can't decide!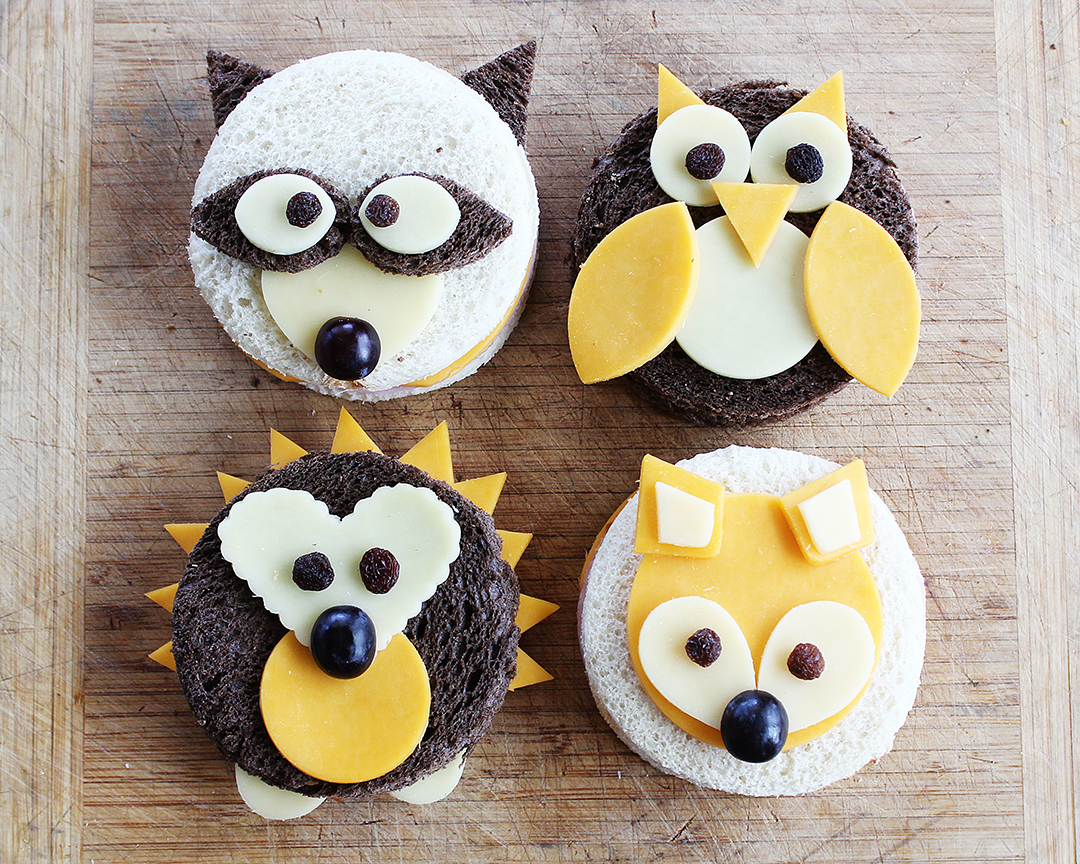 Be sure to visit for even more inspiring ideas for going Back to School with Boar's Head!
Having grown up in a home brimming with sewing notions and paintbrushes, Amy has a deep love for all things creative. On any given day, you'll find her knee-deep in her latest creative endeavor, with projects ranging from sewing and crafts to home decor and kid-friendly ideas. Amy believes that everyone, regardless of skill level or experience, possesses the ability to create something beautiful, and Positively Splendid was born of her passion for helping others harness their innate creative potential.