Stitch up a sweet little Easter bunny softie to tuck into the Easter basket of a special child, or to use as a darling addition to your home's spring decor. Today, I'm sharing the inspiration behind these little cuties, as well as the free pattern and step-by-step tutorial for how to create them. Would you believe this is an easy sewing project that is entirely do-able in 30 minutes or less? Let me fill you in on all of the details!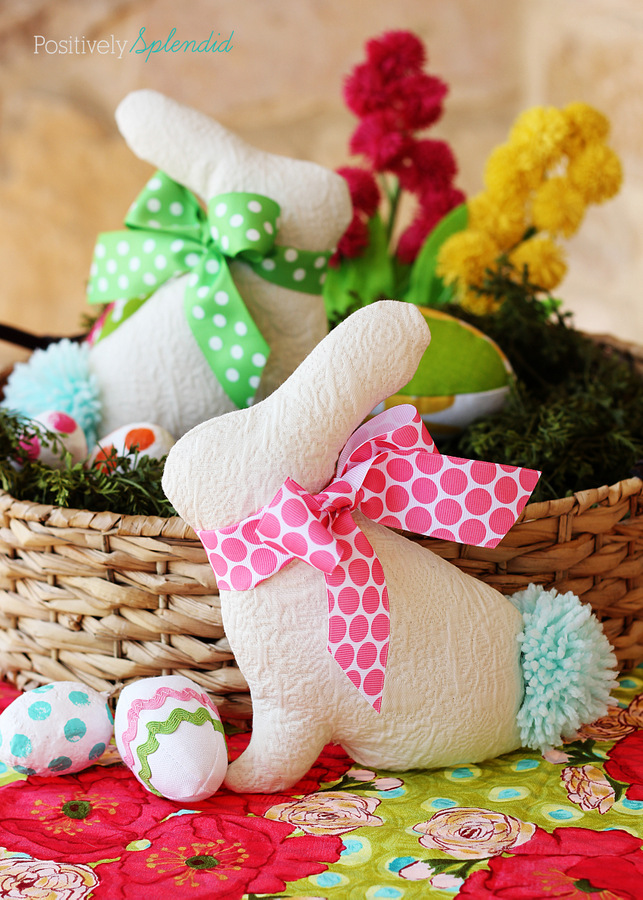 When I was little, my Mammo used to make the neatest little softies out of old chenille bedspreads and matelasse coverlets. I can still remember vividly a teddy bear version that sat on the bench in our entryway, and there were plenty of other little creatures that he had as sidekicks, one of which was a sweet little bunny rabbit that always made an appearance at Easter time. It was that little bunny that inspired this Easter bunny softie project!
For this project, I used some lovely matelasse fabric I purchased in the home decor section at Jo-Ann. (Matelasse, which is French for "quilted," is fabric with a quilted design, typically in a monochromatic color scheme.) This is the same fabric I used for the fur-trimmed stockings in my rustic-luxe holiday mantel last year, and I had just the right amount of scraps left over from that project to put to good use here. If you can't get your hands on any matelasse fabric, some other great options would be to go thrifting for old bedspreads or tablecloths. Or, these little bunnies would be darling stitched up in your favorite brightly colored cottons!
For this project, you will need…
Matelasse fabric (Refer above for other recommended materials)
Coordinating thread
Pinking shears
Turning tool
Fiber fill
Hand-sewing needle
Ribbon
Pom-pom (I made mine with my easy yarn pom-pom how-to, but you can also buy one pre-made)
Hot glue (optional)
Basic sewing essentials: machine, shears, etc.
Instructions:
Download and print the bunny softie pattern (linked above), and cut out the pattern piece.
Cut out 2 bunny body pieces, making sure the pieces are a mirror-image of each other.
Place the body pieces together with right sides facing; pin. Using a 1/4″ seam allowance, stitch around the perimeter of the pieces, leaving a 2-3″ opening on the bottom edge of the pieces for turning and stuffing.
Using the pinking shears, carefully trim the seam as closely as possible to the stitching, paying special attention to the curves. Do not pink the edge of the fabric at the opening you left in the previous step, as this will make stitching the opening shut more challenging later on.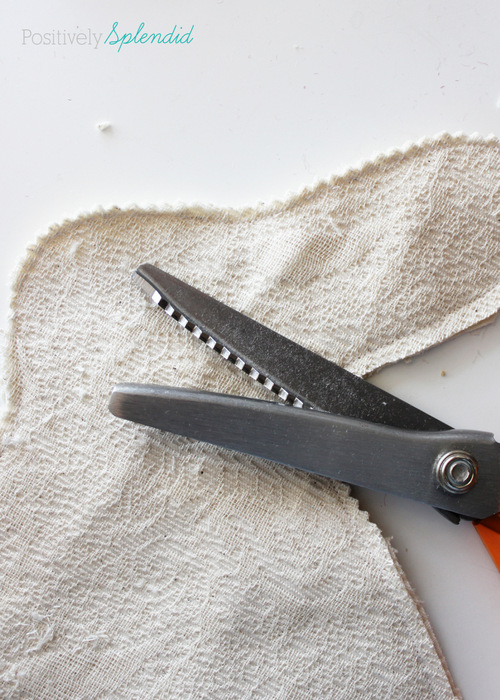 Turn the piece right-side out, using the pointed end of the turning tool to ensure the ears, foot and other features are completely turned.
Working with very small amounts of the fiber fill at a time, carefully stuff the softie, using the turning tool to poke the fiber fill into the small features. Continue stuffing until the softie is completely filled, but not overstuffed.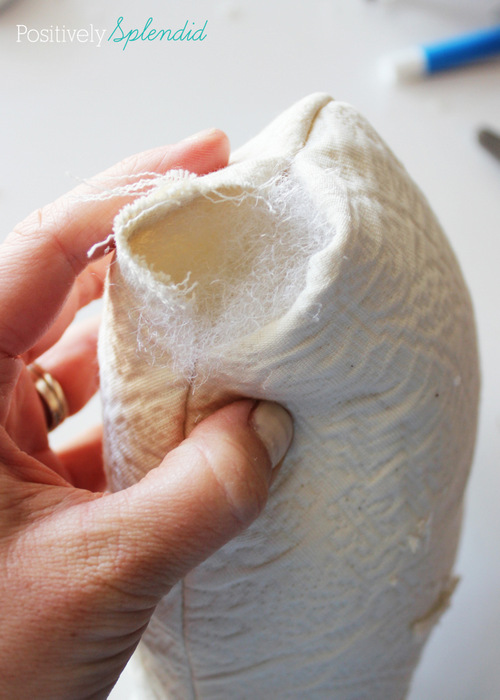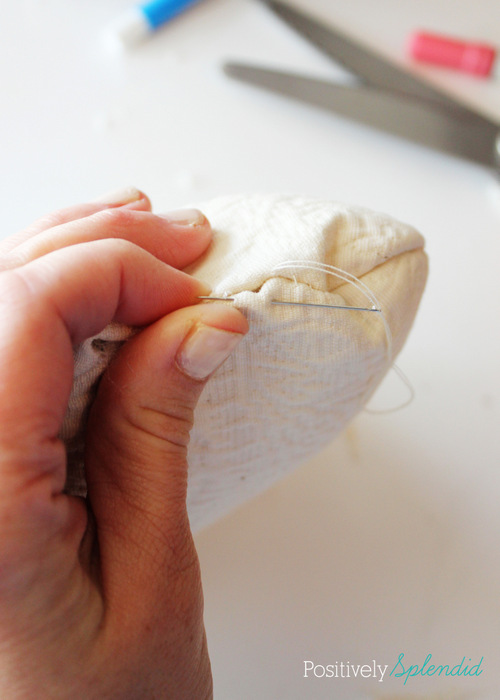 Use hot glue to affix the pom-pom to the bunny's back end. (You may also hand stitch this on if you prefer.)
Finish by tying a bow around the bunny's neck.
Your Easter bunny softie is complete!
I plan to tuck one of these into each of my children's Easter baskets this year. I know they'll love them!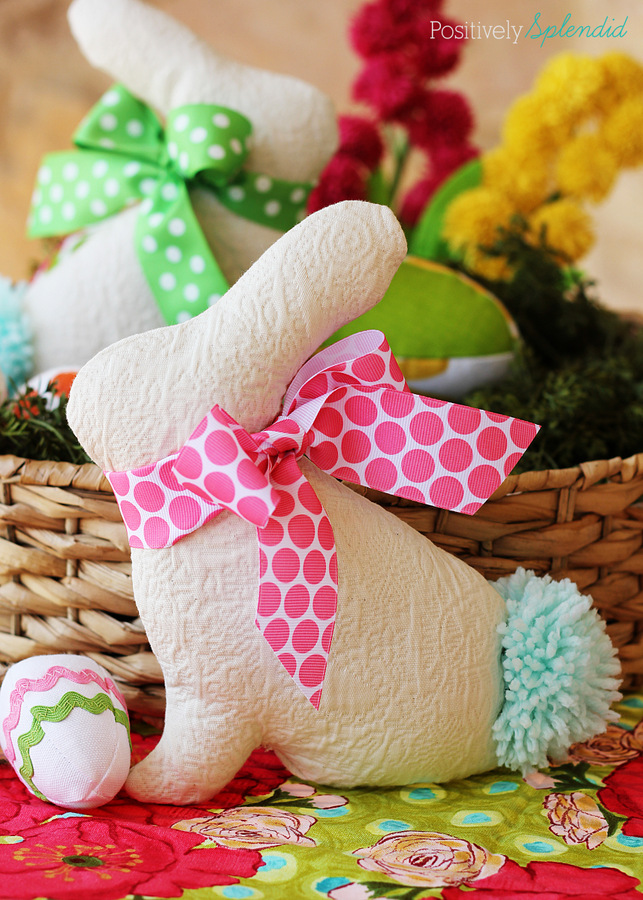 I love how the simplicity of the fabric here allows the brightly colored ribbon and tail to pop.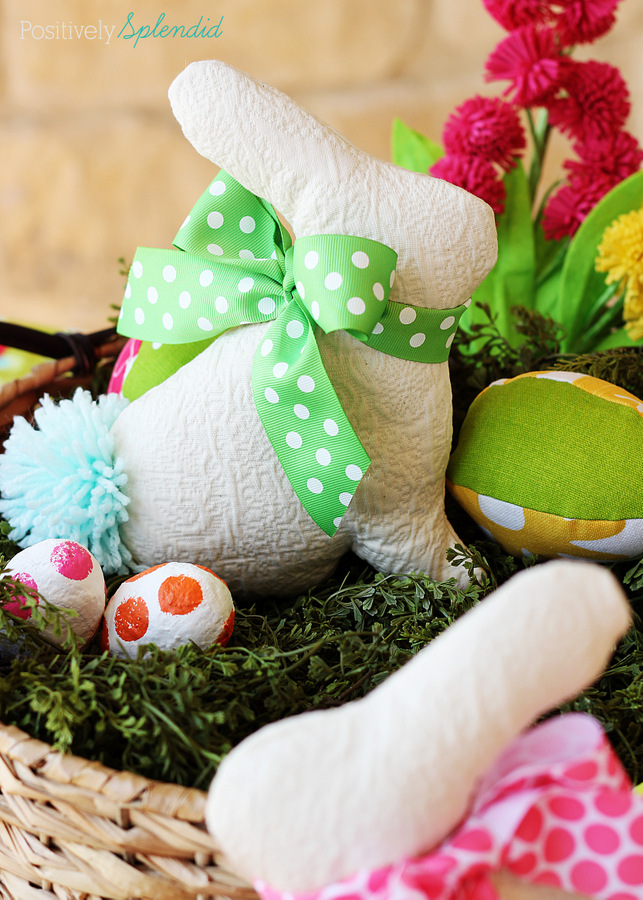 I have to say that my favorite feature has to be those sweet little pom-poms. 🙂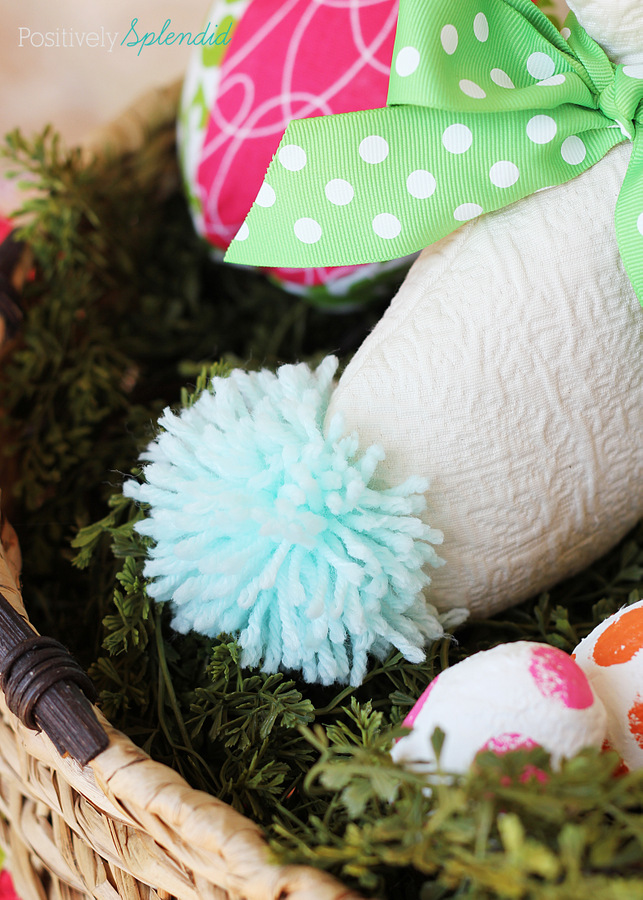 Now that I've shared my fun Easter creation, some of my favorite creative friends and I are pleased to invite YOU to wow us with yours!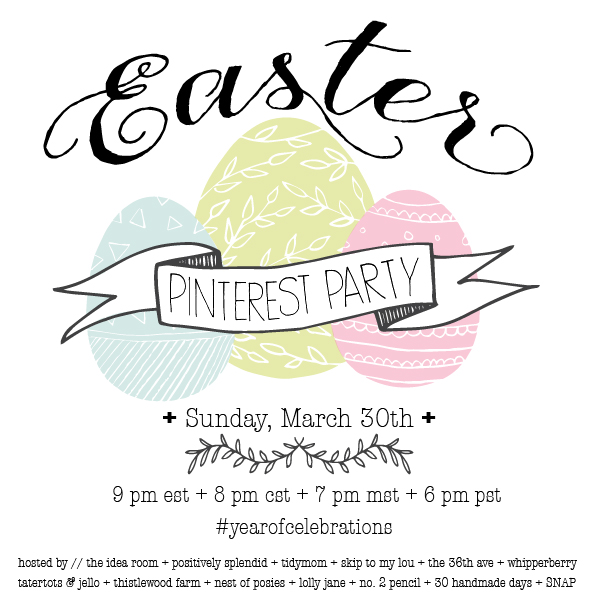 The Easter-themed Year of Celebrations Pinterest party will be held this Sunday, March 30, and y'all are all cordially invited to join in!
Hosted by…
The monthly Year of Celebrations Pinterest Party is the place to find THE most comprehensive, inspiring Pinterest board on the block. Each and every month, we'll be focusing on a different holiday or celebration, and this month is all about Easter!
Here are all of the details for how YOU can participate:
What: A Pinterest Party to celebrate all things Easter!

When: THIS Sunday, March 30 at 9 p.m. EST/ 8 p.m. Central/ 7 p.m. MST/ 6 p.m. PST
How you can participate:
Round up YOUR favorite Easter projects and recipes. Anything goes: crafts, decor, sweet treats, and more!
When the party kicks off, tweet YOUR favorite Valentine's Day project and/or link using the hashtag #yearofcelebrations. Helpful hint: We highly recommend putting the hashtag at the beginning of your tweet to ensure it doesn't get cut off.
On Sunday, March 30, tune in at the appointed time and watch as we build a board full of amazing ideas – including yours!
Be sure to follow along during the party to repin and comment on the board's posts using the hashtag #yearofcelebrations.
We are so excited to PIN and SHARE all of your amazing projects!
See y'all there! 🙂
If You Liked This, You Might Also Be Interested In: