Learn how to make an adorable felt carrot garland Easter craft to use to as an Easter decoration at home, for a party and more! This step-by-step tutorial guides you every step of the way.
To me, Easter crafts are the best possible way to kick off my spring crafting season. Today's easy craft idea for making a sweet carrot garland out of felt is one that can easily be finished in the span of an afternoon, and the bright, vibrant colors are sure to break through the winter blahs and add some pizzazz to your Easter decorations!
This post contains affiliate links.
Full credit for this project idea must be given to Lisa Storms of Fiskars who inspired me with her paper carrot garland., and I adapted that idea to make a similar garland out of felt.
Felt Carrot Garland Easter Craft Supplies
---
To begin, cut your felt into strips. (I recommend doing so with a rotary cutter and mat.) For each carrot, you will need (1) 8-inch strip of light green felt, (1) 6-inch strip of dark green felt, and (1) 11-inch strip of orange felt. Note: these dimensions yield carrots that are 6.5 inches long.
Now, fold the dark green piece in half width-wise, as shown. Press it flat with your fingers, and lay it down on your work surface. (It should stay folded, but in case it doesn't, use a mini clothespin to secure it.)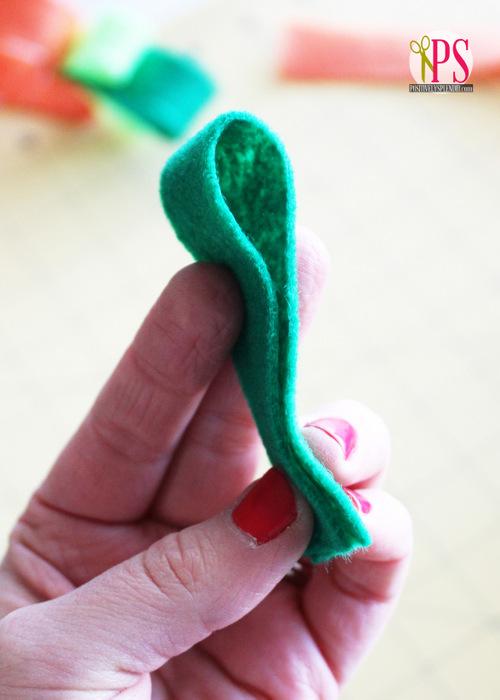 Working with the light green felt strip, fold the piece in half width-wise, and then fold each remaining edge down to meet the fold, as shown.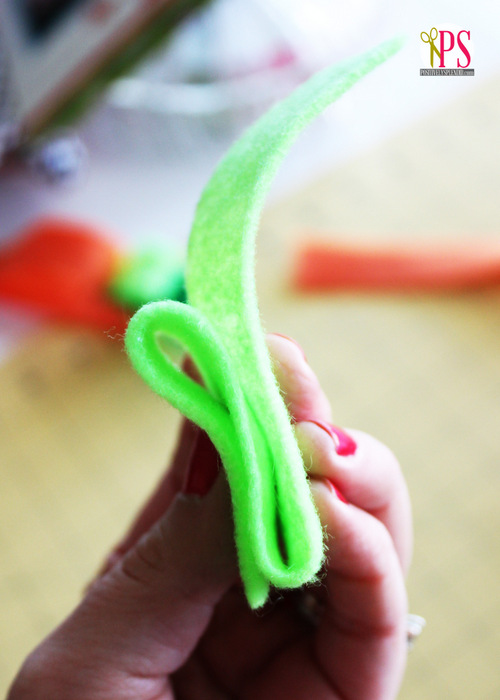 Your light green piece will look like an accordion.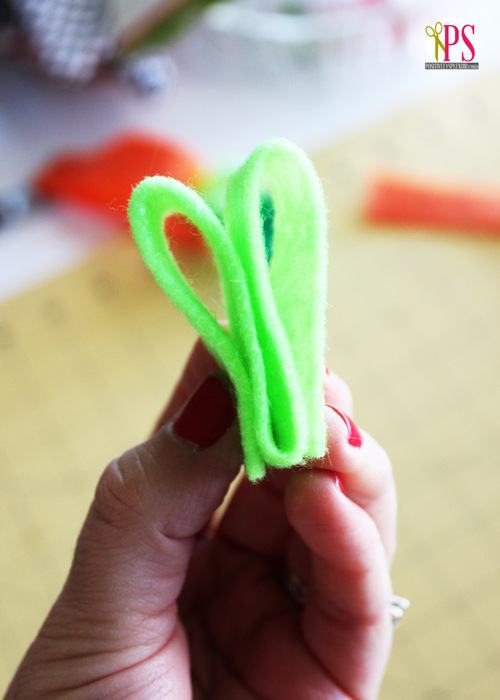 Tuck the folded dark green piece in between the two folds in the light green piece, as shown, pinching to secure.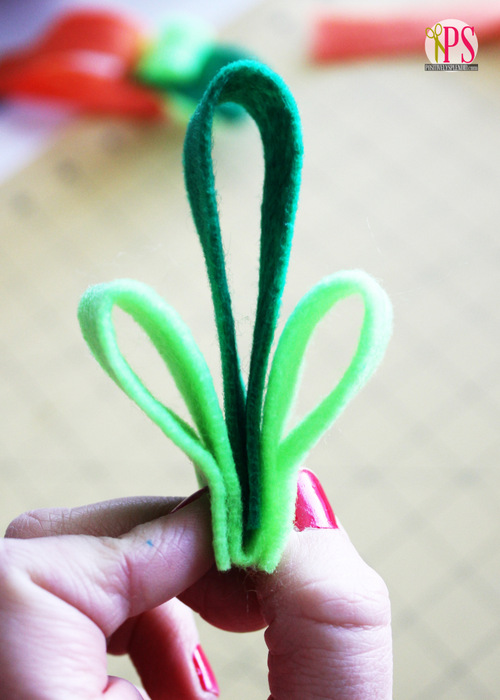 Fold the orange strip in half width-wise, and then wrap it around the stacked green pieces, making sure the center of the orange strip is aligned with the center of the green pieces.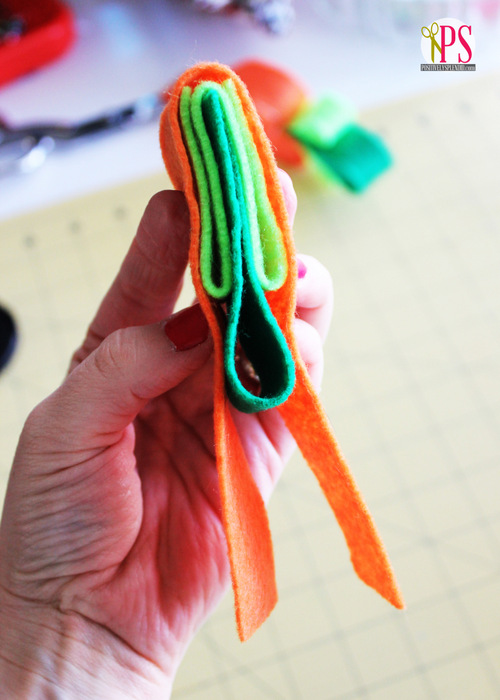 At this point, I highly recommend clamping everything together securely with a mini clothespin. This will prevent the frustration of having your pieces come undone in the next step.
Thread the embroidery needle with orange thread, and stitch in and out through the base of the folded pieces, as shown.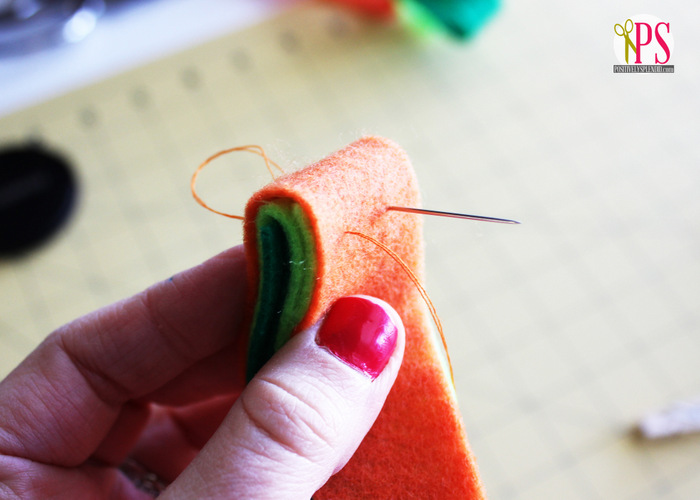 Tie the thread tightly in a knot.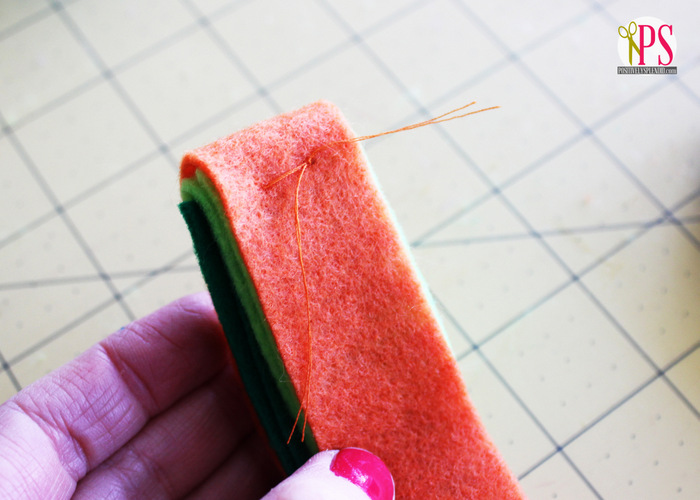 Now, fold the remaining loose edges of the orange felt down, around and together, and stitch together about 1/8″ from the edge to secure. Your carrot is finished!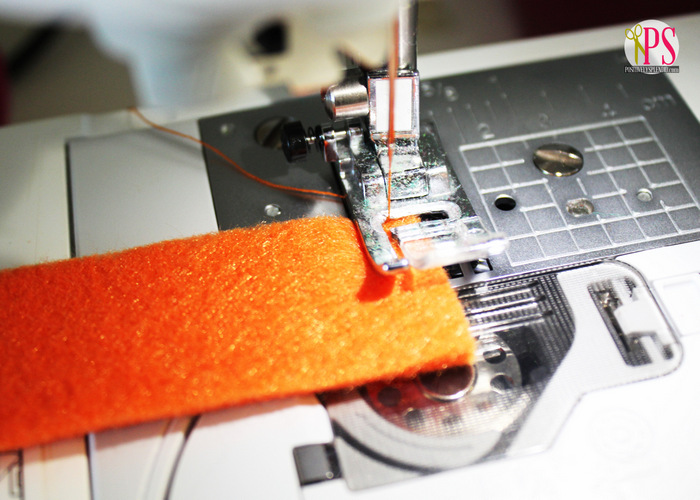 Repeat this process until you have your desired number of carrots, and then thread the carrots together through the green leaf portion of each to form a garland using the embroidery needle and orange embroidery floss or yarn. (I recommend against using standard thread for this step, as it tends to break easily.)
Your adorable felt carrot garland is complete!
This carrot garland is such a quick and easy Easter craft project, yet it can be used for any number of purposes: Easter party decor, mantel decor, and so much more!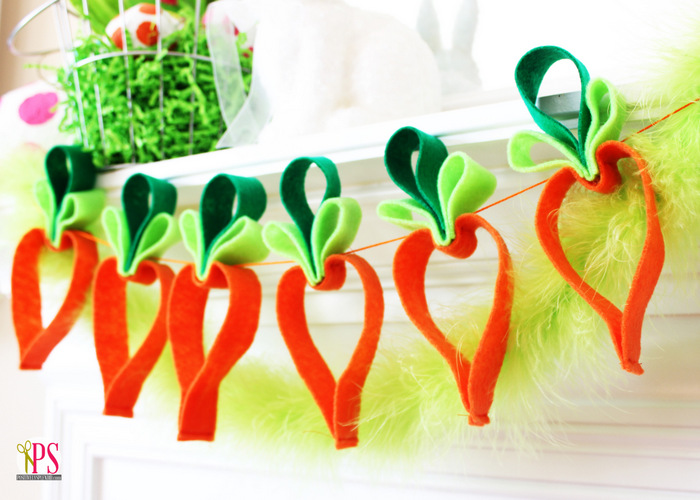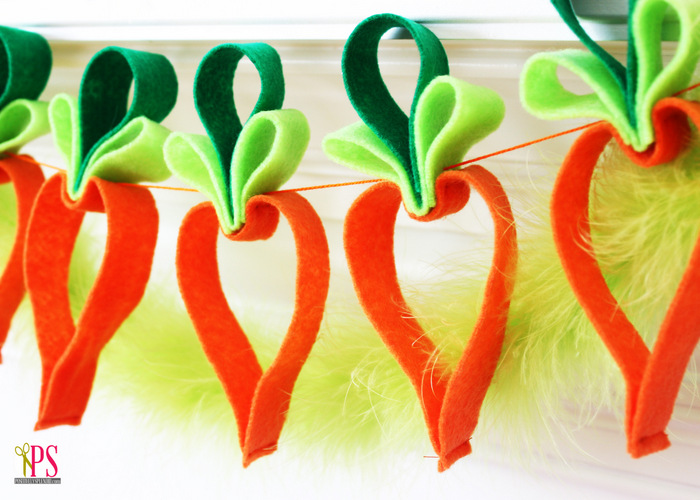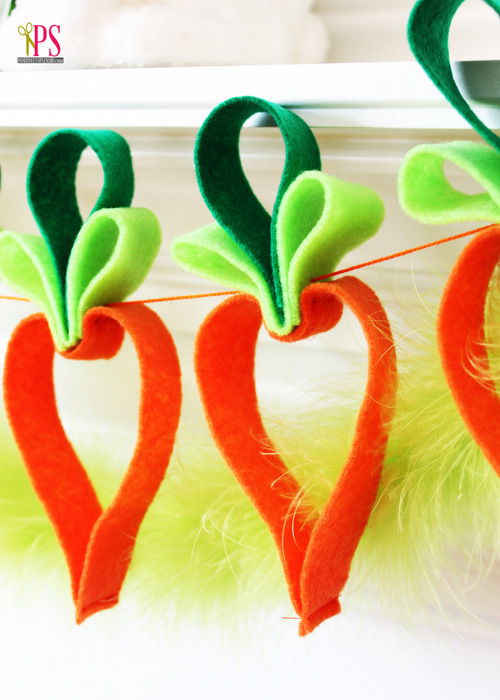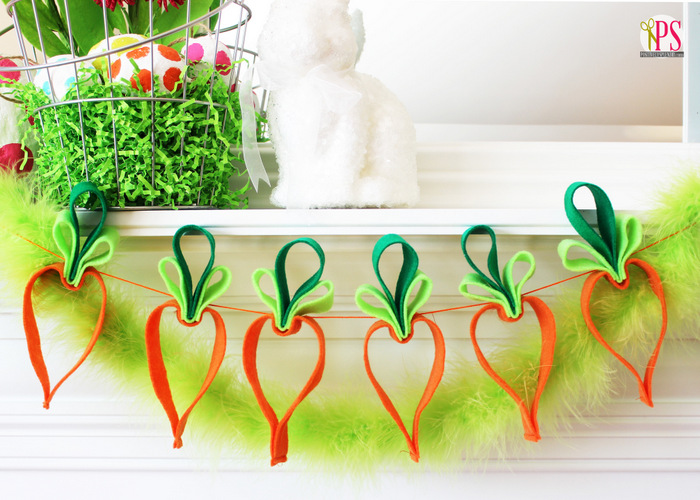 Having grown up in a home brimming with sewing notions and paintbrushes, Amy has a deep love for all things creative. On any given day, you'll find her knee-deep in her latest creative endeavor, with projects ranging from sewing and crafts to home decor and kid-friendly ideas. Amy believes that everyone, regardless of skill level or experience, possesses the ability to create something beautiful, and Positively Splendid was born of her passion for helping others harness their innate creative potential.