In my quest to present useful ideas of all kinds, I thought it might be helpful to give y'all a little demonstration of how I apply my eye makeup, sharing some of my tips and tricks as well as the go-to products I couldn't live without. And, what better way to demonstrate this process than to actually show you how I do it with the magic of my laptop's webcam!
A little warning, for those watching at work: After watching this on YouTube, I discovered a little too late that the intro and concluding music is leeeeetle (okay, a LOT) too loud. I am so sorry about that!
My go-to eye makeup products, which I demonstrate in this video:
By the way, if you are enjoying PS in a reader or via email subscription, you might have to click over to the blog to watch the video.
So let's check out the difference well-dressed eyes make!
Before…
…and After!
See how the subtle effect of this routine makes my eyes sparkle, and how I look so much more alert and wider awake? 
As I said in the video, I know makeup doesn't make me a better, more valuable person. But it does help me step out the door each morning with more confidence, much like I do when I'm wearing my very favorite, most flattering dress. A quick, easy eye makeup regimen like this one requires a minimal time investment, but it can pay dividends in terms of your confidence. Give it a try!
Do you have any eye makeup products or techniques you love? Please share!
Also, I would love to hear your thoughts on video tutorials. Do you like this format, or could you honestly live without it? Would you like me to share more tips and tricks with videos like these? Let me know!
And, as always, if you enjoyed this post, I would love for you to add it to Pinterest!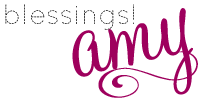 P.S. I have received no compensation to demonstrate any of the products that appear in this post.
Having grown up in a home brimming with sewing notions and paintbrushes, Amy has a deep love for all things creative. On any given day, you'll find her knee-deep in her latest creative endeavor, with projects ranging from sewing and crafts to home decor and kid-friendly ideas. Amy believes that everyone, regardless of skill level or experience, possesses the ability to create something beautiful, and Positively Splendid was born of her passion for helping others harness their innate creative potential.