With the advent of spring, my crafting focus always turns to fun Easter crafts. These sweet felt bunny pants treat bags will delight children of all ages, and they are a quick and easy sewing project, even for beginners. Let me show you how it's done!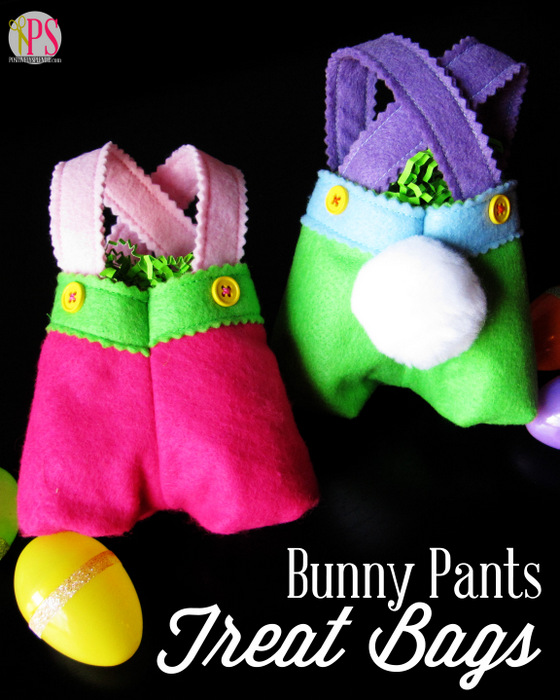 I always have my eyes peeled for crafting inspiration. I pore over catalogs when they arrive in the mail and earmark the ideas that catch my eye. A couple of weeks ago when I was browsing my latest Lillian Vernon catalog, I came across some adorable little Easter bunny pants treat bags that I knew the kiddos would love. At close to $4 apiece (plus shipping!), though, I knew it would be far more cost-effective to make my own. So I went ahead and came up with my own little method for doing just that!
These little gems are an absolute breeze to put together. They will make a perfect addition to the kiddos' Easter baskets, and the wheels are already turning in my mind over how to tweak the design to make Santa pants at Christmas!
Supplies:
Bunny Pants Treat Bag Pattern

<< free download

Felt in various colors
Coordinating thread
Pinking shears (optional, but I really love the look of pinked edges on felt)
Sharpie marker (I find it nearly impossible to write on felt with anything else)
2-inch white pom-poms
Hot glue gun
Buttons
To begin, cut out all of your pieces using the template provided. You will need 2 pant body pieces, 2 belt pieces and 4 strap pieces. For a decorative touch, use pinking shears to cut out some or all of the pieces.
Pin the belt pieces to the waist portion of the pant pieces; pin. Edgestitch around the belt pieces to attach them to the pant body pieces.
Place the two pant body pieces together, right sides facing, aligning all raw edges. Stitch the pants together along the right and left curves (refer to the photos below) using a 1/4″ seam allowance. Fold the pants so that the seams you just sewed are aligned at the center, making sure the lower edges of the pant legs are precisely aligned. Pin.
Using a 1/4″ seam allowance, stitch the lower pant edge closed with a continuous line of stitching, as shown.
Use a Sharpie to draw lines 5/8″ from the bottom and side seams of each pant leg, as shown, so that the lines at each corner meet at a 90-degree angle. (Refer to the photos below.) Carefully trim away these squares, and then use a machine to stitch at the point in the seams where the cuts are made to prevent the stitching from coming loose.
Pinch the inner corners of each set of notched squares together to align the side and lower pant seams. Pin and stitch along the cut edge with a 1/4″ seam. This will create a set of boxed corners on each pant leg.
Pin the strap pieces in two sets of double layers; edgestitch around each set to secure them together.
Affix the completed straps to the assembled pant body, as shown, with the strap edges extending about 3/4″ below the pant edges. Use either a needle and thread or hot glue to affix the straps to the pants. Embellish further with buttons and a pom-pom tail.
That's all there is to it!
Now, hop to it and get a pair of these little darlings made.
(And please forgive me for the gratuitous hopping reference. I just couldn't help myself. 😉
Enjoy, and please let me know if you have any questions!
Having grown up in a home brimming with sewing notions and paintbrushes, Amy has a deep love for all things creative. On any given day, you'll find her knee-deep in her latest creative endeavor, with projects ranging from sewing and crafts to home decor and kid-friendly ideas. Amy believes that everyone, regardless of skill level or experience, possesses the ability to create something beautiful, and Positively Splendid was born of her passion for helping others harness their innate creative potential.