Wow – the first day of spring! And yet, we're set for winter's last gasp tomorrow here in central Arkansas. I hope this will be our final cold snap for a good long while!
It has been a truly marvelous day. We had a leisurely morning, picked up our food club goodies, bought the rest of our groceries together, and then we enjoyed some terrific music as we noshed on hot dogs (the best I've ever eaten in my life!) al fresco at Whole Foods. We felt like we were really pulling off a coup by beating to the punch the nasty weather that's rolling through here as I type!
Matt and I added a new kitchen lovely to our collection today, a braiser by Le Creuset that I have to say has us both in a certain state of rapture. To top off the day, Matt christened our new pan by preparing a superb paella. And as the icing on the cake, there is a mascarpone cheesecake chilling in the fridge, clamoring to be devoured after Matt and I have had a few moments to bask in the post-bedtime peace and enjoy a glass of wine.
Really. Life is so good. As we were driving back from our errands this afternoon, Matt and I were talking about how truly fulfilling it is on these days when we feel we have relished each and every drop of enjoyment there is to be had. We haven't done anything spectacular; to the contrary, everything we have done might  qualify as mundane. But I can say without a hint of hesitation that for this family, the everyday is extraordinary. It is positively splendid.
It occurred on me a few moments ago that in all of the day's activities, I failed to take a single photo. At first blush, I was sorely disappointed. How could I fail to document this day so abounding in simple pleasures?
Then it dawned on me: It was the fact that I didn't have my camera in tow that allowed me to so entirely enjoy this day. My nose wasn't planted behind a lens. I was involved. We all played a part. And that – at least for today – was ideal.
I know photographs will always provide me a way of staying connected to precious memories, but I hope I never forget there are certain days made even more precious by me simply being here, sans the trappings of cameras and flashes and striking a pose.
To memories!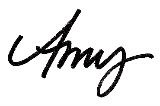 Having grown up in a home brimming with sewing notions and paintbrushes, Amy has a deep love for all things creative. On any given day, you'll find her knee-deep in her latest creative endeavor, with projects ranging from sewing and crafts to home decor and kid-friendly ideas. Amy believes that everyone, regardless of skill level or experience, possesses the ability to create something beautiful, and Positively Splendid was born of her passion for helping others harness their innate creative potential.